Cape Cod, MA - June 8-11, 2023
Camp Fee: $950
Early Bird Registration: $55 off (camp fee will be $895 instead of $950) for a limited time only! A $200 deposit locks in your registration.
Deposit Amount: $200 (Balance due 45 days before camp)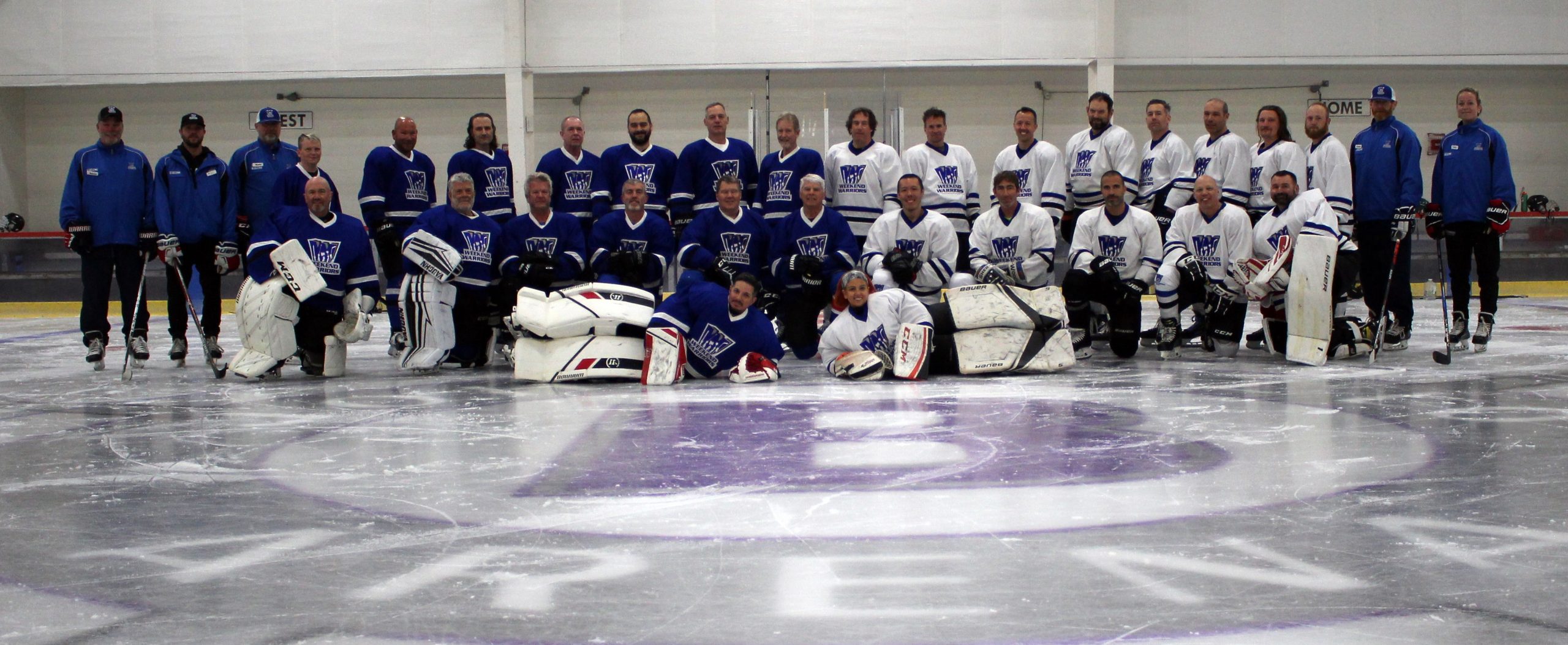 Come join us in beautiful Cape Cod.  We will be holding this camp at Gallo Arena in Bourne, MA.  Gallo Arena is located in the northwestern corner of The Cape, which is easily accessible as it is just across the bridge from the mainland.  Gallo is an excellent rink to hold our camp.  They have the best ice in the area, they keep the facility clean and in tip-top shape, and we are able to store gear in our locker rooms for the entire weekend.  You can't beat that with a hockey stick!
At Weekend Warriors we have something for every player. Whether you're a new player who needs proper guidance through the crucial early development phases, or an experienced player who has been playing for 30 years, our coaches will ensure that you get the training you need!
Goalies get special treatment, with our goalie specific curriculum led by one of our dedicated goalie coaches. 
Women don't be intimidated. We have women players at all of our camps, and also have a number of female coaches on our talented staff.
 See what our 2017 Boston area players had to say about their camp experience:
"The coaches were top notch. Absolutely great camp. It was all I could of have expected and more. The coaches made the experience for me.  I think they were that rare combination of those people who can teach the concepts, demo the concepts at the right level, and have the right personality for the folks they are working with." – Todd K.
"Weekend Warriors Hockey Camp took my understanding of the game to the next level and gave me the tools to improve every aspect of my own game." - Jack E.
"This was my second camp and it exceeded my expectations in just about every facet. The coaches were very knowledgeable, friendly and engaging. The ratio of on ice to off ice is great and things flowed smoothly. It is clear that you all enjoy what you are doing and the enthusiasm flows to the camp attendees! As I said this was my second camp and I got even more out of this experience." – Mike A.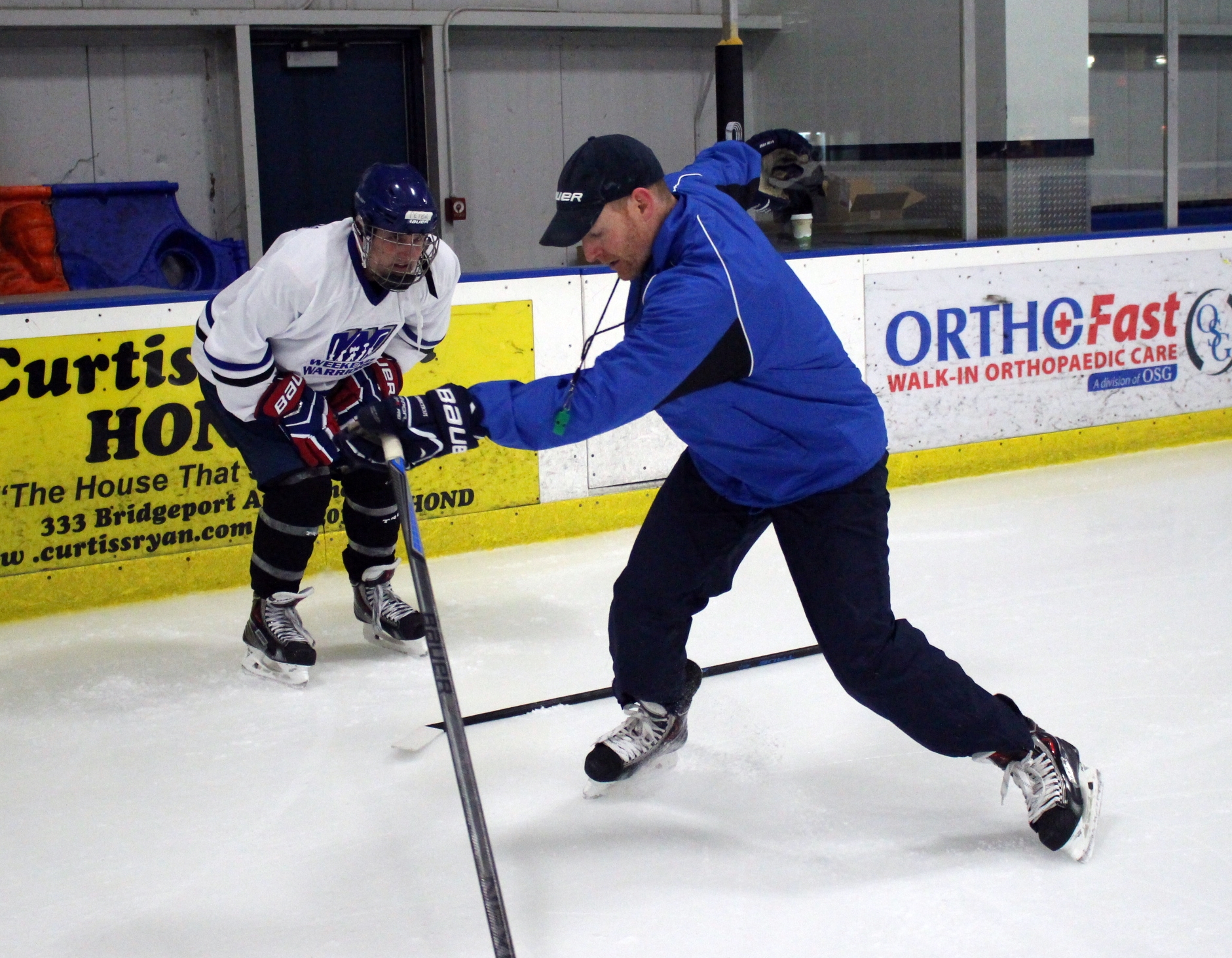 Photo: Coach Casey helps a player with his skating stride
 Here is even more praise from our alumni of other camp locations:
"Clinics/instructionals around here don't even come close to as much detail as this camp provides." – Steve R.
"WW was the ideal 4-day vacation. You are taught proper the techniques needed to play the game to the best of your ability. I entered camp somewhat confident in my playing ability, was quickly humbled when I learned I wasn't as good as I thought I was, worked hard and had fun, and left camp with a smile on my face, feeling better about myself and my playing ability than I ever have in my entire life. No matter what your skill level is, you leave WW camp better. And the friendships you develop off the ice are for the lifetime." – Pat M.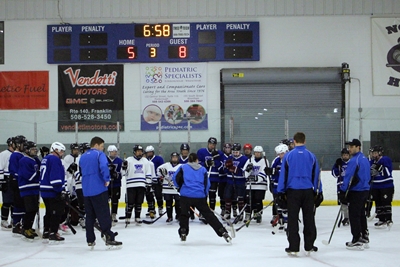 Photo: Coach Mox explains subtleties of skating technique to the group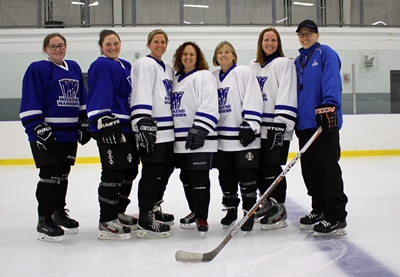 Photo: The ladies of Boston/Foxboro 2017 Camp
Camp Schedule
Cape Cod, MA Camp Schedule
Note: An updated schedule will be sent by e-mail to all registered players before camp.  The e-mailed schedule always supersedes the online version.
Thursday
4:00: Orientation (at Rink).  Meet the coaches, other players and receive an orientation of the weekend's events; Get Dressed.
6:00 – 8:00 PM: Ice Session #1
After Ice Session: "Break the Ice Party" – meet and greet the coaches, staff and your fellow players.  Appetizers provided.  Cash bar.
Friday
9:00 – 11:00 AM: Ice Session #2
11:15 AM – 12:00 PM: Video Review Session – White Team (Skaters only)
12:00 – 1:00 PM: Lunch from 12-1 plus time you are not in video (i.e. before or after lunch)
1:00 – 1:45 PM: Video Review Session – Blue Team & Goalies (Goalies separately)
2:00 – 3:00 PM: Chalk Talk1 (Goalies:  Goalie talk)
3:30 – 5:30 PM: Ice Session #3
Evening: On your own.  Unofficial gathering(s) to be announced for players wishing to socialize with their fellow campers. 
Saturday
9:00 – 11:00 AM: Ice Session #4
11:00 AM – 12:30 PM: Lunch on your own 
12:30 – 1:45 PM: Skaters: Chalk Talk 2; Goalies: Review Skills Video
2:00 – 3:00 PM: Video Review of Scrimmage (Goalies review scrimmage video from goalie's perspective) 
3:30 - 5:30 PM: Ice Session #5
7:30 PM - Camp Banquet - The cost of the meal is included in your camp fee.  We hope you will all join us for some fun and camaraderie.  Cash Bar. 
Note: To players attending with spouse, friend or family, they are welcome to attend for a nominal additional charge.  Please let us know in advance if you plan to bring a guest.
Sunday
9:00 - 11:00 AM: Ice Session #6
Note: Schedule is subject to modification.
Rink: Gallo Arena in Bourne, MA
12 hours of on ice instruction from our high level staff

Off ice coaching in the form of chalk talks and video review sessions

Camp Banquet on Saturday Evening

"Break the Ice" Social on Thursday Evening

A custom jersey; socks and other swag

Lodging and transportation are NOT included
When
June 8th, 2023 4:00 PM through June 11th, 2023 11:00 AM
Location
231 Sandwich Rd.




Buzzards Bay

,

MA

02532




United States
Event Fee(s)
| | |
| --- | --- |
| Choose Registration Option | |
| Pay in Full | $895.00 |
| Pay in Full ( Alumni w/ $50 Uniform Credit ) | $845.00 |
| Deposit for Pay in Full | $200.00 |
| Deposit for Pay in Full ( Alumni w/ $50 Uniform Credit ) | $200.00 |