Lake Tahoe, CA - May 16-19, 2019
Late Registration Camp Fee: $875
Skaters: Due to cancellations, 1 spot just opened up. Register now and pay in full to claim spot.
Goalies: Just 1 spot left. Register and Pay today, and you are in!
Skaters: To join our waiting list, complete the registration and pay the $200 deposit. DO NOT PAY THE FULL AMOUNT NOW! Our waiting list is short at this time (as of 29 April 2019), and your chances of getting in are pretty decent, especially if you are patient. Once we get an opening, you will be contacted. At that time, you may accept or decline the spot. If you accept, you must pay the remaining balance. If you decline, you will get a refund. Anyone on the waiting list who is not offered a camp spot will be given a refund.
Deposit Amount: $200 (Balance due 45 days before camp)
"Level of coaching was much stronger than anything I've been exposed to in the past. I came in expecting to learn a few new things. I came away with a sense of transformation to my game." - Jeff S. - Lake Tahoe 2015
"It is beyond me how you could possibly improve this camp. The schedule was clearly defined and ran on time. The mix of on and off ice instruction flowed very well. The knowledge and experience of the coaches and their ability to understand and relate to adult rec hockey was a key success factor. I experienced absolute and immediate improvement in my skating, positional play, breakouts, shooting and passing." - Darrell F. - Lake Tahoe 2015

Photo: Team Picture - Lake Tahoe 2015 - Novice Group and Goalies
Camp Description: Come to sunny South Lake Tahoe, CA, an amazing outdoor playground with a huge variety of activities for outdoor enthusiasts, casinos for those wishing to play a different type of game, and of course Weekend Warriors Adult Hockey Academy! This is one of our most popular camp locations.
"I wish I had been able to attend this camp when I was first learning to skate and play hockey at the same time. Muddling along doing things the wrong way makes for a lot of bad habits to unlearn. Newbies, do yourself a favor. Sign up for camp!" - Jeannie W. - Lake Tahoe 2015 (Also check out Jeannie's article that she posted after camp.)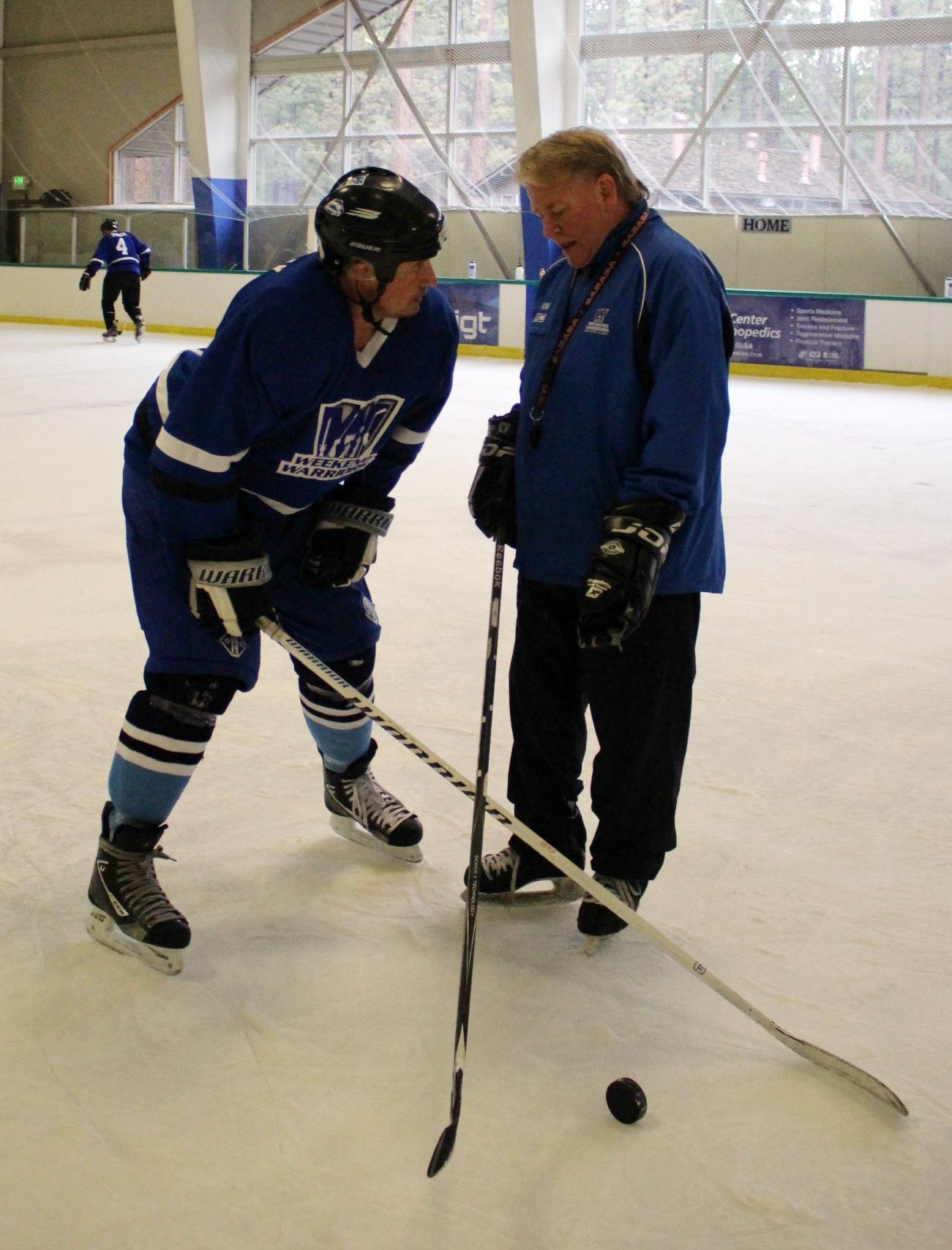 Photo: Coach Kevin helps Ray with his wrist shot
"I played that Sunday night and already noticed improved play particularly in game strategy and positioning. Your coaches were awesome. I couldn't believe how much individual attention they were able to give me. Hope to see you again next year" - Kent "Breezers" M. (Rookie at age 73!)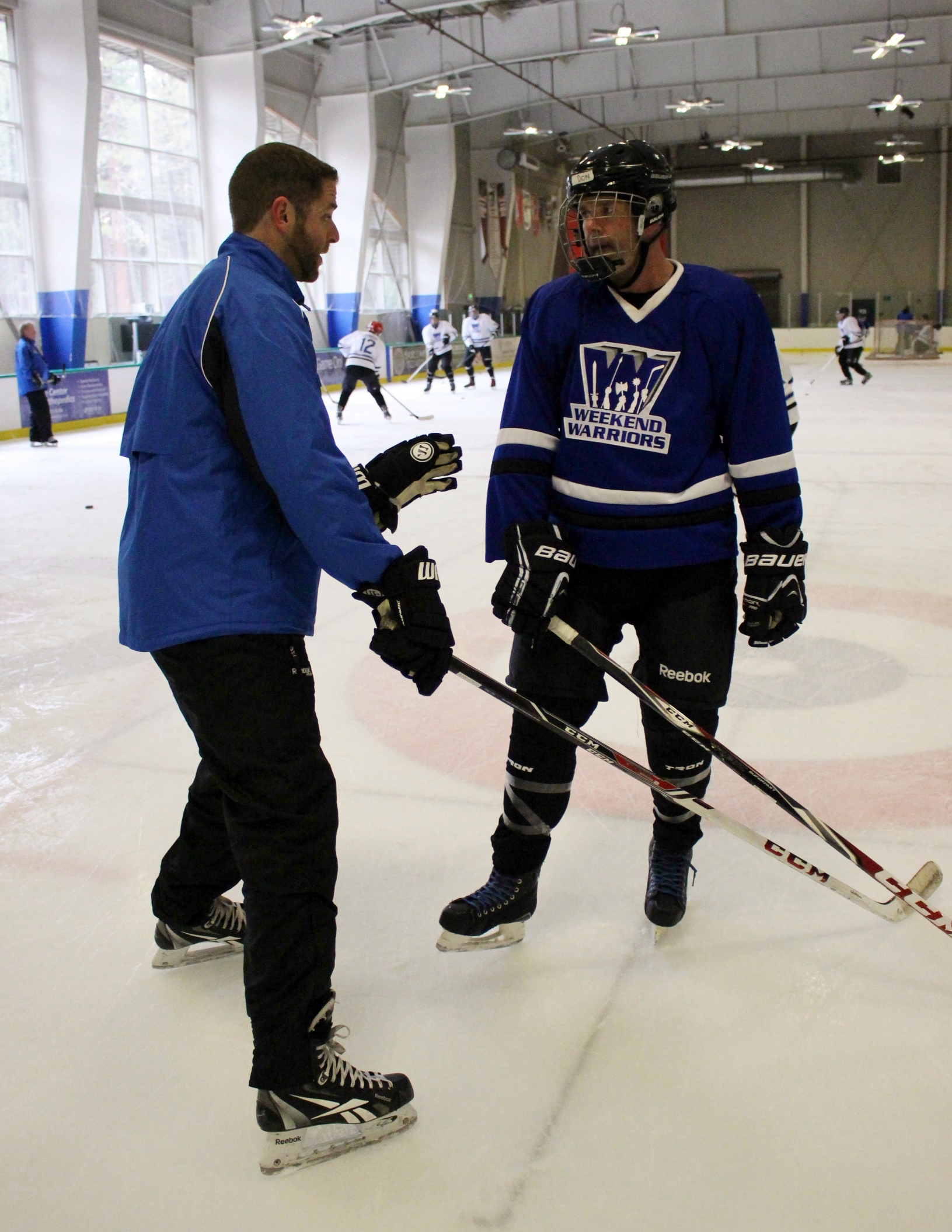 Photo: Coach Nick works 1 on 1 with a player
"All the coaches do a great job breaking down each part of your fundamental skills to manageable bites. Sure, it might take longer than this camp to really nail down the perfect stride, but you won't get a better chance than with Weekend Warriors instructions." - Jasper L. - Lake Tahoe 2015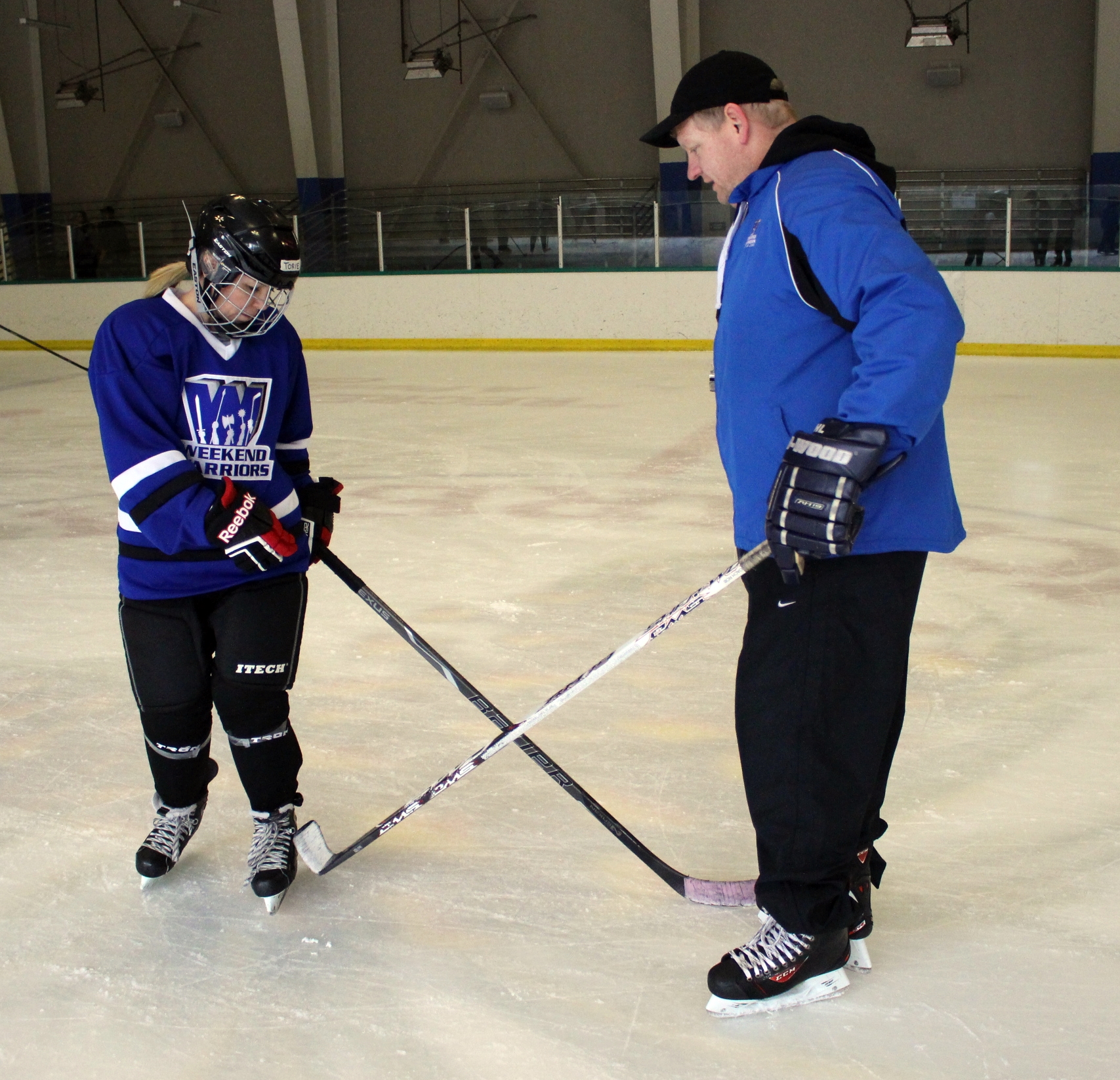 Photo: Coach Rob helps player with edge work
Approximate
Schedule of Ice Times and other activities (Subject to change)
Note: An updated schedule will be sent by e-mail to all registered players before camp. The e-mailed schedule always supersedes the online version. This will be a double camp, which means the schedule will be adjusted to accommodate 2 groups.
Thursday
4:00: Orientation (at Rink). Meet the coaches, other players and receive an orientation of the weekend's events; Get Dressed.
6:00 – 8:00 PM: Ice Session #1
After Ice Session: "Break the Ice Party" – meet and greet the coaches, staff and your fellow players. Appetizers provided. Cash bar.
Friday
9:00 – 11:00 AM: Ice Session #2
11:00 AM – 12:30 PM: Lunch on your own. (11:20A – 12:20P – Goalie Video Review)
12:30 – 1:15 PM: Video Review Session – Forward Skating – White Team
1:15 – 2:00 PM: Video Review Session – Forward Skating – Blue Team
2:00 – 3:00 PM: Chalk Talk1
3:30 – 5:30 PM: Ice Session #3
Evening: On your own.
Saturday
9:00 – 11:00 AM: Ice Session #4
11:00 AM – 12:30 PM: Lunch on your own
12:30 – 1:45 PM: Skaters: Chalk Talk 2; Goalies: Review Skills Video
2:00 – 3:00 PM: Video Review of Scrimmage (Goalies review w/goalie coach)
3:30 - 5:30 PM: Ice Session #5
7:30 PM - Camp Banquet
Note: To players attending with spouse, friend or family, they are welcome to attend for a nominal additional charge. Please let us know in advance if you plan to bring a guest.
Sunday
9:00 - 11:00 AM: Ice Session #6
The Rink
South Lake Tahoe Ice Arena located in beautiful South Lake Tahoe, CA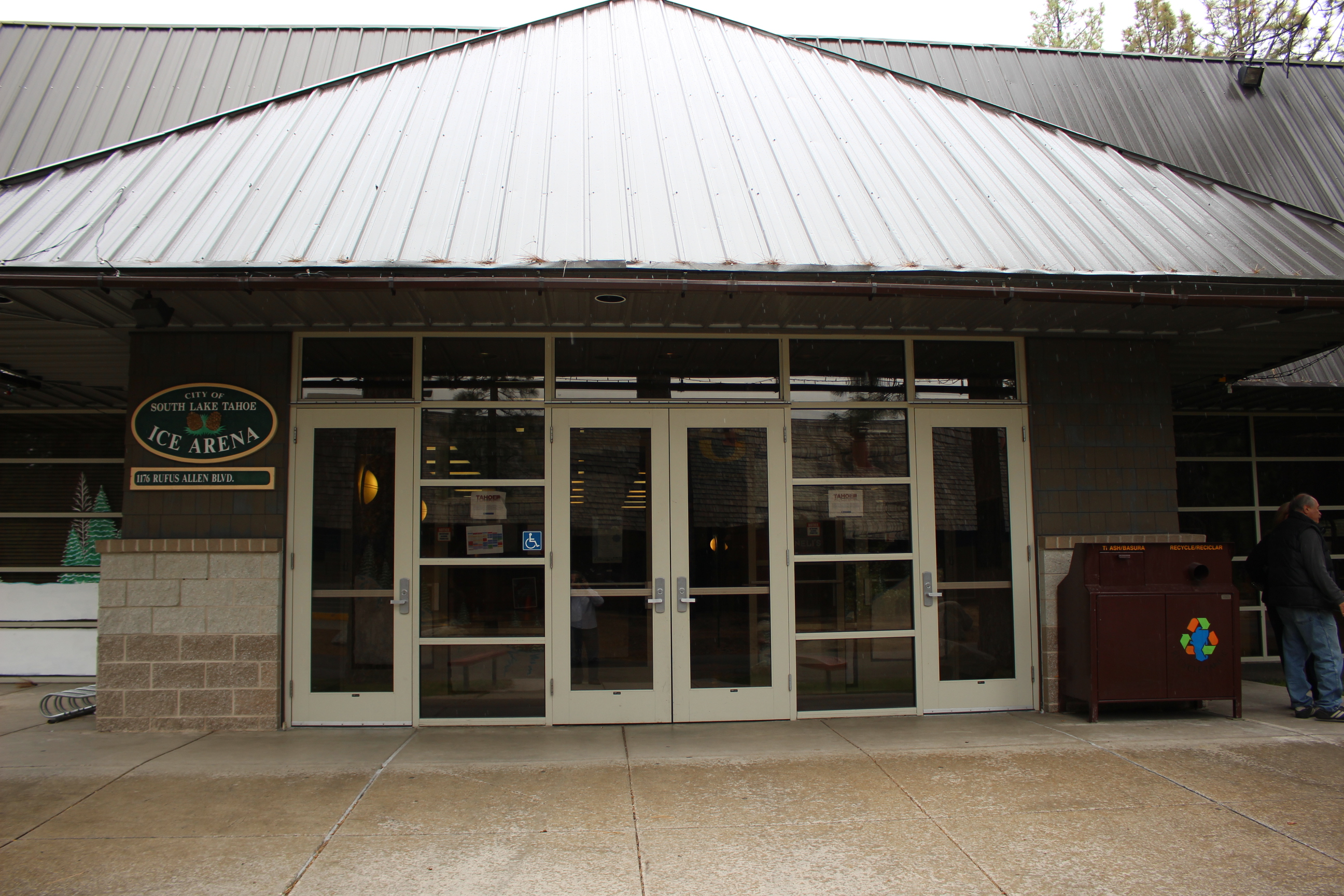 Player Activities Off the Rink
Weekend Warriors is about more than just learning and playing hockey. It is an entire weekend experience of fun, learning and camaraderie. In order to achieve this goal, we will:
Host a "Break the Ice" Party on Thursday evening, which will follow the first skate. This will give you an opportunity to get to know your coaches and fellow players. Coming with a spouse or friend who is not playing? They are welcome to join us.

Host a Banquet Dinner on Saturday evening for all players, coaches and staff. And if you have come with a non-playing spouse, friend or family member, please bring them along. They are welcome to join the fun for the cost of the meal.

Help you plan any other activities that may interest you.
Activities for Attending Spouses/Families of Players
Some players may wish to bring their spouse or family along. Lake Tahoe certainly has a plethora of different activities to offer. The local members of our staff can tell you anything you want to know about area activities and recreational opportunities that you may want to take advantage of during your stay. Additionally, the following websites can help identify any of the many offerings:

Are you flying in?
The South Tahoe Express offers several daily departures between the Reno Airport and South Lake Tahoe for those not wishing to rent a car. Fees are approximately $30.00 one way, and $48 round trip. Additional fuel surcharges may apply. For more details visit their site at: http://www.southtahoeairporter.com/. The shuttle will take you to the Casino area (Nevada side of town). The Lakeland Village free private shuttle can meet you at the Harvey's casino transportation center and bring them the mile to Lakeland Village.
When
May 16th, 2019 2:00 PM through May 19th, 2019 1:00 PM
Location
1176 Rufus Allen Blvd.




South Lake Tahoe

,

CA

96150




United States
Lake Tahoe Camp Fee
| | |
| --- | --- |
| Choose Registration Option | |
| Pay in Full | $ 850.00 |
| Pay in Full ( Alumni w/ $40 Uniform Credit ) | $ 810.00 |
| Deposit for Pay in Full | $ 200.00 |
| Deposit for Pay in Full ( Alumni w/ $40 Uniform Credit ) | $ 200.00 |