Pittsburgh - April 11-14, 2019
Late Registration Camp Fee: $795
Deposit Amount: $200 (Balance due 45 days before camp)
This camp is at the brand new, state of the art, UPMC Lemieux Sports Complex! Don't miss it.
"I improved more in the first half of camp than I predicted was possible over all four days. Amazing. One of the guys on my regular men's league team said to me "Damn, that Weekend Warriors thing really paid off. Huh?""
- Mark D.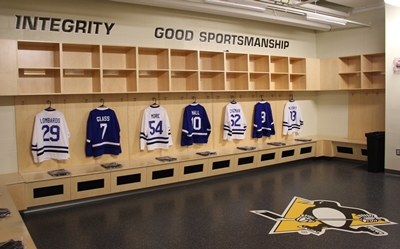 "I can honestly say I learned more in one weekend than in 10 months of weekly group classes. Skating and passing are definitely improved. I felt like coaches made a real effort to get to know all the players, and work with them individually in each and every drill. It was fantastic - great coaches, great fellow players, fantastic drills. It's cliche, but I seriously can't think of a single thing that could have been done better!" - Jason M.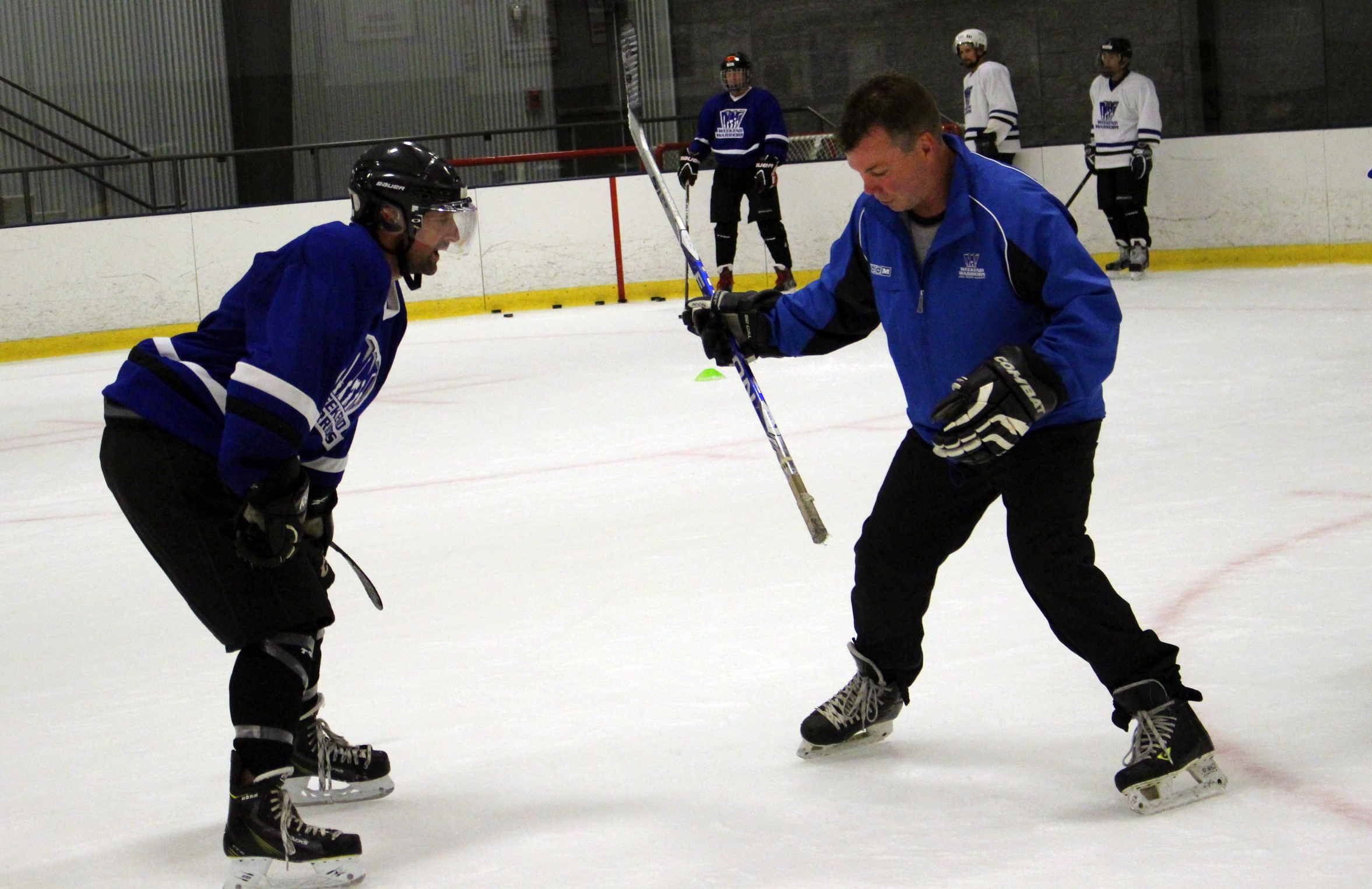 Photo: Coach Kevin helps player with wrist shot
"Awesome. Tons of fun and I learned a lot. My skating improved, my shot improved, my passing improved. The coaches and campers were all friendly and fun. All hockey all weekend. Nothing could be better." – Matt C.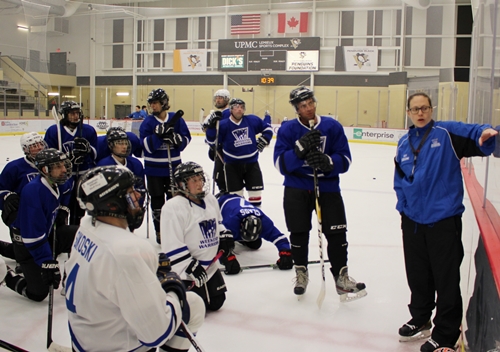 Coach Mox explains a drill
"The way in which the coaches interacted with individual skaters. The camp is very fast paced to maximize the effectiveness of ice time, but I felt like I got plenty of strong, focused coaching from each of the coaches, at one point or another. I went into the camp with some trepidation: not much experience, and really not eager to humiliate myself. And I probably did that once or twice. But the coaches were supportive and positive without being condescending. For me, along with the camaraderie I enjoyed with my teammates, they were the highlight of the camp." - John G.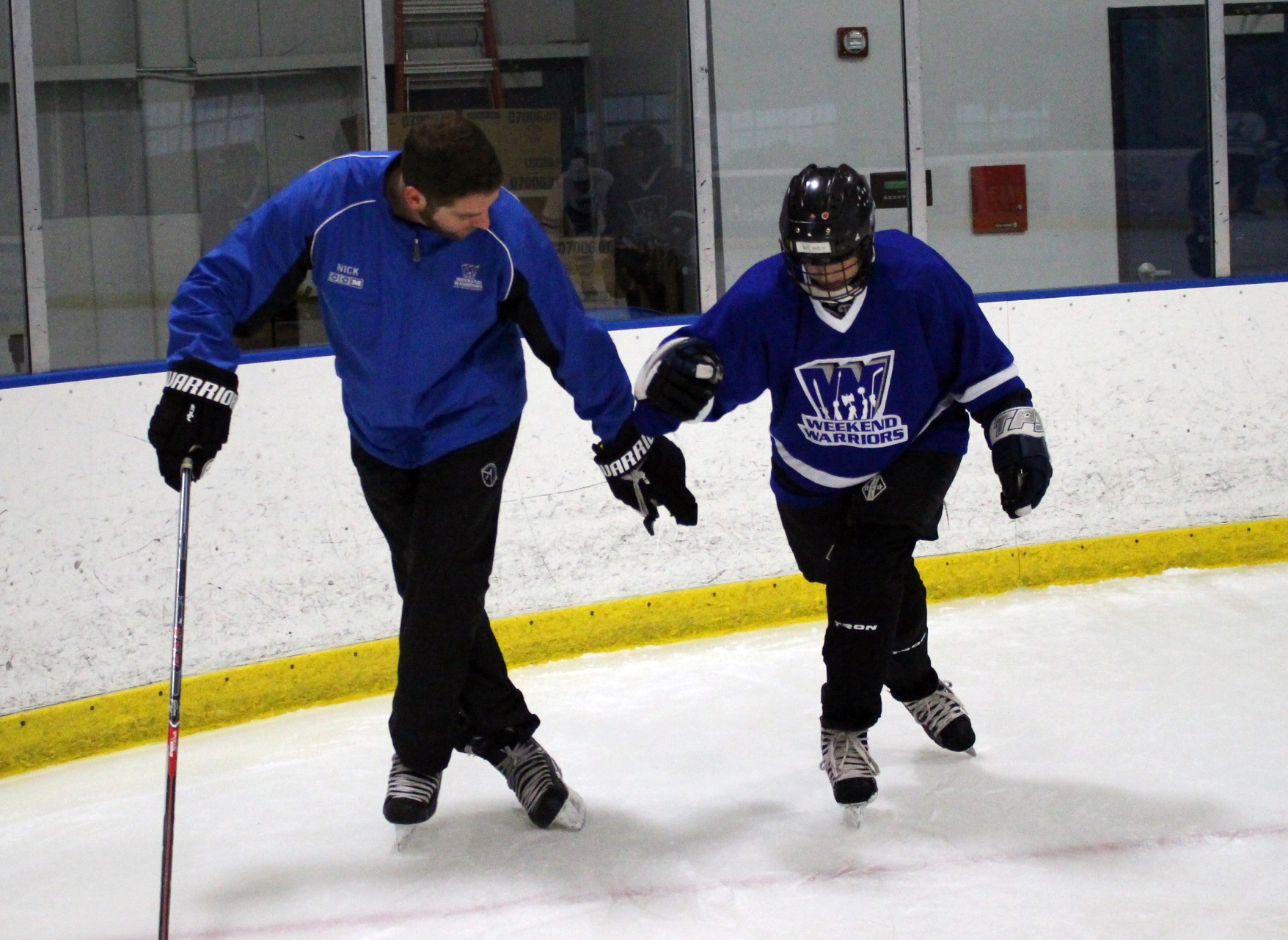 Photo: Coach Nick helps a player with her crossover
"The best money I have ever spent on hockey, should have done it 25 years ago. Every coach went over and above with one-on-one conversation both during drills and after hours. They exhibited a genuine interest in helping you improve and were extremely approachable." – Pat Binetti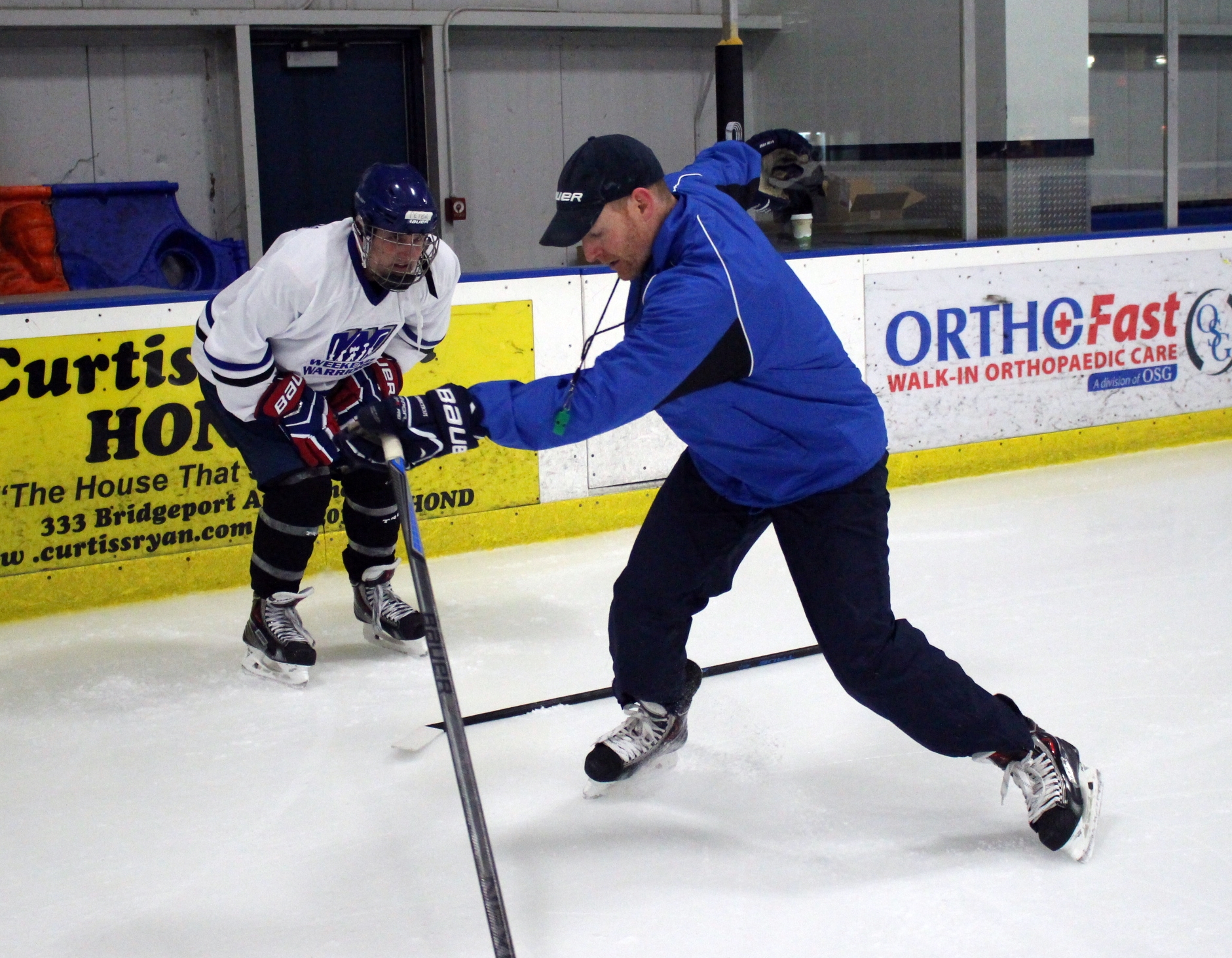 Photo: Coach Casey helps a player with his skating stride
"Going to this camp was the best thing I've done in 20 years of playing to improve my game!" – Sherwood Cooke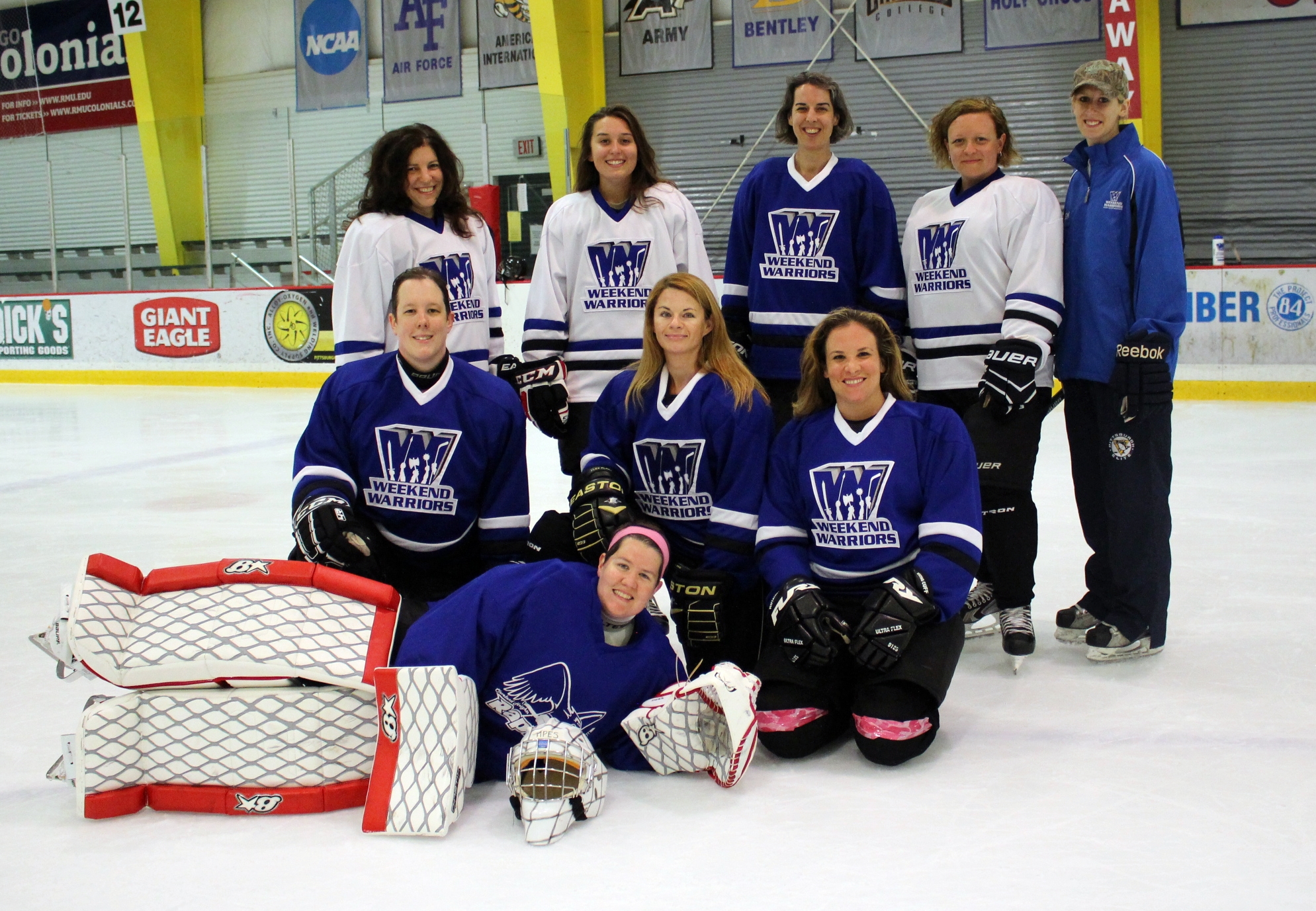 Photo: Pittsburgh Girls Just Gotta Have Fun.
Note: An updated schedule will be sent by e-mail to all registered players before camp. The e-mailed schedule always supersedes the online version.
Thursday
4:00: Orientation (at Rink). Meet the coaches, other players and receive an orientation of the weekend's events; Get Dressed.
6:00 – 8:00 PM: Ice Session #1
After Ice Session: "Break the Ice Party" – meet and greet the coaches, staff and your fellow players. Appetizers provided. Cash bar.
Friday
9:00 – 11:00 AM: Ice Session #2
11:00 AM – 12:30 PM: Lunch on your own.
12:30 – 1:15 PM: Video Review Session – Forward Skating – White Team
1:15 – 2:00 PM: Video Review Session – Forward Skating – Blue Team
2:00 – 3:00 PM: Chalk Talk1
3:30 – 5:30 PM: Ice Session #3
Evening: On your own.
Saturday
9:30 – 11:30 AM: Ice Session #4
11:30 AM – 1:00 PM: Lunch on your own
1:00 – 2:00 PM: Skaters: Chalk Talk 2; Goalies: Review Skills Video
2:00 – 3:00 PM: Video Review of Scrimmage (Goalies review scrimmage video from goalie's perspective with Coach Jim)
3:30 - 5:30 PM: Ice Session #5
7:30 PM - Camp Banquet - The cost of the meal is included in your camp fee. We hope you will all join us for some fun and camaraderie. Cash Bar.
Note: To players attending with spouse, friend or family, they are welcome to attend for a nominal additional charge. Please let us know in advance if you plan to bring a guest.
Sunday
9:30 - 11:30 AM: Ice Session #6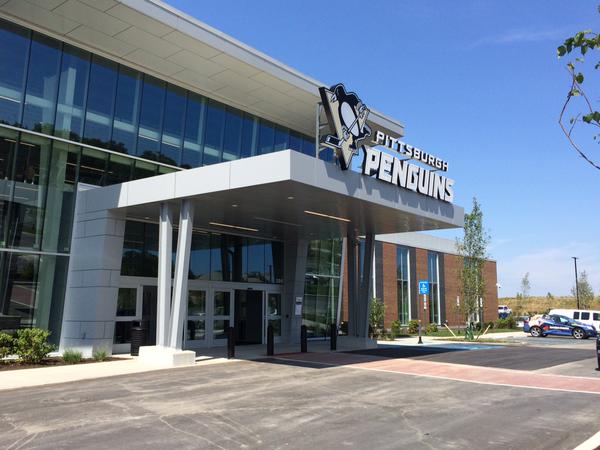 12 hours of on ice instruction from our high level staff

Off ice coaching in the form of chalk talks and video review sessions

Camp Banquet on Saturday Evening

"Break the Ice" Social on Thursday Evening

A custom jersey; socks and a water bottle

Lodging and transportation are NOT included
When
April 11th, 2019 4:00 PM through April 14th, 2019 12:00 PM
Location
8000 Cranberry Springs Dr.




Cranberry Twp.

,

PA

16066




United States
Pittsburgh Camp Fee
| | |
| --- | --- |
| Choose Registration Option | |
| Pay in Full | $ 775.00 |
| Pay in Full ( Alumni w/ $40 Uniform Credit ) | $ 735.00 |
| Deposit for Pay in Full | $ 200.00 |
| Deposit for Pay in Full ( Alumni w/ $40 Uniform Credit ) | $ 200.00 |