Shelton, CT - April 26-29, 2018
"I improved more in the first half of camp than I predicted was possible over all four days. Amazing. One of the guys on my regular men's league team said to me "Damn, that Weekend Warriors thing really paid off. Huh?" - Mark D. - Shelton 2015
Full Camp Fee: $775 - Now $725
Early Warrior Bird Price is $725 for a limited time
A $200 deposit will lock you in for this special low rate.
The balance can be paid off in payments to fit your budget.
Deposit Amount: $200 (Balance Due 45 days prior to camp)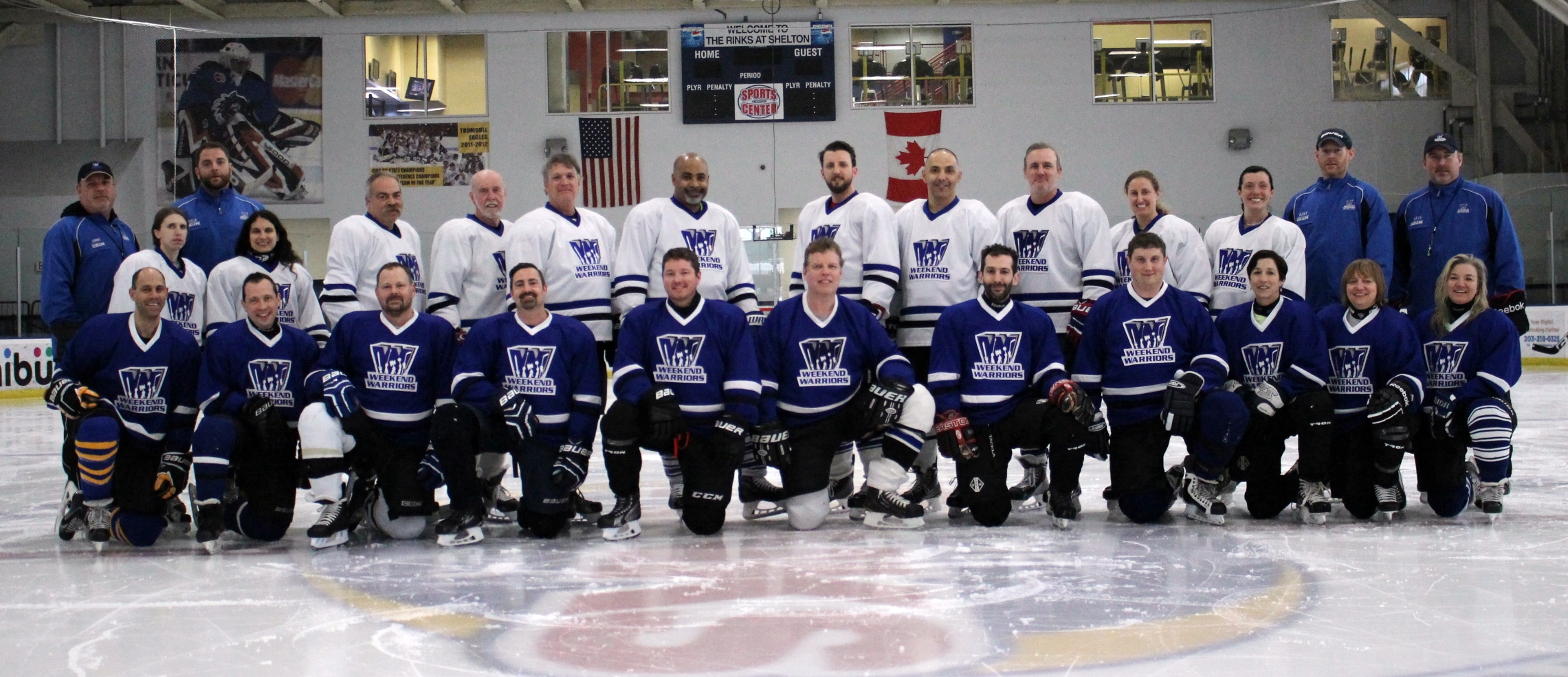 Photo: Shelton 2015 Team Photo

"It will totally help on every aspect of my game. It helped me to improve areas I knew to be a weakness and those that I didn't even know about." - Jennifer E. - Shelton 2015
Camp Description - Shelton is a pretty town located conveniently about halfway between New York City and Hartford, CT. The staff and facilities at the host rink, the Sports Center of Connecticut, are so nice, that we have decided to make this a regular stop on the Weekend Warriors circuit. We even get to use a pro-like locker room for the entire weekend. Feel like a pro, and enjoy the convenience of dressing and leaving your gear in the locker room for the entire weekend!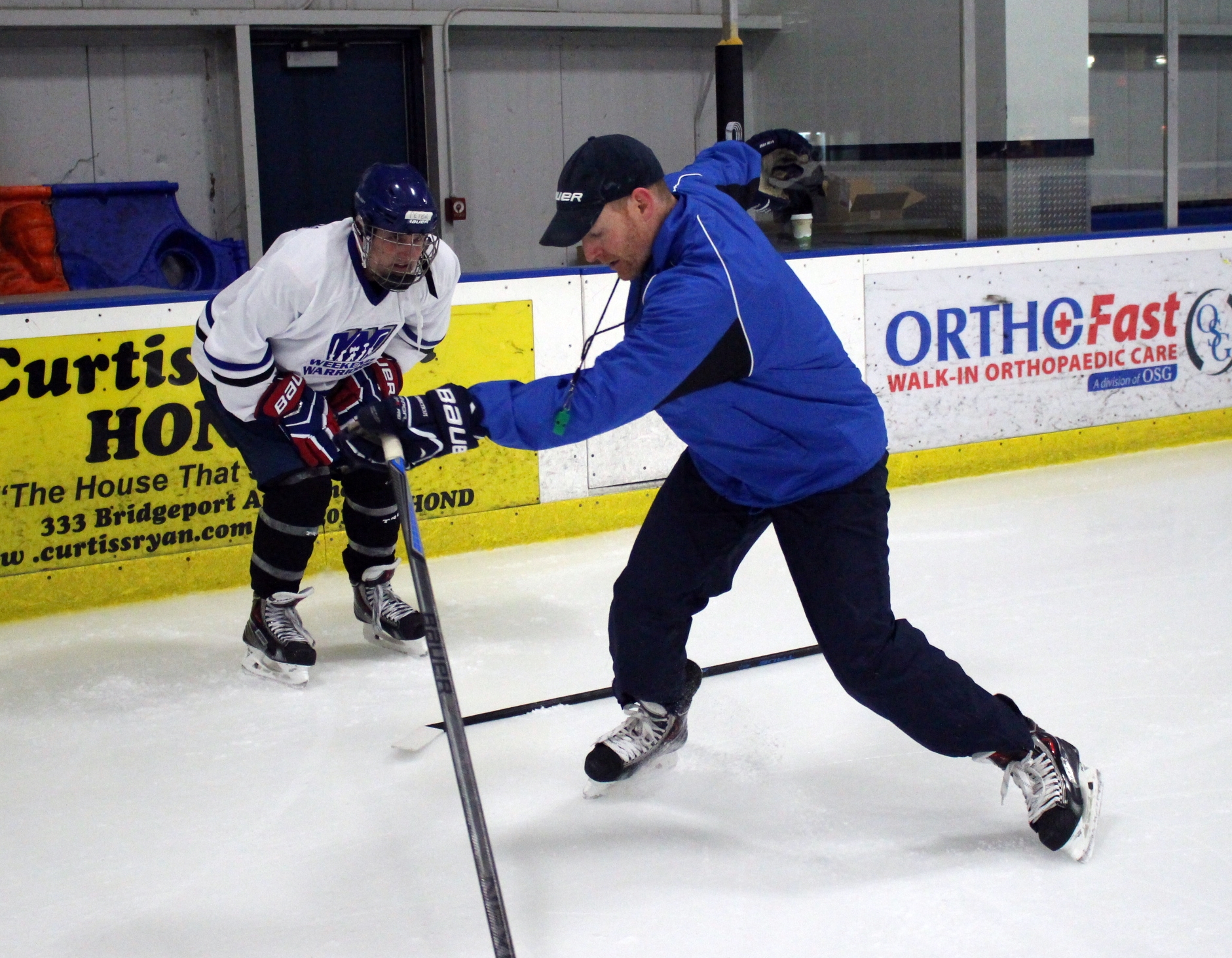 Photo: Coach Casey helps a player with his skating stride
"Weekend Warriors Hockey Camp took my understanding of the game to the next level and gave me the tools to improve every aspect of my own game." - Jack E. - Shelton 2015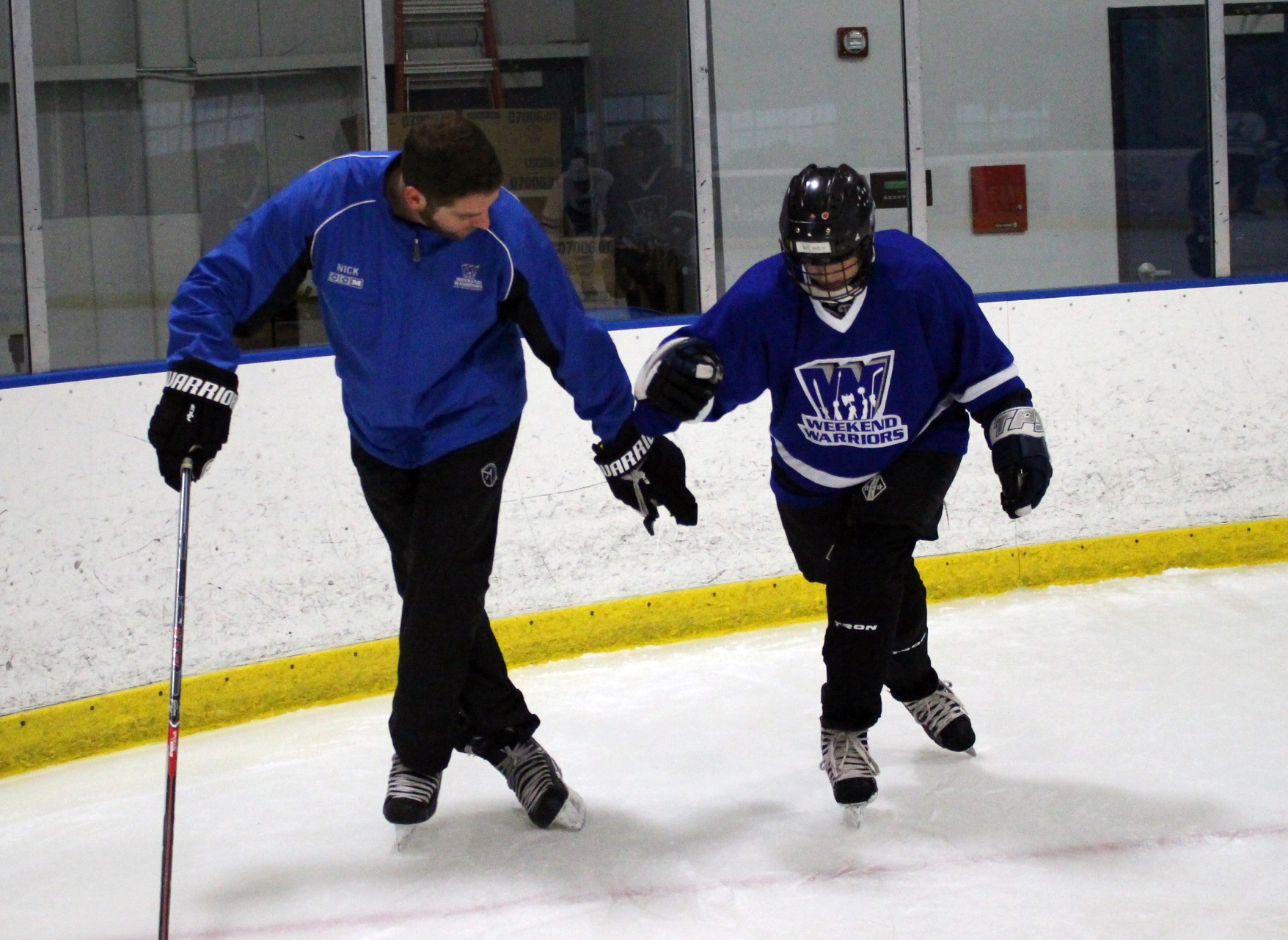 Photo: Coach Nick helps a player with her crossover
"I got a lot of personal feedback. Rather than continually doing a drill wrong, coaches frequently came up to tell me how I needed to position my foot, etc." - Maxine G. - Shelton 2015

Camp Schedule
Shelton, CT Camp Schedule
Note: An updated schedule will be sent by e-mail to all registered players before camp. The e-mailed schedule always supersedes the online version.
Thursday
4:00: Orientation (at Rink). Meet the coaches, other players and receive an orientation of the weekend's events; Get Dressed.
6:00 – 8:00 PM: Ice Session #1
After Ice Session: "Break the Ice Party" – meet and greet the coaches, staff and your fellow players. Appetizers provided. Cash bar.
Friday
9:00 – 11:00 AM: Ice Session #2
11:15 AM – 12:00 PM: Video Review Session – White Team (Skaters only)
12:00 – 1:00 PM: Lunch from 12-1 plus time you are not in video (i.e. before or after lunch)
1:00 – 1:45 PM: Video Review Session – Blue Team & Goalies (Goalies separately w/Coach Jim)
2:00 – 3:00 PM: Chalk Talk1 (Goalies: Goalie talk w/Coach Jim)
3:30 – 5:30 PM: Ice Session #3
Evening: On your own. Unofficial gathering(s) to be announced for players wishing to socialize with their fellow campers.
Saturday
9:30 – 11:30 AM: Ice Session #4
11:30 AM – 1:00 PM: Lunch on your own
1:00 – 2:00 PM: Skaters: Chalk Talk 2; Goalies: Review Skills Video
2:00 – 3:00 PM: Video Review of Scrimmage (Goalies review scrimmage video from goalie's perspective with Coach Jim)
3:30 - 5:30 PM: Ice Session #5
7:30 PM - Camp Banquet - The cost of the meal is included in your camp fee. We hope you will all join us for some fun and camaraderie. Cash Bar.
Note: To players attending with spouse, friend or family, they are welcome to attend for a nominal additional charge. Please let us know in advance if you plan to bring a guest.
Sunday
9:00 - 11:00 AM: Ice Session #6
Note: Schedule is subject to modification.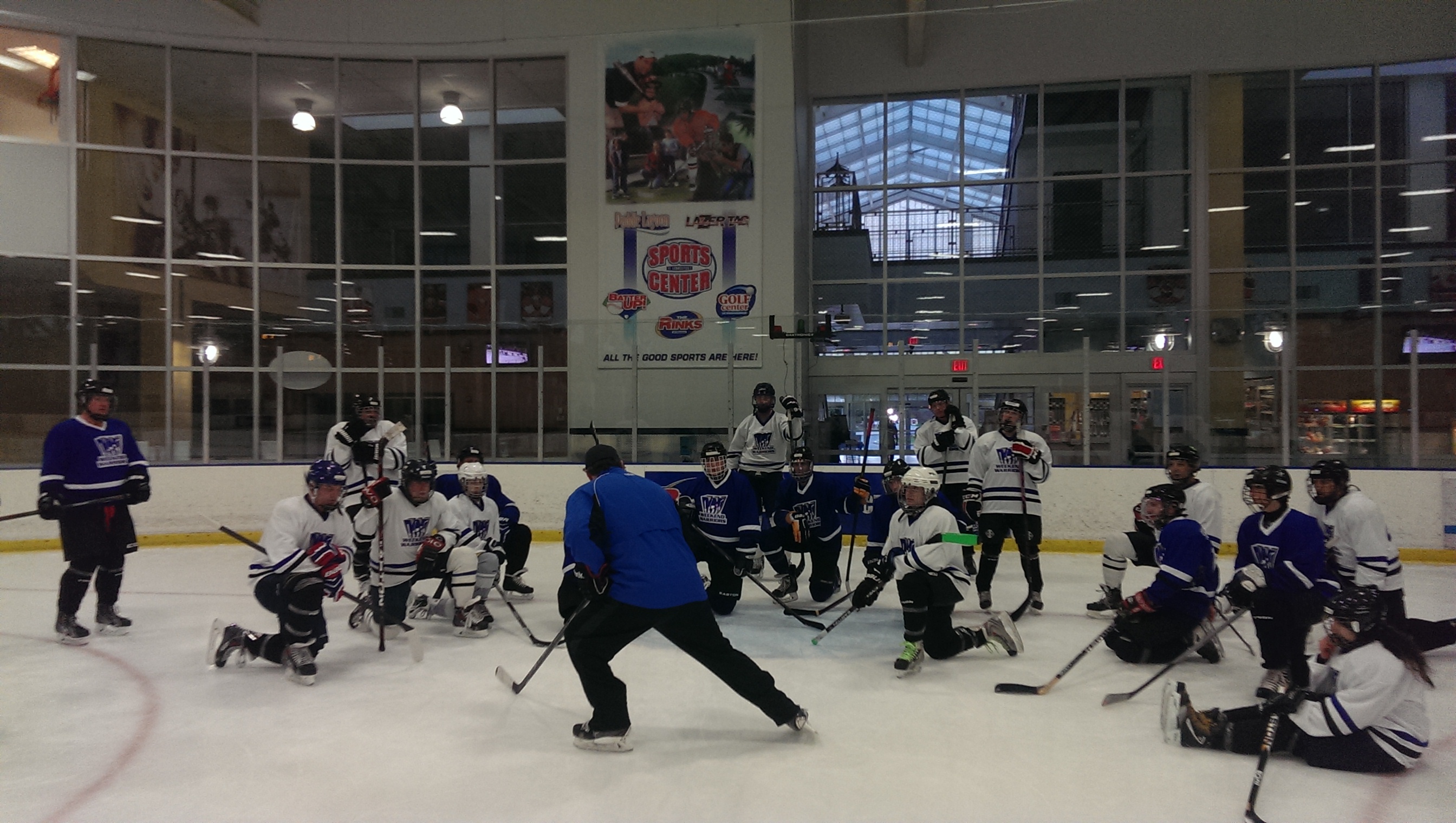 Photo: Players watch attentively as coach demos
"Coaches were great. Took me aside a number of times and pointed out what I was doing wrong with my skating technique and with 4 or 5 words made clear how to correct it. And I even got some praise!!!" - Fred R. - Shelton 2015
Rink: Sports Center of Connecticut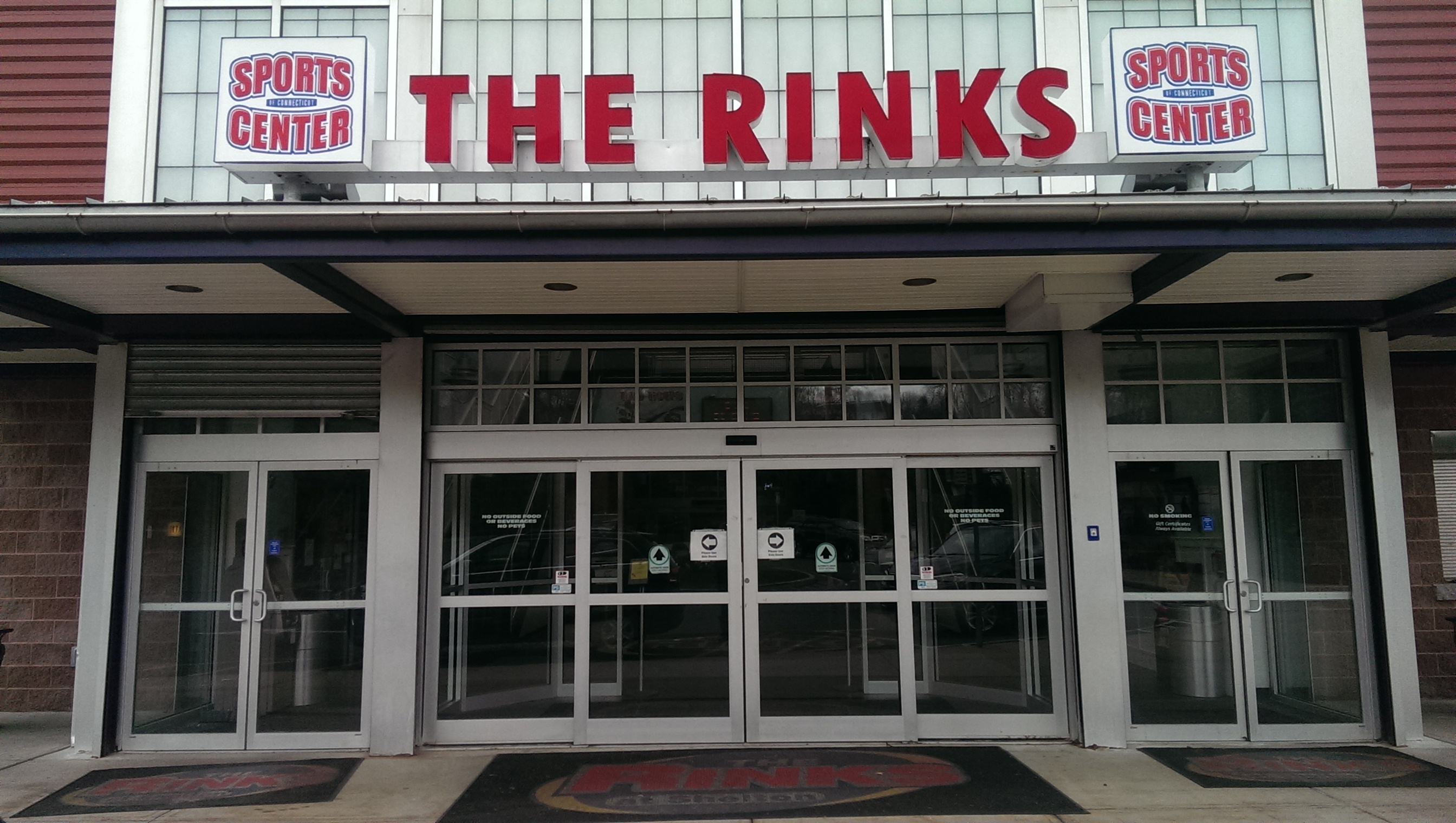 Photo: The Rinks at Shelton

12 hours of on ice instruction from our high level staff

Off ice coaching in the form of chalk talks and video review sessions

Camp Banquet on Saturday Evening

"Break the Ice" Social on Thursday Evening

A custom jersey; socks and a water bottle

Lodging and transportation are NOT included
"If I was doing something right, I received encouragement and inspiration to ramp my 'game' up a level. If I was lacking the proper form, or wasting energy, or flat out not doing the movement right, a Coach would skate up almost immediately, ask a few questions, and then determine what changes would help correct and perfect my form. It was consistent with all participants there, regardless of skill or ability. It showed me that they were watching everyone, every action, every time. It made me feel like they genuinely cared that I/we was/were improving, that I/we was/were becoming better skaters and ultimately better players." - Kymm W. - Shelton 2015

April 26th, 2018 4:00 PM through April 29th, 2018 12:00 PM
784 River Rd.




Shelton

,

CT

06484




United States
| | |
| --- | --- |
| Choose Registration Option | |
| Pay in Full | $ 725.00 |
| Pay in Full ( Alumni w/ $40 Uniform Credit ) | $ 685.00 |
| Deposit for Pay in Full | $ 200.00 |
| Deposit for Pay in Full ( Alumni w/ $40 Uniform Credit ) | $ 200.00 |