St. Louis, MO - August 4-7, 2022
Camp Fee: $850
Note: We have spots remaining in this camp for both goalies and skaters,  Some players have experienced problems registering on our website, and thought the camp was full.  It is not.  If you have trouble registering online, feel free to call Samantha at 716-225-6357 or Rick at 814-673-2000 to register by phone.
Deposit Amount: $200 (Balance Due 45 days prior to camp)
We held our first camp in the St. Louis area in August of 2017, and what a great success.  Our players loved it, and wanted us to come back.  But the rink was aging and in a poor location.  That's why we are so excited to be returning to The Lou at the Centene Community Ice Center, the brand spanking new practice facility of the Stanley Cup Champion St. Louis Blues!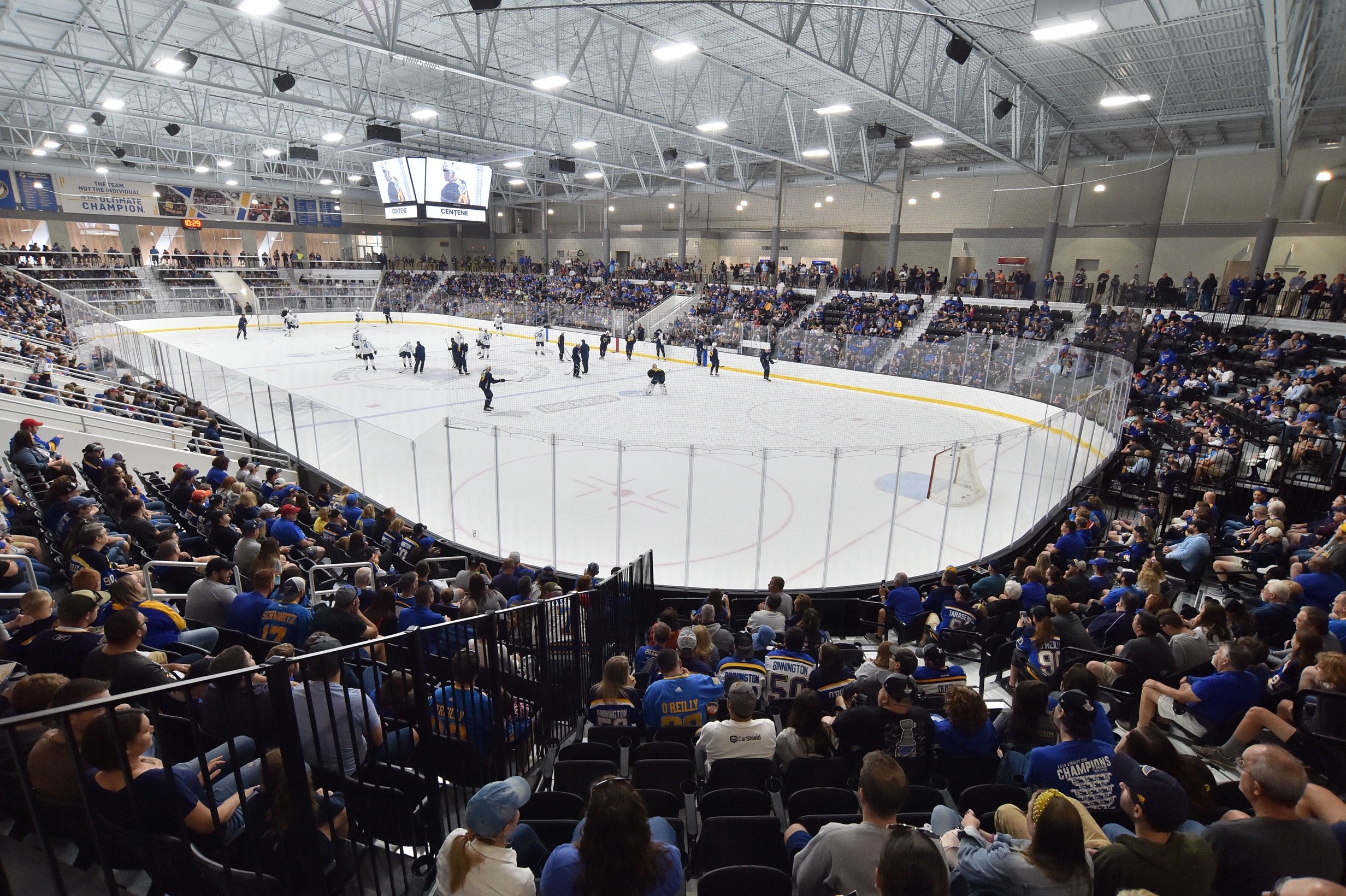 Photo: Centene Community Ice Center
At Weekend Warriors we have something for every player. Whether you're a new player who needs proper guidance through the crucial early development phases, or an experienced player who has been playing for 30 years, our coaches will ensure that you get the training you need!
Goalies get special treatment, with our goalie specific curriculum led by one of our dedicated goalie coaches. 
Women don't be intimidated. We have women players at all of our camps, and also have a number of female coaches on our talented staff.
See what our alumni are saying about our camps:
"Weekend Warriors Hockey Camp took my understanding of the game to the next level and gave me the tools to improve every aspect of my own game." - Jack Edwards
"The combination of 12 hours of ice time, superior coaching, skill progressions, video analysis, and social events was outstanding. I didn't know how it would be attending the camp on my own, but everyone made me feel welcome and I learned more than I have at any other camp. The coaching staff was knowledgeable and professional." – Lynda Ransdell
"Clinics/instructionals around here don't even come close to as much detail as this camp provides." – Steve Reck
"I highly recommend this camp to anyone looking to improve their skills. If you're jealous of the work you see your kids getting in their summer hockey camps, this is your chance to have as much as fun as they do for a few days." – Ron Ramey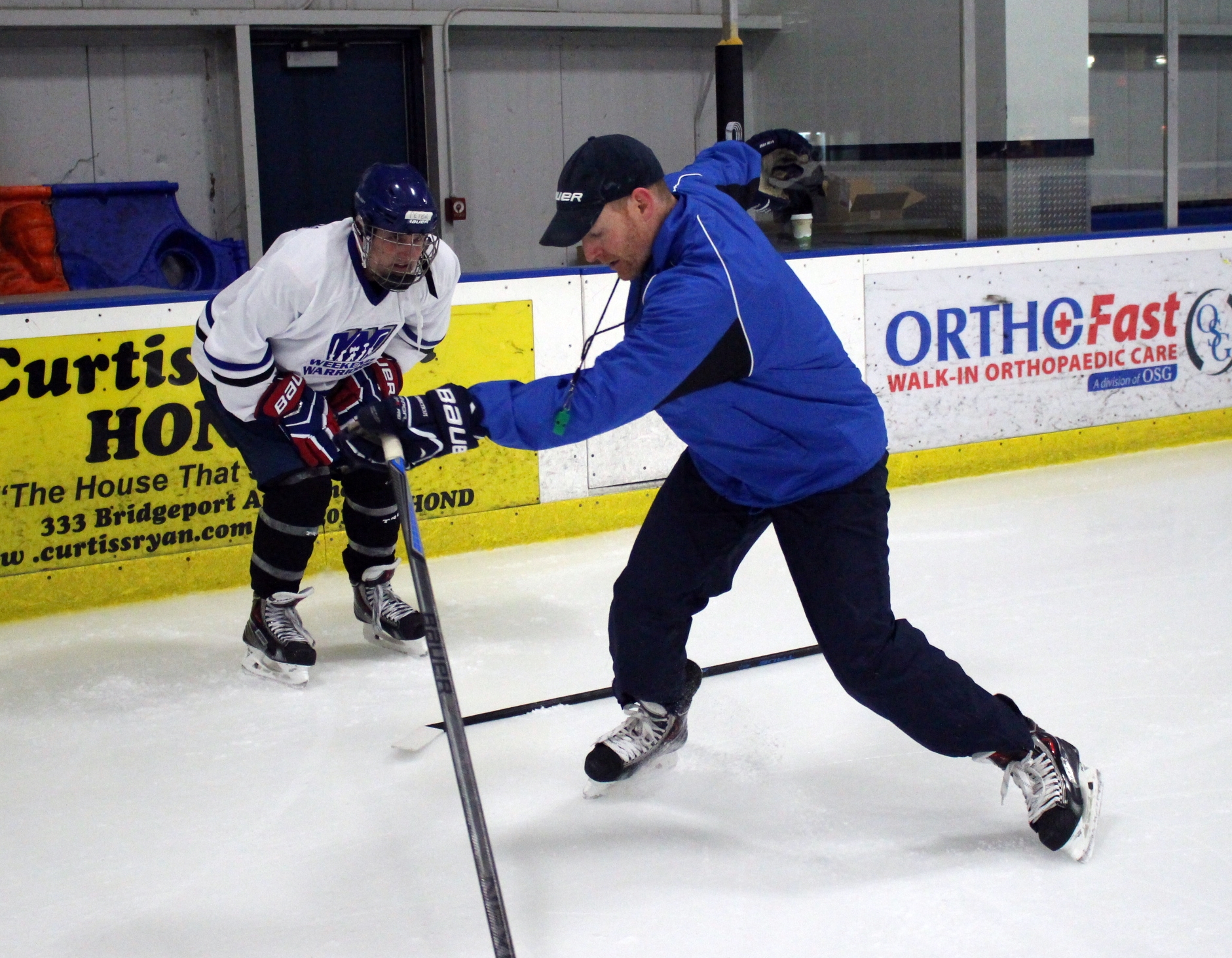 Photo: Coach Casey helps a player with his skating stride
"WW was the ideal 4-day vacation. You are taught proper the techniques needed to play the game to the best of your ability. I entered camp somewhat confident in my playing ability, was quickly humbled when I learned I wasn't as good as I thought I was, worked hard and had fun, and left camp with a smile on my face, feeling better about myself and my playing ability than I ever have in my entire life. No matter what your skill level is, you leave WW camp better. And the friendships you develop off the ice are for the lifetime." – Pat Mauceri
"I think I got a lot of useful of feedback, and had several "a ha!" moments.  I couldn't do the outside edge C drill at all, and Kevin took a look at what I was doing and immediately knew what my problem was, and gave me some tips about how to correct it."– Steve Benjamin
"I spend about $120 per 6-8 week session of "learn-to-play", and have been doing it for about 2.5 yrs. While I like the ice time, the instruction is definitely not as structured or focused as in camp. It's also not as individualized." – Matt Majzun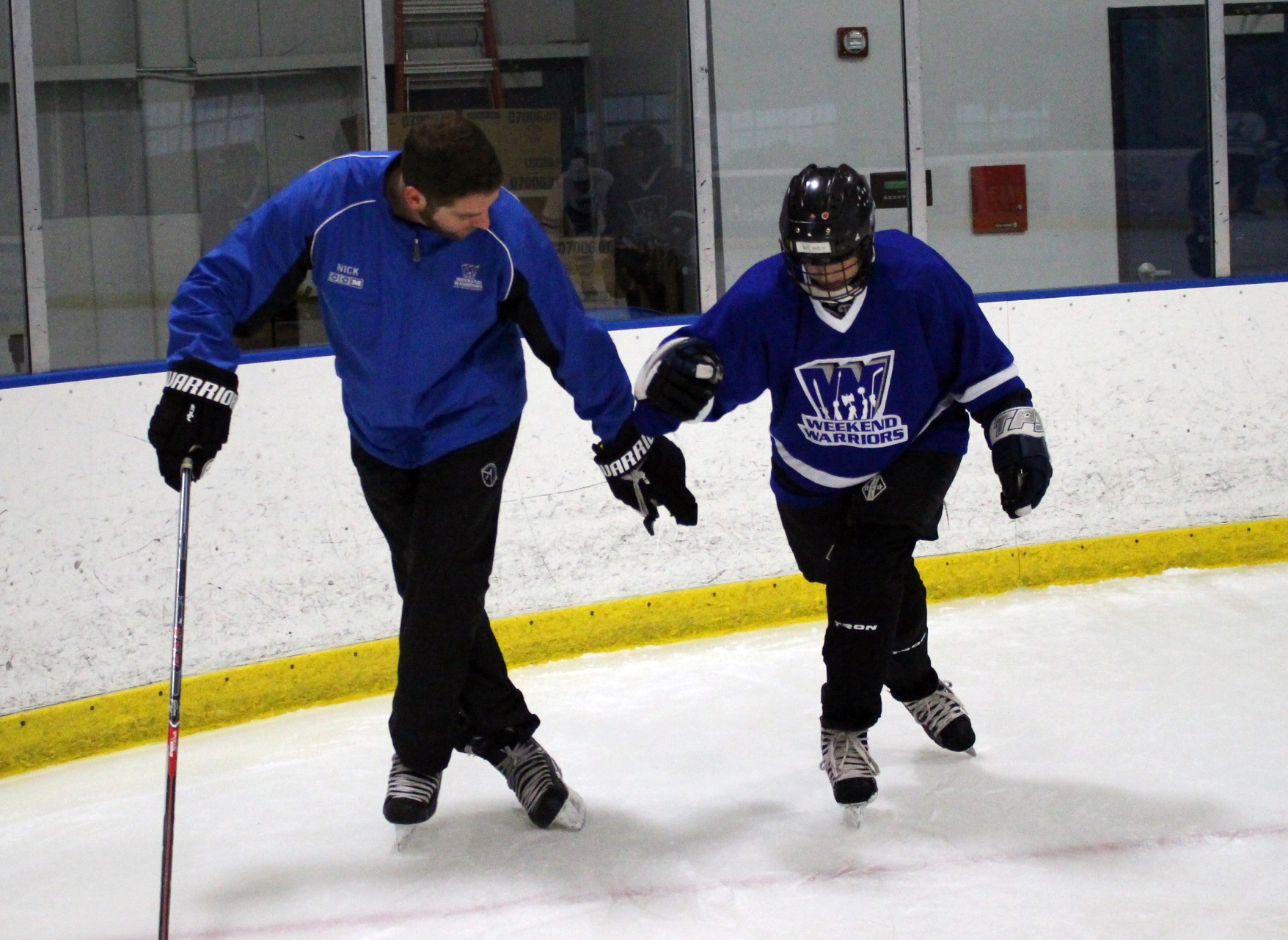 Photo: Coach Nick helps a player with her crossover
Rink: Centene Community Ice Center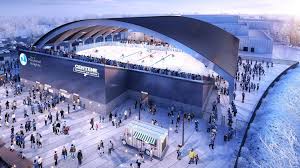 Camp Schedule
St. Louis, MO Camp Schedule
Note: This is just an approximate schedule.  An updated schedule will be sent by e-mail to all registered players before camp.  The e-mailed schedule always supersedes the online version.
Thursday
5:30 PM: Orientation (at Rink).  Meet the coaches, other players and receive an orientation of the weekend's events; Get Dressed.
7:30 – 9:30 PM: Ice Session #1
After Ice Session: "Break the Ice Party" – meet and greet the coaches, staff and your fellow players.  Appetizers provided.  Cash bar.
Friday
9:00 – 11:00 AM: Ice Session #2
11:15 AM – 12:00 PM: Video Review Session – White Team (Skaters only)
12:00 – 1:00 PM: Lunch from 12-1 plus time you are not in video (i.e. before or after lunch)
1:00 – 1:45 PM: Video Review Session – Blue Team & Goalies (Goalies separately)
2:00 – 3:00 PM: Chalk Talk 1 (Goalies:  Goalie talk)
3:30 – 5:30 PM: Ice Session #3
Evening: Optional Group Activity:  Attend Atlanta Braves at St. Louis Cardinals game at Busch Stadium.  Game starts at 7:15PM
Saturday
9:30 – 11:30 AM: Ice Session #4
11:30 AM – 1:00 PM: Lunch on your own 
1:00 – 2:00 PM: Skaters: Chalk Talk 2; Goalies: Review Skills Video
2:00 – 3:00 PM: Video Review of Scrimmage (Goalies review scrimmage video from goalie's perspective) 
3:30 - 5:30 PM: Ice Session #5
7:30 PM - Camp Banquet - The cost of the meal is included in your camp fee.  We hope you will all join us for some fun and camaraderie.  Cash Bar. 
Note: To players attending with spouse, friend or family, they are welcome to attend for a nominal additional charge.  Please let us know in advance if you plan to bring a guest.
Sunday
9:00 - 11:00 AM: Ice Session #6
Note: Schedule is subject to modification.
12 hours of on ice instruction from our high level staff

Off ice coaching in the form of chalk talks and video review sessions

Camp Banquet on Saturday Evening

"Break the Ice" Social on Thursday Evening

A custom jersey; socks and a water bottle

Lodging and transportation are NOT included
When
August 4th, 2022 4:00 PM through August 7th, 2022 11:30 AM
Location
750 Casino Center Dr.




Maryland Heights

,

MO

63043




United States
Event Fee(s)
| | |
| --- | --- |
| Choose Registration Option | |
| Pay in Full | $850.00 |
| Pay in Full ( Alumni w/ $50 Uniform Credit ) | $800.00 |