Whitefish, MT - September 14-17, 2023
Camp Fee: $875
Registration Opens Soon.  Stay tuned.  When Registration opens, there will be a $100 discount for the first 15 players to register, as follows:
Limited Time Offer: $100 off (camp fee $775) to the first 15 players that register! A $200 deposit locks in your registration.
Deposit Amount: $200 (Balance due 45 days before camp)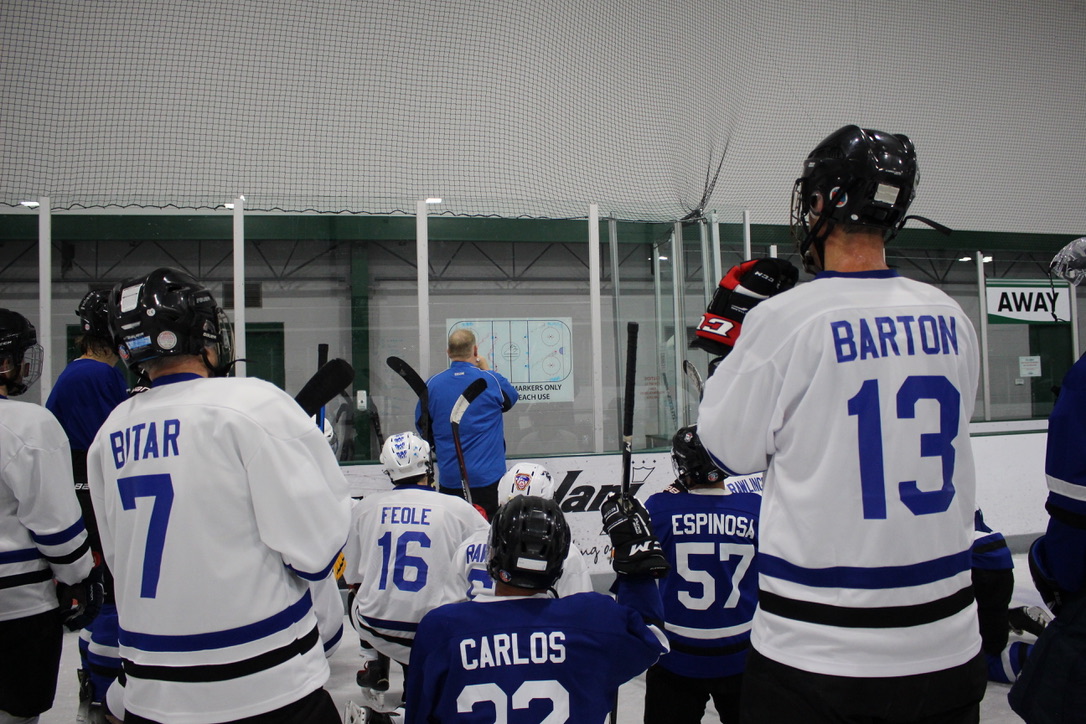 Coach Rob draws up a drill for our Austin camp.
Camp Description: Weekend Warriors is coming to Whitefish! Stumptown Ice Den is located in this lovely mountain town. Settled between the beautiful Whitefish Lake and the mountains of Glacier National Park, it is located just minutes away from hiking, biking, and exploring for those who aren't tired out from camp. With so much to offer, we hope you will come join us in Big Sky Country!
At Weekend Warriors we have something for every player. Whether you're a new player who needs proper guidance through the crucial early development phases, or an experienced player who has been playing for 30 years, our coaches will ensure that you get the training you need!
Goalies get special treatment, with our goalie specific curriculum led by one of our dedicated goalie coaches. 
Women don't be intimidated. We have women players at all of our camps, and also have a number of female coaches on our talented staff.
"The feedback from the coaches during drills was the best part for me. I seldom get the opportunity to have someone evaluate my skills and help me build on them. The camp definitely allowed this to occur." – John H.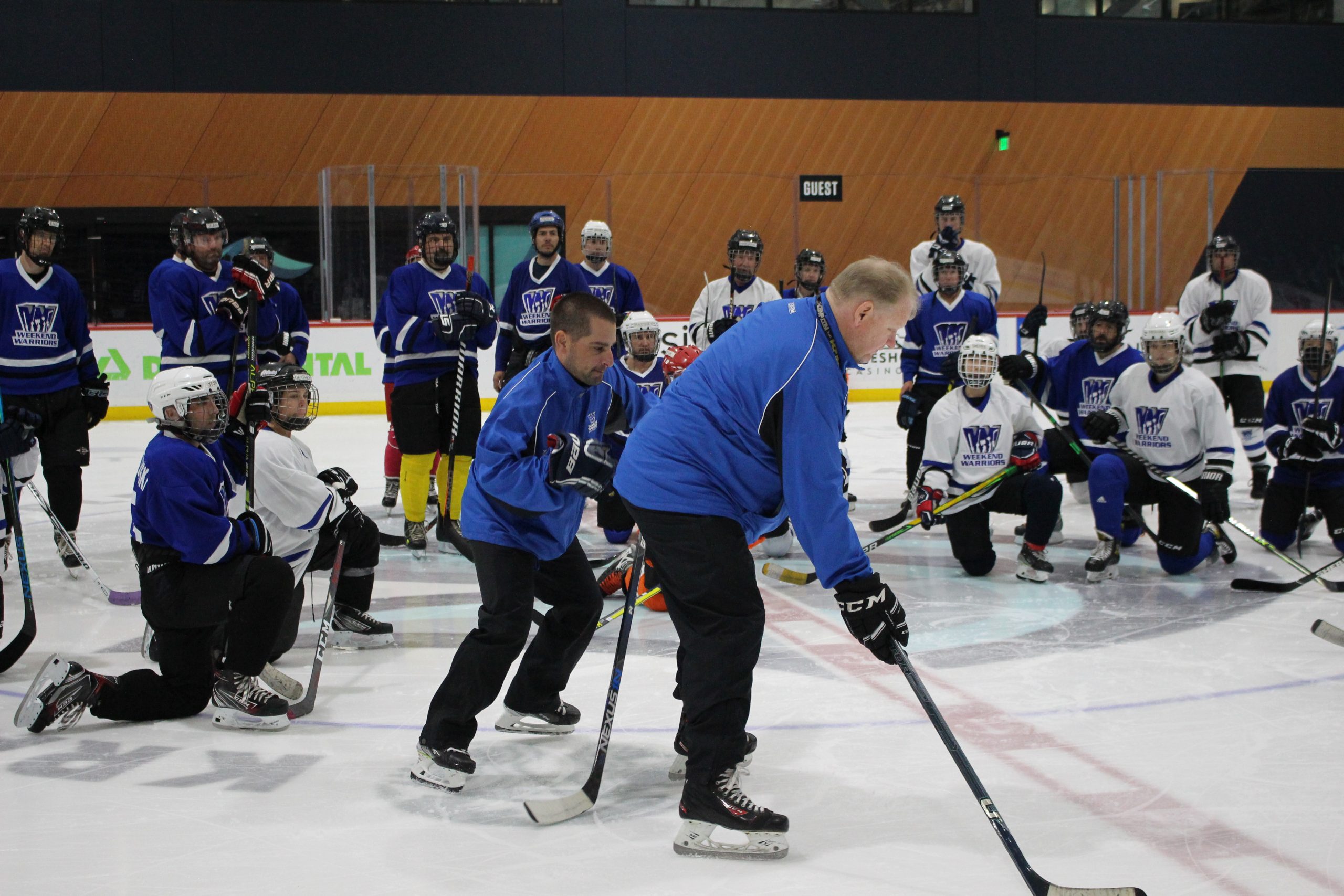 Coaches Rob and Frank demonstrate puck protenction.
"Great overall experience for any level of player. The staff and coaches are superb at what they do. Everyone at WW is friendly and approachable. My confidence on the ice has increased. I can't wait to get back to my team and use what I have learned from this camp." – Kevin S.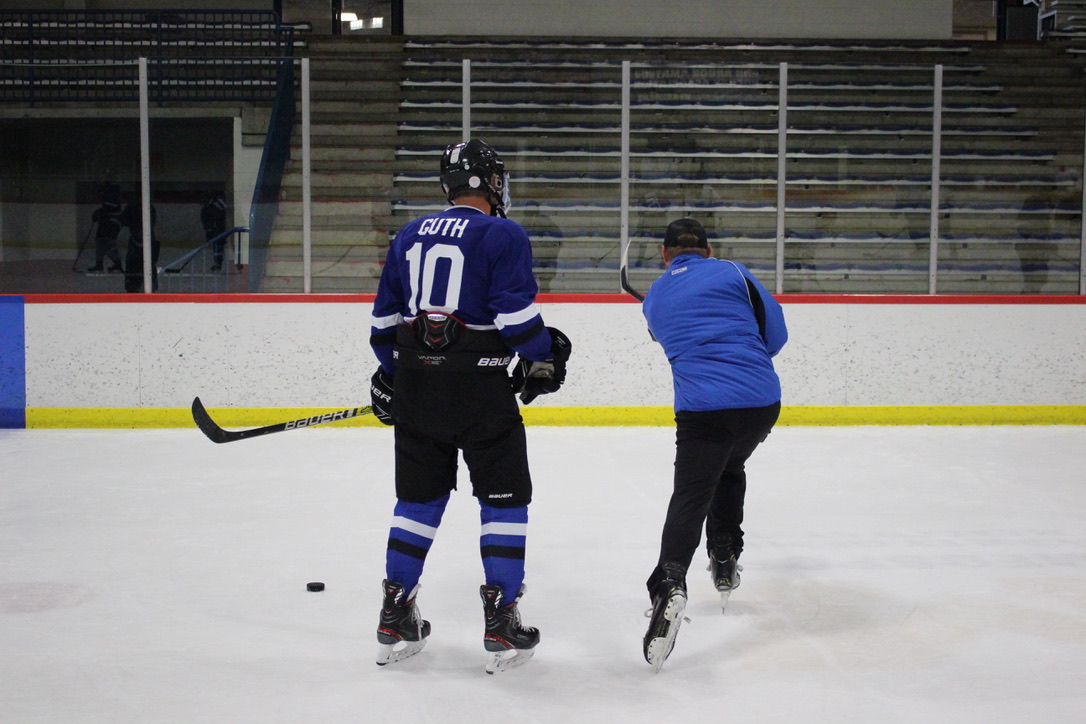 Coach Justin demonstrates proper shooting technique for a player.
"The camp was incredible! All of the advice and guidance provided by the coaches really helped me to get in the right headspace to improve my skills. I know I have a ways to go still but this camp has started to improve/undo those bad habits.  Every aspect of the camp is designed to maximize the value. It's a whole seasons worth of ice time in a 4 day time span. It was hard to believe the camp was over when the last ice time was up on Sunday, I could have kept going!  A great way to improve skills, building up conditioning, and undo some bad habits that have been developed. Each ice session builds on the skills until you are able to do the individual parts in sequence in a natural manner." – Andrew M.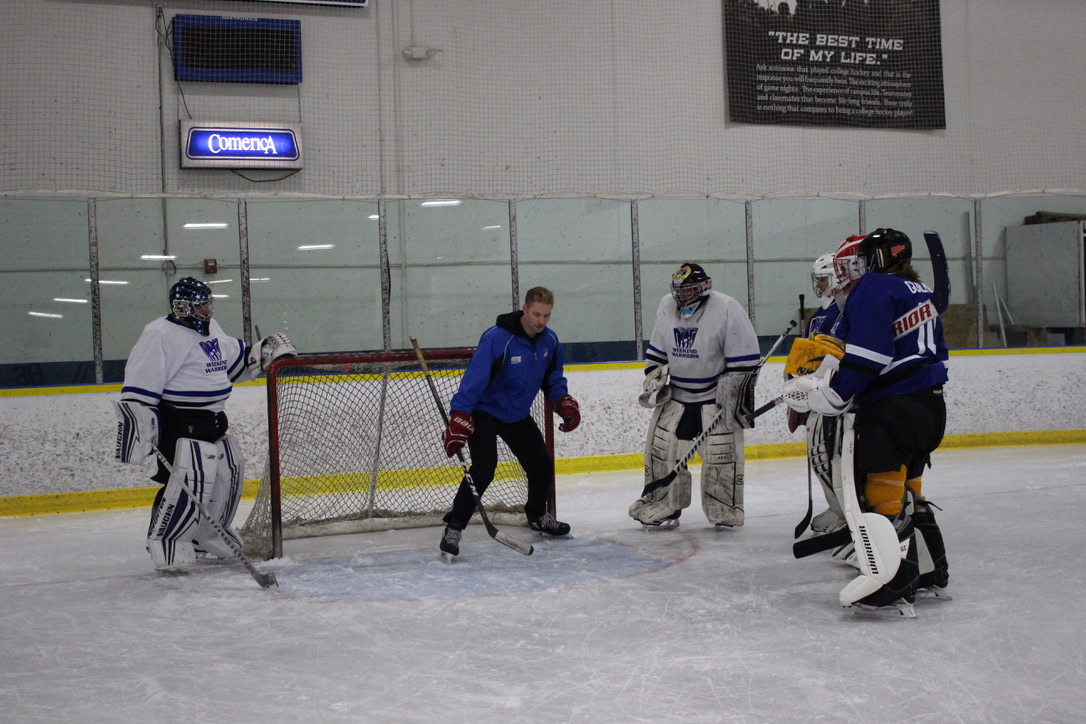 Coach Hayden demonstrates positioning for the goalies.
"It was a great time with great people and despite my body hating me for doing it, I loved every minute of it and can't wait to do another." – Daniel M. – Goalie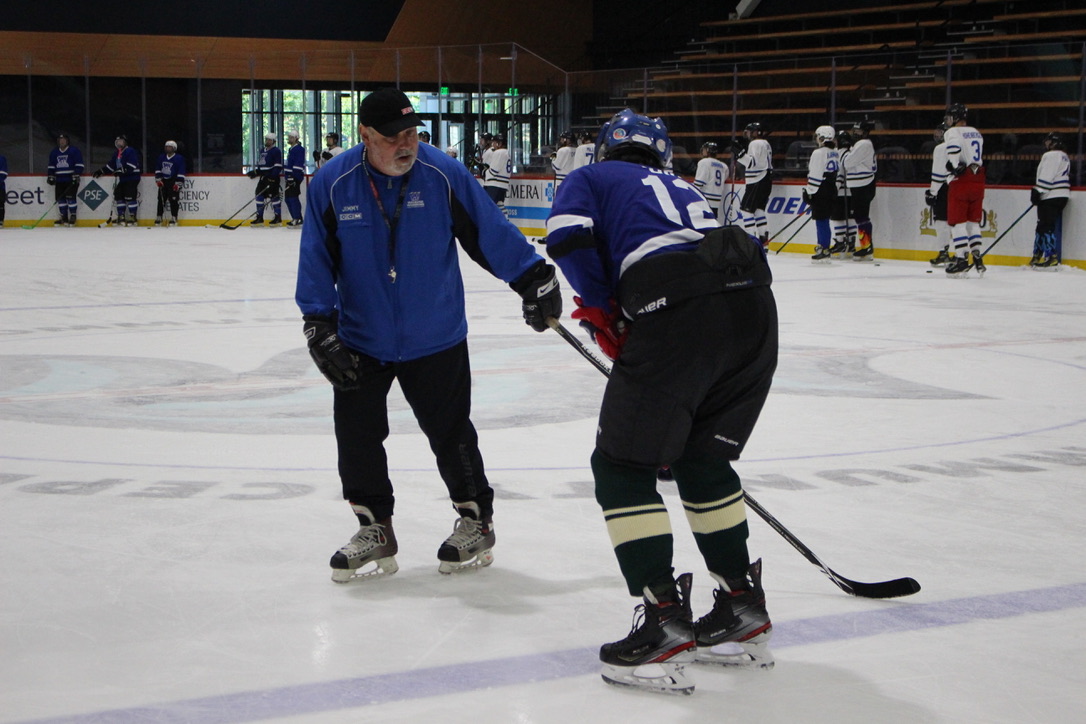 Coach Jimmy helps a player work on their skating technique.
"Great team and overall experience. If you love beer league hockey, you need to attend a camp to love it even more." – Stephen K. 
Camp Schedule:
Note: An updated schedule will be sent by e-mail to all registered players before camp.  The e-mailed schedule always supersedes the online version.
Thursday
4:00: Orientation (at Rink).  Meet the coaches, other players and receive an orientation of the weekend's events; Get Dressed.
6:00 – 8:00 PM: Ice Session #1
After Ice Session: "Break the Ice Party" – meet and greet the coaches, staff and your fellow players.  Appetizers provided.  Cash bar.
Friday
9:00 – 11:00 AM: Ice Session #2
11:00 AM – 12:30 PM: Lunch on your own. (11:20A – 12:20P – Goalie Video Review)
12:30 – 1:15 PM: Video Review Session – Forward Skating – White Team
1:15 – 2:00 PM: Video Review Session – Forward Skating – Blue Team
2:00 – 3:00 PM: Chalk Talk1
3:30 – 5:30 PM: Ice Session #3
Evening: On your own. 
Saturday
9:00 – 11:00 AM: Ice Session #4
11:30 AM – 1:00 PM: Lunch on your own 
1:00 – 2:00 PM: Skaters: Chalk Talk 2; Goalies: Review Skills Video
2:00 – 3:00 PM: Video Review of Scrimmage (Goalies review scrimmage video from goalie's perspective with Coach Jim) 
3:30 - 5:30 PM: Ice Session #5
7:30 PM - Camp Banquet - The cost of the meal is included in your camp fee.  We hope you will all join us for some fun and camaraderie.  Cash Bar. 
Note: To players attending with spouse, friend or family, they are welcome to attend for a nominal additional charge.  Please let us know in advance if you plan to bring a guest.
Sunday
9:00 - 11:00 AM: Ice Session #6
Note: Schedule is subject to modification.
Rink:
Stumptown Ice Den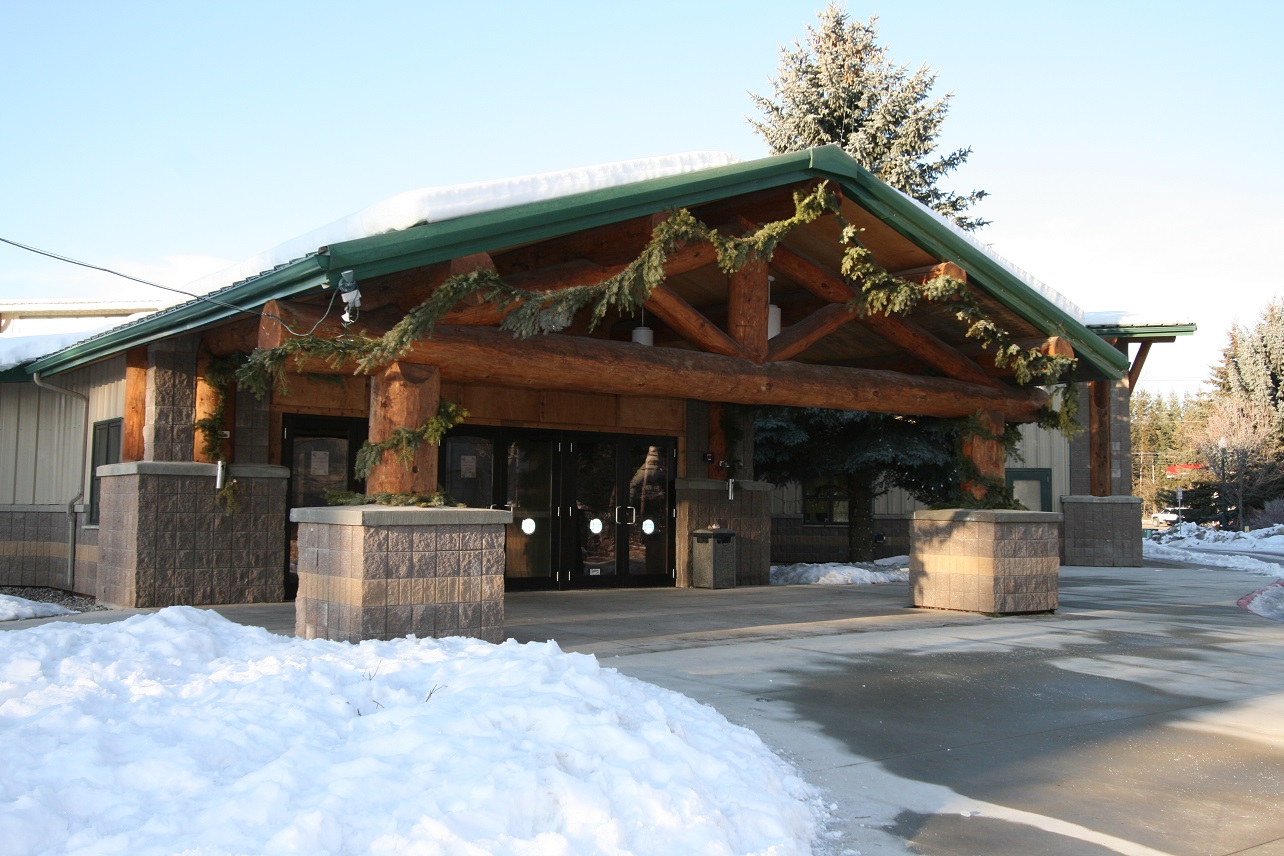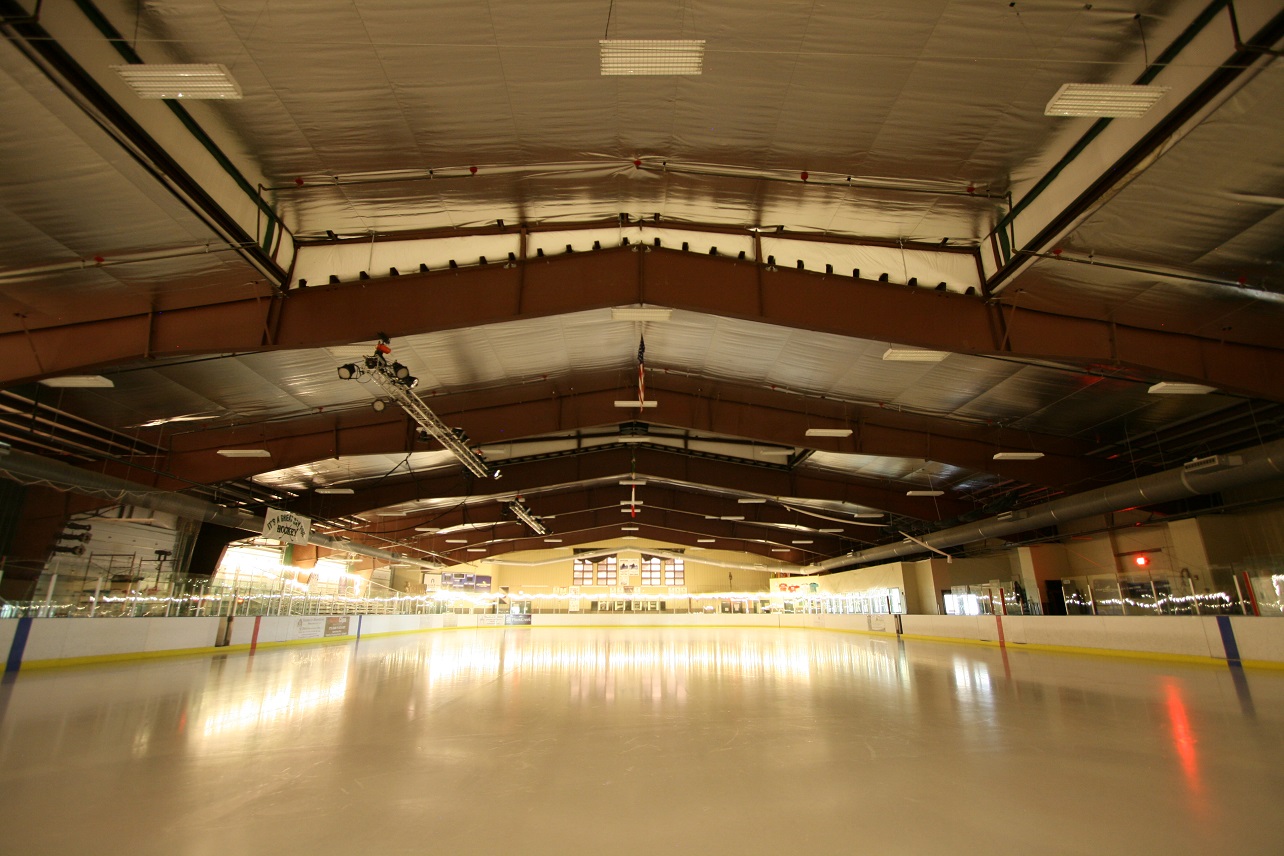 Camp Includes:
12 hours of on ice instruction from our high level staff
Off ice coaching in the form of chalk talks and video review sessions
Camp Banquet on Saturday Evening
"Break the Ice" Social on Thursday Evening
A custom jersey; socks and other swag
Lodging and transportation are NOT included
When
September 14th, 2023 4:00 PM through September 17th, 2023 12:00 PM
Location
715 Wisconsin Ave.




Whitefish

,

MT

59937




United States
Whitefish Camp Fee
| | |
| --- | --- |
| Choose Registration Option | |
| Pay in Full | $775.00 |
| Pay in Full ( Alumni w/ $50 Uniform Credit ) | $725.00 |
| Deposit for Pay in Full | $200.00 |
| Deposit for Pay in Full ( Alumni w/ $50 Uniform Credit ) | $200.00 |