"Anyone can put a team through drills – blow a whistle – yell – these guys taught."Jerry M. – Canastota, NY – Age 48
Note: Each camp features a team of Weekend Warriors coaches.  Specific coaches vary by camp.  Below are some of our core staff members from whom you can expect to learn from at camp.
Head Coach – Rob Boyle

Rob is a native of Toronto, Ontario, Canada. Rob has served as an Assistant Coach with the Central Hockey League's Wichita Thunder. Prior to that, he was the Head Coach of the University of Virginia Men's Club team. He coached and played at Concordia University in Montreal and was a player/coach in Europe. Rob has instructed at a variety of hockey schools in Canada, the United States and the Czech Republic. He is a Level 5 coach with USA Hockey and is an Advanced Level with Hockey Canada. Rob is an excellent communicator and outstanding instructor. His ability to inject humor at almost anytime helps create a relaxed and enjoyable learning environment.
Rob will serve as the Head Coach for most Weekend Warriors' camp locations. Joining Rob will be several coaches described below, which will vary by location.
At every camp, Rob offers to answer any and all hockey related questions that you may have. He extends this offer to any questions that come up after the camp concludes. So if you are a Weekend Warriors alumni and would like to ask Rob a question, just e-mail him at CoachRob@WeekendWarriorsHockey.com.
Head Coach – Nate Handrahan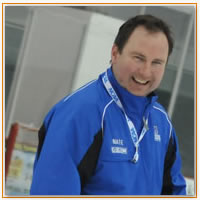 After winning championships as a defenseman in Canadian Jr leagues for the Niagara Falls Canucks, he continued his on ice success at the NCAA Division 1 level as a Niagara University Purple Eagle capturing all-league honors as well as several championships and then pursued a pro career.  Nate was fortunate to start his coaching career at his alma mater where he developed his coaching skills and philosophy of developing players, teams and coaches. His career continued at Robert Morris University in Pittsburgh, PA eventually becoming a head coach of the women's program in just 5 years of coaching.  After getting the program off the ground, which won a championship in 2010, he took the reigns of The Ohio State University women's program where he would remain for four seasons.  Nate is currently the Head Coach and General Manager for the Columbus Mavericks Jr Club that plays in the USPHL.  Nate currently resides in Hilliard, OH with his wife Kim and his three daughters Haylee, Mara and Lila.  In addition to all his extensive coaching and playing experience, Nate brings his great enthusiasm and sense of humor that make him a favorite among Weekend Warriors players.
Coach – Kevin Figsby
Kevin Figsby has more than 30 years coaching experience at the provincial, national and international levels.  In 2015 Kevin took a new position as Director of Program Delivery with Hockey Canada.  Prior to his new position, Kevin was the Head Hockey Coach at Concordia University in Montreal, Quebec for 15 years.  He is a successful motivator with more than 30 years of coaching experience at the (Canadian) provincial, national and international levels.  He has completed his Hockey Canada Level 4 Coaching certification and has achieved NCCP Master Coach status.  Kevin has served as a major contributor to Hockey Canada's National Coach Certification program as a presenter, group leader, field evaluator and coach mentor.
Kevin has served as coach of Hockey Canada's 2015 Sledge Hockey team, Guest Coach with the Montreal Canadiens in 2003; Head Coach at the World Under 17 Championships in 1995 Bronze Medalist; Team Canada Coach at the World University Games in 2005; Guest Coach for the Canadian National Team in 1995 and 1997.
Kevin's sense of humor, depth of knowledge, and unique ability to take aside a struggling player and help that player improve his or her game make Kevin a favorite at every camp.  While Kevin has been a member of the Weekend Warriors staff since 2003, his commitments to Hockey Canada have made it difficult for him to coach at Weekend Warriors camps.  We hope his schedule slows down soon, so he can once again become a regular part of our coaching staff.
Weekend Warriors alumni that wish to ask Kevin a question, may e-mail him at CoachKevin@WeekendWarriorsHockey.com
Coach – Nick Carriere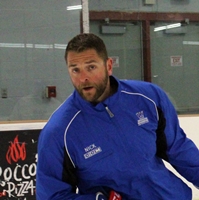 Nick Carriere is currently a development coach for the Montreal Canadiens.  Prior to this, he was an Assistant Coach with the Laval Rocket (formerly St. John's Ice Caps), the AHL affiliate of the Montreal Canadiens.  Prior to that, Nick was the Head Coach of Buffalo State College Men's Division III hockey team from 2005-2015.  Prior to 2005, Nick was the assistant coach at Fredonia State, where he worked extensively in the program's recruiting efforts in New York, Ontario, Quebec, Michigan and Ohio.  He also has over 15 years of experience working with various hockey camps, including the Buffalo Sabres Hockey School, the European Development Camp, and many others.  He also served as an assistant coach in the 2003 Eastern College Division Senior All-Star Game.
Nick is a native of Montreal, Quebec. He attended Niagara University, where he played Division I hockey. Following graduation, he played professional hockey in both Rockford and Adirondack of the United Hockey League.
Nick is extremely knowledgeable, has excellent communication skills, a great sense of humor, an intense love for the game, and is an excellent demonstrator of skating and hockey skills.  While Nick has been a member of the Weekend Warriors staff since 2005, his commitments to his new position with the Canadiens have made it difficult for him to coach at many Weekend Warriors camps.  We hope his schedule slows down soon, so he can once again become a regular part of our coaching staff.
Weekend Warriors alumni that wish to ask Nick a question may e-mail him at CoachNick@WeekendWarriorsHockey.com
Coach – Candice "Mox" Moxley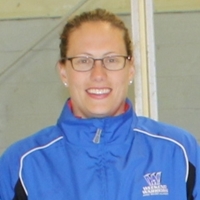 Candice Moxley currently serves as the Head Coach of the University of Western Ontario Mustangs Women's team.  She took on this position in the summer of 2018.  Prior to this, Mox spent a year coaching the Markham Thunder of the Canadian Women's Hockey League where she helped lead the team to the Clarkson Cup.
Mox was the Head Coach for Buffalo State Women's Division III hockey team from 2013 through 2017.  During this tenure she transformed the program into a national caliber program.  She led the Bengals to the ECAC West playoffs for the first time in six years during her first season behind the bench, and was named ECAC West Coach of the Year.  She has also worked as a video coach with Hockey Canada's women's development and senior teams from 2013-2015.   Prior to Buffalo State, Moxley spent two seasons as an assistant coach at Ohio State and two years as an assistant at Robert Morris in Pittsburgh, both division I programs.
A native of Markham, Ontario, Moxley was a four-year player at Division I Niagara from 2001-05 and played Women's professional hockey for 3 years in the Canadian Women's Hockey League (CWHL).  Moxley has also been a member of Canadian Women's Inline team and Canadian Women's Ball Hockey team competing internationally at world's tournaments.
Coach – Andy Calandro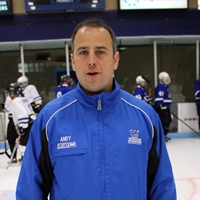 Andy Calandro has worked as a hockey coach and instructor for over 20 years.  He has worked with adult hockey players in the Washington DC/Baltimore area since 2001. Andy grew up in Detroit and played for Compuware and GPD AAA hockey clubs. He then played junior hockey for the Windsor Bulldogs and the Vail Avalanche before going to Fredonia State University (NCAA-Division III). Andy was a four-year varsity player and during his senior season at Fredonia, he was named a team captain.
He currently serves as a mite coach in Laurel, MD, but he has also served as a coach at various levels of youth hockey. Andy also runs camps and clinics for adult skaters throughout the Washington DC/Baltimore area. Andy has previously worked as an instructor with the Collegiate Development Camp and Lafontaine Hockey School. He holds a Level 4 Coaching Certificate from USA Hockey.
Andy is a high school English Teacher in Maryland. He enjoys teaching the game of hockey and bringing some of his classroom practices and strategies onto the ice with him.
Coach – Tim Branham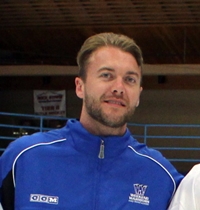 Tim Branham is currently an Assistant Coach to the Colorado Eagles, having accepted the position in 2021. Before that, he spent 8 seasons as the Head Coach/General Manager of the Utah Grizzlies from 2013-2021.  He led the Grizzlies to playoff appearances in six of his seasons behind the bench and compiled a record of 284-205-76.  Shortly after being named the Grizzlies Head Coach, Branham announced an affiliation agreement with the NHL's Anaheim Ducks. The two teams announced a multi-year extension to the current affiliation on February 19, 2016.  Branham, 35, joined the Grizzlies from the Reading Royals, where he spent four seasons as an assistant coach from 2009-2013. During his time with the Royals, the team went 143-89-23 in the regular season and captured the 2013 Kelly Cup title. In addition, during his tenure as the Royals Assistant Coach, Reading won seven playoff series, two division titles and was second in the ECHL in wins during the four-year period. Since 2003, Branham has owned and operated Branham Hockey Camps in Wisconsin. The school, for youth hockey players, has multiple locations in the Midwest.  A native of Eagle River, Wisconsin, Branham played 284 professional games in the ECHL and AHL during his playing career from 2002-2010. A defenseman, he was selected in the third round by the Vancouver Canucks in the 2000 NHL Entry Draft.
Coach – Lyndsay Barch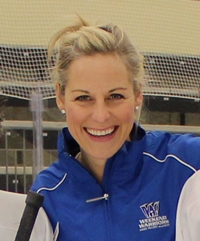 Lyndsay Barch, a native of Burlington, Ont., continues to join Weekend Warriors! She is a motivated coach with natural leadership abilities and most recently a member of the women's coaching staff at Mercyhurst University during their 2016-17 season.
In addition to coaching ice hockey, Lyndsay's passion in fitness can be defined by her level of commitment to leading others as a yoga & cycling instructor, personal trainer and has been invited to various cities throughout North America for over 10 years to run on/off ice instructional training for athletes of all ages and skill levels.
Previous to coaching, she also had a successful career as an ice hockey player herself. Lyndsay started playing hockey at five years old and in 2000, travelled to the USA to attend school on an NCAA Division I scholarship at Mercyhurst University. As team captain, Lyndsay helped lead her team to the GLWHA Championship Tournament in 2001-02 before claiming back-to-back College Hockey America Tournament championships in 2002-03 and 2003-04.
Lyndsay is enjoys working with Weekend Warriors as she believes that having fun, doing what you love and investing in personal growth and development is what life's purpose is all about.
Coach – Kevin Kerr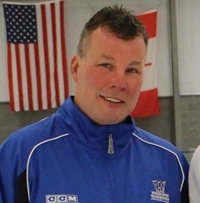 Kevin Kerr is a native of North Bay, Ontario and is currently the Assistant Coach to the Birmingham Bulls. He accepted this position in 2021, after his Head Coach position with the Greenville Swamp Rabbits in the ECHL.  Prior to this, he was the Head Coach and Director of Hockey Operations for the Macon Mayhem of the Southern Professional Hockey League.  As such, he is responsible for all aspects of the team's on-ice performance.
Kerr retired from playing professional hockey after the 2004-05 season. At the time of his retirement he held the minor league record for most goals scored in a career with 677. That accomplishment was recognized by the Hockey Hall of Fame. He has been a part of a dozen championship teams in his career.
Kevin has coached a number of professional teams, including the IHL's Flint Generals.  Kevin has a strong track record of promoting players to the next level of their playing careers.
Coach – Jim Copel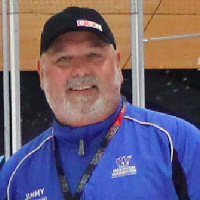 Coach Jim Copel has an extensive coaching history that starts back in 1990 where he was a goalie coach in the PCHA for the University of California, Berkeley, and St. Mary's College. In addition, he spent a number of years as a Goalie and Defense Coach for the San Jose Jr. Sharks in the WSHL and the Sacramento Flames in the CAHA. From there Jim moved on to a Head Coach position with Sacramento State University in 1999. After spending 5 years in the PCHA, he moved on to be the Head Coach and Coaching Director with the Tahoe Grizzly in the CAHA and then back to the PCHA with the University of Nevada Reno.
Jim has been with Weekend Warriors for a number of years and has operated as both a goalie coach and skating coach. Because of this, he has great insight into both positions and is happy to answer questions on tactics for each! While he took a few years off from coaching with us, Weekend Warriors is thrilled that he is back on the Weekend Warriors' Coaching Team!
Goalie Coaches
Goalie Coach – Mike DeLaVergne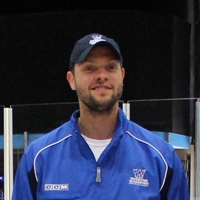 Mike started playing hockey at the age of 5 and quickly made the transition into goaltending and has never looked back. He was lucky enough to capture a Junior Hockey championship in the AJHL playing for the Wilkes-Barre Scranton Knights. After Juniors Mike made the transition into the collegiate level at Buffalo State (NCAA III) from 2013-2017. While at Buffalo State Mike earned the 2016-17 NCAA Division III All-American, 2016-17 SUNYAC Goalie of the Year, 2015-16 SUNYAC Goalie of the Year, just to name a few. After College Mike made his way into the Minor Professional level and captured the Presidents Trophy while playing for the Huntsville Havoc in the SPHL.  Mike has helped Huntsville capture the SPHL championship for the 2017-18 and 2018-19 seasons!
While Mike continues to train and play goaltender at the professional level, his passion for the game has provided a desire to spread his passion and knowledge to other developing goaltenders as a coach. For the past several years Mike has been the head goaltending instructor for the New York Rangers Youth Hockey Camp as well as being an instructor with Voity Goaltending.
Mike's knowledge, patience and excellent communication skills have made him a favorite among goalies at Weekend Warriors camps, and he will gladly answer any questions in regards to the position!
Goalie Coach – Ian Sylves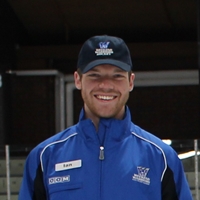 A goalie since the age of 6, Ian has played junior hockey, collegiate hockey, and most recently minor professional hockey. Ian played NCAA Division III hockey for Buffalo State College from 2014-2018. After his final college season, he was named SUNYAC Goalie of the Year and was also placed on the First Team All-Conference for the 2017-2018 season. He led the nation with 5 shutouts in the same season. Following college, Ian went to the Evansville Thunderbolts in the Southern Professional Hockey League (SPHL) where he finished the season with Evansville while going 3-1-1. As a rookie, Ian was protected by Evansville for his first, full professional season.
Ian has worked with goalies since he was 15 years old. Most notably honing his abilities to coach and communicate through his work with Mitch Korn's goalie school (AKA Korn Camp). Ian has trained with and coached for other high-level goalies and goalie coaches such as Bob Janosz and Dave Leggio. Ian is always willing to answer any questions or concerns regarding the position and is ready to help with a positive attitude.
Goalie Coach – Hayden Stewart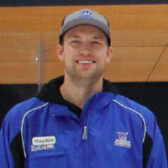 Hayden Stewart was born and raised in Rockford, IL. He has been playing hockey as a goalie since he was 5 years old. Growing up, Hayden spent much of his youth playing with the Madison Capitols. In addition to that, he played goalie with the Junior A hockey for the Corpus Christi IceRays in the NAHL, and the Muskegon Lumberjacks, Dubuque Fighting Saints, and Indiana Ice in the USHL. In 2014, Hayden helped the Indiana Ice win the USHL league championship.
After his Junior Hockey career, Hayden played college hockey at Cornell University for four years while he was receiving his degree in government. Since then, he has moved on to professional hockey where he is currently in his fifth full season as a goalie. During this time, he has gained experience at nearly every level of pro hockey. He has spent most of his time in the SPHL playing for the Birmingham Bulls coached by Kevin Kerr and Craig Simchuk who both coach with Weekend Warriors.
Hayden spends his off seasons coaching hockey. He has coached hockey from beginner youth up through beginner adult players with a focus on goaltending. Weekend Warriors is happy to have Hayden join the Weekend Warriors' Coaching Team!