"Anyone can put a team through drills – blow a whistle – yell – these guys taught." Jerry M. – Canastota, NY – Age 48
Note: Each camp features a team of Weekend Warriors coaches.  Specific coaches vary by camp.  Below are some of our core staff members from whom you can expect to learn from at camp.
Head Coach – Rob Boyle

Rob is a native of Toronto, Ontario, Canada. Rob has served as an Assistant Coach with the Central Hockey League's Wichita Thunder. Prior to that, he was the Head Coach of the University of Virginia Men's Club team. He coached and played at Concordia University in Montreal and was a player/coach in Europe. Rob has instructed at a variety of hockey schools in Canada, the United States and the Czech Republic. He is a Level 5 coach with USA Hockey and is an Advanced Level with Hockey Canada. Rob is an excellent communicator and outstanding instructor. His ability to inject humor at almost anytime helps create a relaxed and enjoyable learning environment.
Rob will serve as the Head Coach for most Weekend Warriors' camp locations. Joining Rob will be several coaches described below, which will vary by location.
At every camp, Rob offers to answer any and all hockey related questions that you may have. He extends this offer to any questions that come up after the camp concludes. So if you are a Weekend Warriors alumni and would like to ask Rob a question, just e-mail him at CoachRob@WeekendWarriorsHockey.com.
Coach – Kevin Figsby
Kevin Figsby has more than 30 years coaching experience at the provincial, national and international levels.  In 2015 Kevin took a new position as Director of Program Delivery with Hockey Canada.  Prior to his new position, Kevin was the Head Hockey Coach at Concordia University in Montreal, Quebec for 15 years.  He is a successful motivator with more than 30 years of coaching experience at the (Canadian) provincial, national and international levels.  He has completed his Hockey Canada Level 4 Coaching certification and has achieved NCCP Master Coach status.  Kevin has served as a major contributor to Hockey Canada's National Coach Certification program as a presenter, group leader, field evaluator and coach mentor.
Kevin has served as coach of Hockey Canada's 2015 Sledge Hockey team, Guest Coach with the Montreal Canadiens in 2003; Head Coach at the World Under 17 Championships in 1995 Bronze Medalist; Team Canada Coach at the World University Games in 2005; Guest Coach for the Canadian National Team in 1995 and 1997.
Kevin's sense of humor, depth of knowledge, and unique ability to take aside a struggling player and help that player improve his or her game make Kevin a favorite at every camp.  While Kevin has been a member of the Weekend Warriors staff since 2003, his commitments to Hockey Canada have made it difficult for him to coach at Weekend Warriors camps.  We hope his schedule slows down soon, so he can once again become a regular part of our coaching staff.
Weekend Warriors alumni that wish to ask Kevin a question, may e-mail him at CoachKevin@WeekendWarriorsHockey.com
Coach – Nick Carriere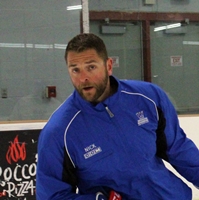 Nick Carriere is currently an Assistant Coach with the Laval (formerly St. John's) Ice Caps, the AHL affiliate of the Montreal Canadiens.  Prior to that, Nick was the Head Coach of Buffalo State College Men's Division III hockey team from 2005-2015.  Prior to 2005, Nick was the assistant coach at Fredonia State, where he worked extensively in the program's recruiting efforts in New York, Ontario, Quebec, Michigan and Ohio.  He also has over 15 years of experience working with various hockey camps, including the Buffalo Sabres Hockey School, the European Development Camp, and many others.  He also served as an assistant coach in the 2003 Eastern College Division Senior All-Star Game.
Nick is a native of Montreal, Quebec. He attended Niagara University, where he played Division I hockey. Following graduation, he played professional hockey in both Rockford and Adirondack of the United Hockey League.
Nick is extremely knowledgeable, has excellent communication skills, a great sense of humor, an intense love for the game, and is an excellent demonstrator of skating and hockey skills.  While Nick has been a member of the Weekend Warriors staff since 2005, his commitments to his new position with the Ice Caps have made it difficult for him to coach at many Weekend Warriors camps.  We hope his schedule slows down soon, so he can once again become a regular part of our coaching staff.
Weekend Warriors alumni that wish to ask Nick a question may e-mail him at CoachNick@WeekendWarriorsHockey.com
Coach – Candice Moxley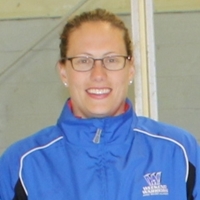 Candice Moxley currently serves as the Head Coach for Buffalo State Women's Division III hockey team.  Moxley led the Bengals to the ECAC West playoffs for the first time in six years during her first season behind the bench and was named ECAC West Coach of the Year this past season.    She has also worked as a video coach with Hockey Canada's women's development and senior teams from 2013-2015.   Prior to Buffalo State, Moxley spent two seasons as an assistant coach at Ohio State and two years as an assistant at Robert Morris in Pittsburgh, both division I programs.
A native of Markham, Ontario, Moxley was a four-year player at Division I Niagara from 2001-05 and played Women's professional hockey for 3 years in the Canadian Women's Hockey League (CWHL).  Moxley has also been a member of Canadian Women's Inline team and Canadian Women's Ball Hockey team competing internationally at world's tournaments.
Coach – Kevin Kerr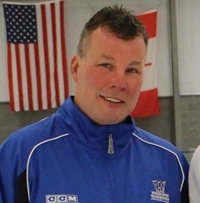 Kevin Kerr is a native of North Bay, Ontario.  He is currently the Head Coach and Director of Hockey Operations for the Macon Mayhem of the Southern Professional Hockey League.  As such, he is responsible for all aspects of the team's on-ice performance.
Kerr retired from playing professional hockey after the 2004-05 season. At the time of his retirement he held the minor league record for most goals scored in a career with 677. That accomplishment was recognized by the Hockey Hall of Fame. He has been a part of a dozen championship teams in his career.
Kevin has coached a number of professional teams, including the IHL's Flint Generals.  Kevin has a strong track record of promoting players to the next level of their playing careers.
Coach – Keith Grooms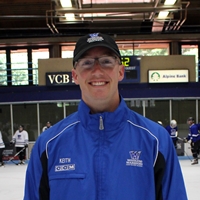 Keith Grooms is currently the Head Coach of the Nashville Sled Preds; a sled hockey team comprised of mostly wounded veterans.  Keith's 28 years of hockey experience has played a significant role in developing a team of motivated individuals competing at the national level in what is now one of the fast growing Sled Hockey programs in the southeast.
Keith grew up playing travel hockey in Anchorage, Alaska and moved to Nashville in 1998 where he continued to play and referee hockey before signing on as a Linesmen for the Central Hockey League. In 2005, Keith joined the United States Marine Corps and began coaching hockey in his home town of Nashville. After an 8 month deployment to Afghanistan, Keith returned home and was named the Head Coach for one of the local high school teams. His knowledge of and passion for the game, along with his commitment to develop skilled players led them to a championship in his second season with the team.
Keith has been involved in nearly every level and every dynamic of the game. With almost 3 decades of experience in the sport,  Keith Grooms has had the opportunity to learn from some of the best coaches, officials, power skating and strength and conditioning coaches in the country.
"It is a pleasure to now be able to pass along the knowledge that I have received and teach the youth and adult hockey players I encounter every day."- says Keith.
Coach – Andy Calandro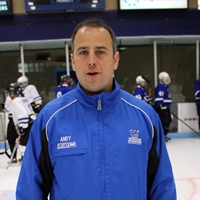 Andy Calandro has worked as a hockey coach and instructor for over 20 years.  He has worked with adult hockey players in the Washington DC/Baltimore area since 2001. Andy grew up in Detroit and played for Compuware and GPD AAA hockey clubs. He then played junior hockey for the Windsor Bulldogs and the Vail Avalanche before going to Fredonia State University (NCAA-Division III). Andy was a four-year varsity player and during his senior season at Fredonia, he was named a team captain.
 He currently serves as a mite coach in Laurel, MD, but he has also served as a coach at various levels of youth hockey.  Andy also runs camps and clinics for adult skaters throughout the Washington DC/Baltimore area.  Andy has previously worked as an instructor with the Collegiate Development Camp and Lafontaine Hockey School. He holds a Level 4 Coaching Certificate from USA Hockey.
Andy is a high school English Teacher in Maryland. He enjoys teaching the game of hockey and bringing some of his classroom practices and strategies onto the ice with him.