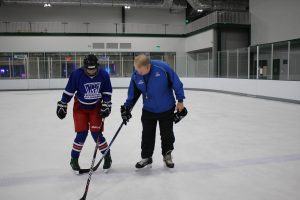 There is one thing that all Weekend Warriors share, and that is a high level of passion for playing the game of hockey.  Our camps exist to promote this passion, by providing a high quality learning experience in a fun, relaxed atmosphere so that adults may improve their skill, and thus get greater enjoyment in playing hockey.  However, we also recognize that not everyone can afford to attend a Weekend Warriors camp.  And while we can't offer a scholarship to every player who would like one, we have started this program to help out a few players each year.  It is our way of giving back.
The Basics
We will award 3 scholarships each season.  Since we plan to hold camps in more than 3 locations, there will not be a scholarship awarded at each location.  Since a big part of the cost of a camp is the travel expense, it is envisioned that the winners will be attending camps that are in proximity to where they live, but that is not necessarily the case.  For instance, a winner may have a relative that lives near a camp location, where they could stay for the camp.
A scholarship award will be the equivalent of 1/2 the cost of a camp.  So in other words, a winner will be able to attend a camp at half price.
Who Qualifies
There are 2 simple criteria you must meet in order to apply:
1) You must love hockey, and have a burning desire to learn to play better, and
2) You must have a genuine financial need.
How to Apply
1) Write an essay entitled: "Why I Want to Be a Weekend Warrior". OK, I know the first question I'm going to get is "How many words should it be?"  My god, this is not high school.  Tell your story:  How you got into hockey, why you want to go to camp, etc.  Feel free to provide as much detail as you like.  Tell us about you.  Remember, it is assumed that everyone applying has financial need, so the essay is what differentiates you from all of the other Warrior Wannabes.  Photos are welcome.
Note: If you have another idea for a title to your essay, feel free to use it.  We don't want to limit you if you have a better idea.
2) Briefly describe your financial circumstances.  No, we don't want your W-2's and 1099's.  We are going to take people at their word.  Weekend Warriors are honorable people.  Besides, if we find out your squirreling away millions and just trying to freeload, we'll strap you to the goal, and our coaches will shoot clappers at you until their arms fall off.  Did I mention you won't be wearing any protective equipment?  Basically, just tell us why you need the scholarship.
3) Tell us which camp you want to attend.  If you can attend more than one camp, list all that you can attend.
4) Be sure to include all of your contact information.  Name, address, phone, e-mail, etc.  Also let us know if you are a skater or a goalie.  Yes, that's right, goalies are eligible too.
All materials can be e-mailed or mailed the old-fashioned way.  If by e-mail, put "Scholarship Application" as the subject line.  You can attach word documents, .pdfs, photos, etc.  If mailing, send to: Weekend Warriors Hockey; 7226 Silver Creek Rd., Park City, UT 84098
When should I apply?  There is no deadline for applying.  We take applications on a rolling basis, but the sooner the better.  We often get requests and applications/essays well into the camp season after all scholarships have been awarded.
How do I know if I have won?  When you submit your application, we will send you an acknowledgement that your application has been received.  After that, winners will be notified as they are chosen.
Military Mini-Scholarships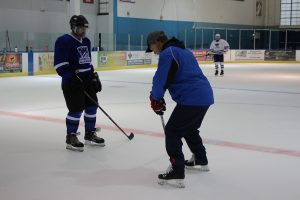 As a way of giving thanks to the Warriors that serve their country, we have created the "Weekend Warriors Warrior Mini-Scholarships". These are awards of $100 to be applied to a camp of the recipient's choosing.  Five of these scholarships will be awarded each season.
How are these different from the regular scholarship?   The requirements are basically the same, a strong passion for the game and a financial need.  Of course, you also have to be a member of the military, including active duty, national guard or retired.  However, the bar is a little lower on the financial need.  Also, we can only give out just a few of the regular scholarships.  This allows us to set aside 5 smaller awards reserved specifically for our military veterans.
How Do I apply?  Apply the same way you would for a regular scholarship.  In fact, if you feel your financial need is that significant, you may apply for the regular scholarship.  If you don't win the regular scholarship, or if they are already all awarded for the season, you may then be awarded the mini-scholarship.
Apply for a Friend
Some people don't like to ask for help.  If you know a deserving candidate for one of our scholarships, you are more than welcome to apply on his or her behalf.