I wish I could better convey one thought:  You ARE READY for camp!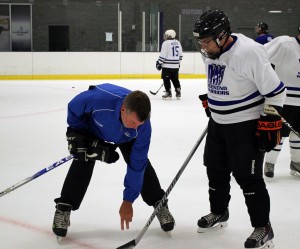 Over the years, I have had so many players ask if they were "good enough" to attend camp.  So many players think that they need to achieve some level of hockey proficiency before attending.  Lord knows how many more have just not bothered to inquire, and just continued to toil away on their own.
If you are just starting out, here are some things you should know:
1) We have novice players at every single camp.  You won't be the only one.
2) It is better to learn things the right way from the start, rather than learn bad habits that you will later have to correct.
3) Our coaches are very patient, and are accustomed to working with players of all levels.  They will help you!
4) The other players at camp remember when they were starting out, and are very supportive.  There is no shame in your struggles and falls.  This is the best possible learning environment for adult players.
5) In one camp weekend, you will experience drastic improvement.  You are at the steepest part of the learning curve, and will improve more than the more experienced players.  Come with an open mind and  good work ethic, and we will transform your game.
Listen to what some of our Rookie Players had to say about their experience: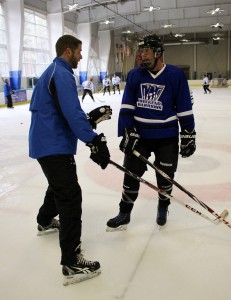 "I can honestly say I learned more in one weekend than in 10 months of weekly group classes. Skating and passing are definitely improved. I felt like coaches made a real effort to get to know all the players, and work with them individually in each and every drill." – Jason M. – First year player
"I went into the camp with some trepidation: not much experience, and really not eager to humiliate myself. And I probably did that once or twice. But the coaches were supportive and positive without being condescending. For me, along with the camaraderie I enjoyed with my teammates, they were the highlight of the camp." – John G. – First year player
"I wish I had been able to attend this camp when I was first learning to skate and play hockey at the same time. Muddling along doing things the wrong way makes for a lot of bad habits to unlearn. Newbies, do yourself a favor. Sign up for camp!" – Jeannie W. – 2 years experience prior to camp
"The camp does a great job of making inexperienced players feel welcome and provides a comfortable learning environment."– Tony M.