Focused Training for Goalies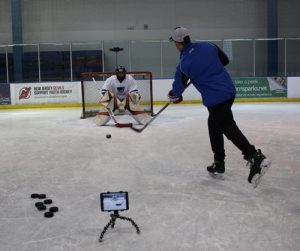 Goalie is the most difficult and important position on the ice, so why do so many coaches tell you to "Just get in there and stop the darn puck". OK, truth be told, there's not a hockey coach on the planet that says "darn", but what do you expect us to write on our website?  We think you get the idea.
Weekend Warriors provides you with an experienced, dedicated goalie coach to work on improving your game between the pipes, adding new skills as well as sharpening those you already have.  Movement, positioning, puck handling, angles, various save types and the mental side of the game are all addressed within the context of your dominant style (stand-up, butterfly or combo).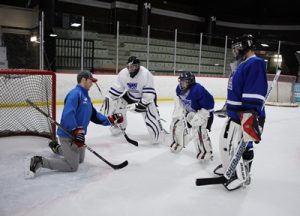 We use video analysis to help you assess your strengths and weaknesses.  You will see for yourself which elements of your game need the most work.  You also get to take what you learn and incorporate it right away by facing shooters in both drills and game situations.
You will be able to ask specific questions, and get the coaching and feedback you need on your particular game.
Our goalies come back year after year.  Our goalie coaches are constantly providing these WW vets as well as first time camp attendees with new tools for the goalie toolbox, in addition to finding new ways to use video to analyze the technique, movement and positioning of our goalies.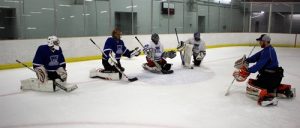 Here is what some of our goalie alumni have had to say about our program:
"Weekend Warriors went above and beyond my expectations of what I was going to gain.  I believe I made more improvement in the 4 days of camp, then I have done is the last 23 weeks of development league." – Doug S. –Goalie
"Overall, camp was a life-changing experience. The amount of knowledge I absorbed in three days was second to none. I walked away feeling like I have so much to work on and that I will only get better and better if I work to execute everything that I learned at camp. The coaching was extremely detailed and really drilled the importance of getting the fundamentals right." – Kerry M.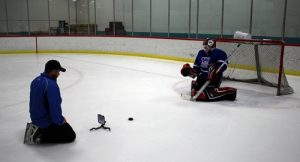 "I played a final round playoff game Sunday morning before the last day of camp and got a shut out and the score keeper (who's worked at the rink for years) said he thought I played the best game he's ever seen me play. Later in the week I got my first championship win as a goalie after 8-9 years playing in net, 2 seasons/year, and much of that time playing on 2 teams. I feel more confident now than I ever have before." – Katie P.
"It was all goaltending all the time for me. That was exactly what I was hoping for. No gimmicks. No puck deflecting machines or mesh bags over the mask. Just practical coaching that could be immediately implemented in the mini games or scrimmage.  Thank you for doing this. Hockey training for real people is something the whole world can use more of."  – Jason P.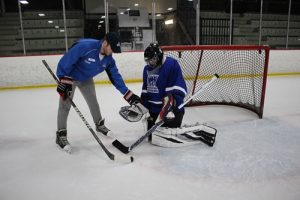 "My goals were exceeded. .. I came in only expecting to reinforce what I learned last year.. I learned more and improved in skating and positioning   My game has improved a lot more after this camp than after the first camp last year..my positioning and patience has improved the most." – Dan L.
"Thank you for a fantastic experience!" – Steve G.
"This was my second time at a Weekend Warriors Camp. I learned a lot, worked hard, was challenged, failed, tried again, learned, and succeeded. I got to meet other players from all over the country with all different backgrounds. It was challenging, sometimes grueling, but fun as well – I am no superstar, but I'm better now than I was before.  Camp helped remind me of why I love hockey and playing goalie. I had a great time!" – Vic S.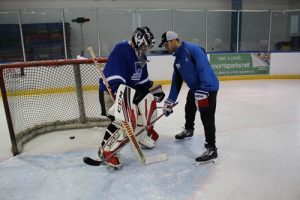 "You drilled me into the ground and then took my game to a level that I wasn't expecting. I couldn't have asked for a better experience." – Samuel W.
"I learned a tremendous amount about hockey in general and my position (goalie) in particular.  The coaches were friendly and knowledgeable.  I came away a better goalie." – David B.