by Rick Parisi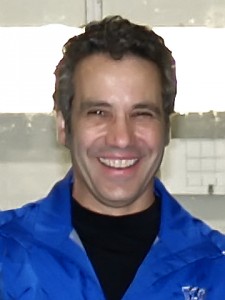 Chief Executive Warrior
Unlike most camps, this camp is not run by a former player, but an aspiring player. I never played in the Pros, the Juniors, or Europe. In fact, I never even played organized youth hockey. I played street hockey as a kid, and did not decide to play organized ice hockey until I was 30 years old. That was one of the best decisions of my life! I have received an incredible amount of joy and satisfaction from playing this great game, and now my goal is to spread that enjoyment to you! For us it is too late to become the next Wayne Gretzky. But thanks to this camp, it is never too late to improve our skills, understanding of the game, and the joy we receive from playing the greatest game on earth!
I don't teach at my camps, but I understand what the adult recreational hockey player needs to improve his or her game. I hire the best coaches I can find to teach you. Weekend Warriors' coaches are not only knowledgeable and experienced, but they are excellent communicators, listeners, and above all, excellent teachers. Furthermore, they love the game, and they love teaching you the game every bit as much as you love playing it! This is just one reason why Weekend Warriors Adult Hockey Academy provides a superior adult hockey camp experience!
Weekend Warriors lead busy lives, and not many of us could get away for a weeklong camp. That is why our camps are structured in an extended weekend format. Weekend Warriors don't have the energy of a 10 year old, so we don't work you like one. Our instruction on the ice is run efficiently, and is designed to maximize learning and fun, not to beat you up. We use a variety of mediums to teach you the game, including chalk talks, video and written materials. Our coaches want to help you improve your game, and they take the time to focus on your special needs. Want some tips on how to improve your wrist shot? Perform a skating maneuver? Win face-offs? Deke a defender? We will give you the opportunity to focus on your special needs, both on and off the ice.
The result is an experience that will improve your skating, skills, positional play and understanding of the game. But our camp is much more than this. Our camps are held at top flight arenas, several of which are practice facilities for NHL teams. Our locations are chosen to provide you with plenty of activities off the ice as well. Not dry land training exercises like running against a bungee cord…save that for the kids. Night life, dining, shopping and tours are just some examples of the available off ice activities. So come on your own, with your teammates, your spouse, or the entire family. You will improve your game, and have a great time both on and off the ice!
Weekend Warriors Adult Hockey Academy is an experience that features fun, camaraderie, learning and individual attention! It is an experience you will benefit from and treasure for many years!