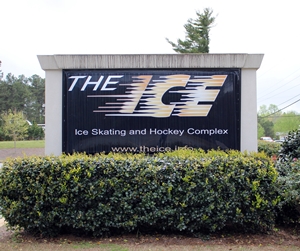 When you think hockey, naturally you think Atlanta, right?  No?  Well maybe if the object in hockey was to see who could skate around the rink counterclockwise as fast as possible?  And what if players scored bonus points for crashing into other players and taking them out of the game?  If that were the case, maybe the Flames or Thrashers would still be playing in Atlanta.  But hey, no one in Calgary or Winnipeg is complaining.  Sorry, I digress.  Let me get straight to the good stuff.  Here are the best things about our camp in Atlanta:
Great Facility – Super clean with outstanding ice conditions
Locker Rooms to keep our gear in all weekend!
High quality, yet inexpensive lodging
Our only location in the Southeast
Lots of reps and individual attention!
That last one is a big deal.  This camp tends to be "lightly attended" by skaters (although it usually sells out to goalies).    We typically only get 20 or so skaters.  That's not so great for us, but is awesome for you.  So if you are looking for a camp where you are going to get extra personal attention from coaches, as well as a ton of reps through every drill, then Atlanta is an outstanding choice.  Just beware, you are likely going to be very tired and sore by Sunday!
Our social events are a big part of the experience, and aid in developing friendships and camaraderie among all of the players and coaches.  After our Thursday evening skate we head to The Castlebury Ale House.  Weather permitting, we post up out on the patio where we order ice cold buckets of beer for our thirsty gang, and put the NHL playoffs up on the big outdoor projector screen.  On Friday night we find a sports bar with lots of TV's to enjoy each other's company and the various NHL playoff games.  The Saturday evening camp banquet is held at Provino's Italian Restaurant, where they always provide us with an outstanding meal, while we celebrate the accomplishments and laugh about the shenanigans of the weekend.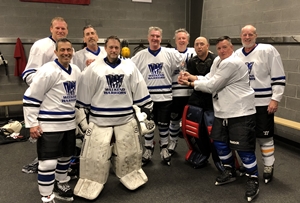 Speaking of shenanigans, the Atlanta camp is the home of the Stella Cup, a third cousin twice removed of the slightly more famous, but no more prestigious Stanley Cup.  I'm not quite sure how it started, but I suspect it was one of the players who "accidentally" left one of our social events with a Stella beer glass.  As the weekend rivalry between the White and Blue squads heated up, it was determined that the Sunday scrimmage would have to settle the score, with the victor being awarded the Stella Cup.  That was a few years ago, and it's now an annual tradition.  The White team won it last year, as is evidenced by the photo at right.  I'm confident that each player has had his cherished day with the cup over the past year, and it will soon make it's way back to Atlanta (handled appropriately with white gloves, of course) to be awarded once again this year!
Our hotel is the Holiday Inn Express & Suites Alpharetta Windward Parkway, where they promise they will check you in before you can say the full property name three times.  It's a really sweet property.  Since it's a business area and we are there on the weekend, we get a killer rate.  And it includes their hot breakfast buffet to get you fueled up for the morning skate.
This camp draws players from all over the Southeast and beyond. In fact, there are always more players there from surrounding states than there are from the Atlanta area.  We typically have significant contingents from Florida, North and South Carolina, Alabama and more.  If you can make it to Atlanta, you'll have a great time, and with a lighter turnout, you'll experience a Weekend Warriors camp turned up to 11!  I hope you'll join us April 30-May 3, 2020 at our Atlanta Camp!
Below are some photos from our Atlanta camp.