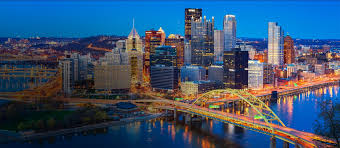 Our camp in Pittsburgh is the first on our schedule, and as such, provides us with some added fun and excitement, as my staff and I are always pumped for the first camp of the year.  The NHL playoffs are just underway at this point which means that there are multiple playoff games on TV each night.  It is hard not to enjoy the playoff atmosphere, especially given that the Penguins are perennial playoff participants (say that 3 times fast).
Our camp is held at the UPMC Lemieux Sports Complex.  This is a truly fantastic rink, and extremely well managed.  Everything about this place is first rate, which is not a big surprise.  Do you really think Mario would put his name on a building that wasn't world class?  The rink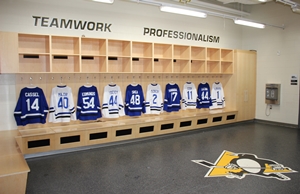 takes great care of us.  Our off ice video review and chalk talks take place in the same room as the Penguins' press conferences.  And the rink lets us use the "Penguins' Elite Locker Room" (pictured here) for the entire weekend.  No, this is not the locker room that the Penguins use, but it's probably nicer than any locker room you've dressed in before.  And since we get to keep it all weekend, there is no need to lug your gear home, or worse yet, have to dry it in your hotel room.  The rink also has really good food. And no, I'm not talking about nachos and "roller dogs".  The menu at this place is created by the Penguins' chef, and is simultaneously healthy, delicious and affordable.
The rink itself is situated in Cranberry Township, a short drive north of the city of Pittsburgh, and approximately 30 minutes from Pittsburgh International Airport.  It is very easy to reach by car from anywhere in the region, as it is located at the intersection of the Pennsylvania Turnpike (Interstate 76) and Interstate 79.  The area offers just about every amenity you could want, including lodging, restaurants and hockey equipment stores.
Our hotel is the Hyatt Place Pittsburgh/Cranberry, which is just around the corner from the rink.  With rooms for just $80/night, you might have some pretty low expectations.  But this place is really nice.  The rooms are spacious, clean and comfortable, and the delicious hot breakfast buffet is included.  It's a great way to start your day before heading to the rink for the morning skate.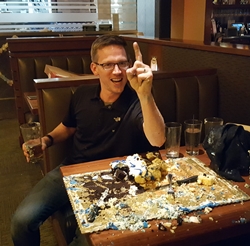 Our Thursday evening "Break the Ice" social takes place at the Sports Grille Cranberry.  It's a great place to grab a bite and a beer after the first ice session, socialize with the coaches and other campers, and take in all the playoff games on their multitude of TVs.  On Friday night we usually pick another nearby watering hole for an informal gathering where we have some dinner and a beer or three, while watching playoff hockey, talking hockey and just generally being immersed in…you guessed it, hockey!  Then on Saturday night we have our camp banquet at Houlihan's, where we enjoy a tasty meal, the wonderful company of our new found hockey friends, and just have a general good time.  Last year we were treated to one of the funniest things I've ever seen, as one of our Warriors took down an unsuspecting waiter in a cake eating contest.  Exactly what was that young waiter thinking when he dared to take on one of our Warriors?!
One question I get all the time about this camp is if the Penguins will be practicing, and if so, can we watch.  The answers are Yes and No respectively.  Yes, this is the practice facility for the Penguins, but when the playoffs begin, the practices are no longer open to the public.  I have, however, caught a few glimpses of the top secret practices.  It's quite likely that they will be holding a press conference in OUR meeting room after said practice.  So you might very well run into some of the players and staff.
Our ice time is generally split with half of our sessions on each of the facility's two great NHL sheets.  This of course means that you are practicing on the same ice as the Penguins, sometimes right after they get off.
I hope this gives you a better idea of what the Pittsburgh camp location is like.  If this sounds like the camp for you, then I hope to see you there!