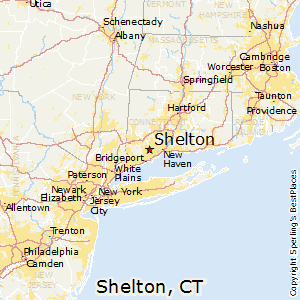 Where is Shelton, Connecticut?  What made you decide to do a camp there? Why Shelton?  These are common questions I get regarding this camp in a small town that most people have never heard of.  So let's start with the where.  Shelton is located in southwestern Connecticut, approximately halfway between New York City and Hartford.  If you're flying in, it's just a little over an hour from LaGuardia or JFK airports, and there is a shuttle that will take you from either airport to our hotel for about $70 each way.  You don't even need to rent a car.  As far as what made us decide to do a camp in this town, it's really quite simple… they asked.  One day back in 2012 I received a call from the rink manager.  She had heard of our program, and said she was very interested in having us come to The Rinks at Shelton.  The rest is history.  We have been coming back every year since.  The rink staff is so friendly and accommodating.  This not only makes my life easier, but it makes your experience as a player that much better.  It's the little things they do.  First and foremost, they provide a large locker room where we can dress and store gear in all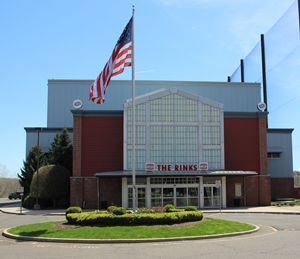 weekend.  That's awesome, as it means no lugging gear to and from the rink.  And no keeping your gear in your hotel room!  We also get a very nice, spacious meeting room for all of our off ice activities.  Further, when nobody is on the ice after us, we can extend our session for those that want to spend a little more time practicing the skills they just learned.  By the way, it's a very unique rink in that it's a double decker, with one sheet on the ground floor, and another directly above it.  Pretty cool!
I love the town of Shelton.  It is a very quaint, picturesque New England town with rolling hills, winding tree-lined streets, and it's located right on the Housatonic River.  After our first skate, we hold our Thursday evening "Break the Ice" social at The Pub on Howe, a local watering hole frequented by hockey players, where we have a small buffet of food to fill your belly.  Some players have even been known to wash it down with a beer or two.  It's NHL playoff season, so on Friday night we like to find a place with plenty of TVs for an informal gathering.  On Saturday night we have our Camp Banquet at Vazzy's of Shelton, an Italian restaurant with wonderful food.  We typically get the private room, with it's own private bar.  Vazzy's puts out quite a buffet, and nobody goes home hungry.  In fact, we typically send some of the local players home with some pretty serious doggy bags.
Our hotel is the Hampton Inn Shelton.  It's clean, with spacious rooms and a solid hot breakfast buffet to get you fueled up before the morning skate.  It also has a nice pool and even a waterslide in case you bring the kids along.  The hotel is located within walking distance of a number of shops and restaurants, including Vazzy's.  This means nobody staying at the hotel needs to drive after over-imbibing at the banquet.
One of my favorite things about this camp is the cast of characters that come year after year.  It's a fun bunch, who never get tired of razzing me to provide them with free beer in the locker room.  But it usually seems to work the other way around.  They keep multiple coolers in the locker room stuffed with a variety of beers, and it's hard to set foot in there without someone throwing you a cold one.  And 45 minutes or more after the Friday and Saturday afternoon skates, not only are most guys still in the locker room, but some of them have not yet bothered to remove their skates.  I'm guessing because that would require them to set their beer down.
Shelton is by no means a wild party town, yet due to the fun people and intimate social gatherings, this ends up being one of the more fun camps of the year.  If this sounds like an enjoyable hockey weekend to you, then I hope to see you in Shelton, CT!
Below are some pictures from our Shelton camp.