Austin, TX - September 12-15, 2024
Camp Fee: $950
Super Early Bird Registration: $100 off (camp fee $850) until Tuesday, September 26th or until 15 people register. A $200 deposit locks in your registration.
Deposit Amount: $200 (Balance due 45 days before camp)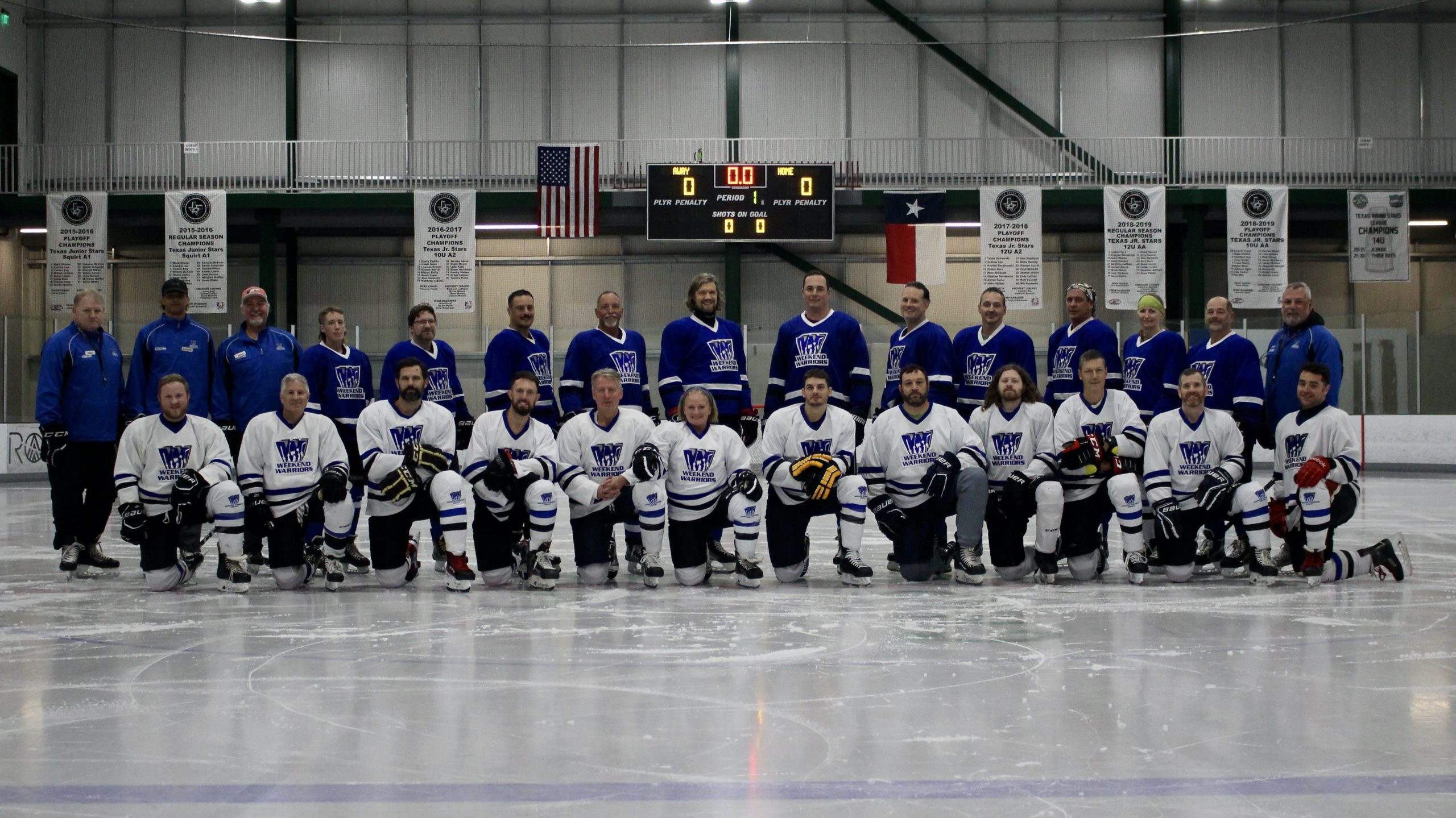 Camp Description: Weekend Warriors has found a home in the Lone Star State! And it's in the State Capital, Austin! Not only is Austin the state capital, but it's also known as the "Live Music Capital of the World".  And it is conveniently located just a 2-3 hour drive from both Houston and Dallas-Fort Worth.  Our camp will be at a beautiful new facility, Ice and Field at The Crossover.  This is a 200,000 square foot multi-sport facility with 2 NHL sized ice rinks, and also has a licensed full service restaurant.  Won't you join us in Austin for our final camp of the season?
At Weekend Warriors we have something for every player. Whether you're a new player who needs proper guidance through the crucial early development phases, or an experienced player who has been playing for 30 years, our coaches will ensure that you get the training you need!
Goalies get special treatment, with our goalie specific curriculum led by one of our dedicated goalie coaches. 
Women don't be intimidated. We have women players at all of our camps, and also have a number of female coaches on our talented staff.
"Camp is a total immersion in the hockey learning experience. It takes you away from your everyday life and allows you to learn and improve without any distractions. It is an intense and tiring experience, that leaves a great sense of accomplishment after 12 hours of ice time in only a few days." – Don B.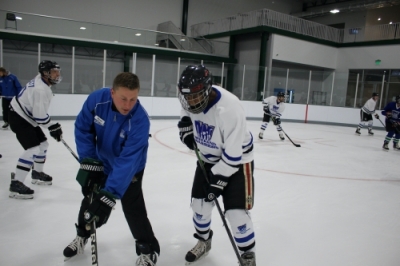 "It was a great learning experience. Having the one on one time and repetition helped dramatically. The coaches were incredibly helpful, and always available for questions. No question went unanswered. The camp was also fun.... which is very important. The staff did a great job educating us while keeping the camp light hearted and fun." – Ken S.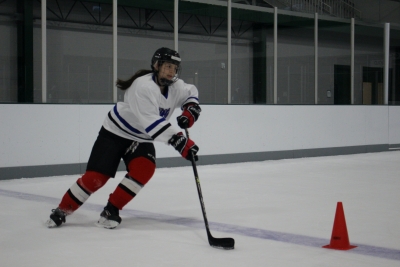 "Oh my god yes. I learned how to handle the puck (the 5 minute coaching session was incredibly helpful). I learned what I can do at open skates to improve my skating. I got to see myself on camera and after I died inside at how terrible my form was, I knew exactly what I needed to work on. And I also have a much better idea of where to be in offensive and defensive situations. I played a beginner game tonight and scored the first and only goal for my team. It's not like I suddenly became amazing; I knew where to be, knew what to do, and had the confidence to take a shot on net. I never would have made that play before camp. I could ramble about how awesome you all are forever, and I think anyone who loves the sport should attend camp and get in on the fun." – Amanda O.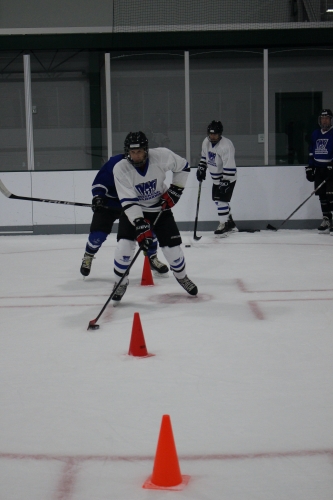 "This is something I look forward to every year. I wish I could get more of my team to come out. I like getting the feedback from real coaches on what I could do to improve." – Dave "Captain" M.
"I am extremely happy and satisfied with my camp experience. I feel that it will raise my game to the next level." – Dan L. (Goalie)
Camp Schedule:
Note: An updated schedule will be sent by e-mail to all registered players before camp.  The e-mailed schedule always supersedes the online version.
Thursday
4:00: Orientation (at Rink).  Meet the coaches, other players and receive an orientation of the weekend's events; Get Dressed.
6:00 – 8:00 PM: Ice Session #1
After Ice Session: "Break the Ice Party" – meet and greet the coaches, staff and your fellow players.  Appetizers provided.  Cash bar.
Friday
9:00 – 11:00 AM: Ice Session #2
11:00 AM – 12:30 PM: Lunch on your own. (11:20A – 12:20P – Goalie Video Review)
12:30 – 1:15 PM: Video Review Session – Forward Skating – White Team
1:15 – 2:00 PM: Video Review Session – Forward Skating – Blue Team
2:00 – 3:00 PM: Chalk Talk1
3:30 – 5:30 PM: Ice Session #3
Evening: On your own. 
Saturday
9:00 – 11:00 AM: Ice Session #4
11:30 AM – 1:00 PM: Lunch on your own 
1:00 – 2:00 PM: Skaters: Chalk Talk 2; Goalies: Review Skills Video
2:00 – 3:00 PM: Video Review of Scrimmage (Goalies review scrimmage video from goalie's perspective with Coach Jim) 
3:30 - 5:30 PM: Ice Session #5
7:30 PM - Camp Banquet - The cost of the meal is included in your camp fee.  We hope you will all join us for some fun and camaraderie.  Cash Bar. 
Note: To players attending with spouse, friend or family, they are welcome to attend for a nominal additional charge.  Please let us know in advance if you plan to bring a guest.
Sunday
9:00 - 11:00 AM: Ice Session #6
Note: Schedule is subject to modification.
Rink:
Ice & Field at The Crossover in Cedar Park, TX
Camp Includes:
12 hours of on ice instruction from our high level staff
Off ice coaching in the form of chalk talks and video review sessions
Camp Banquet on Saturday Evening
"Break the Ice" Social on Thursday Evening
A custom jersey; socks and other swag
Lodging and transportation are NOT included
When
September 12th, 2024 4:00 PM through September 15th, 2024 12:00 PM
Location
1717 Scottsdale Dr.




Cedar Park

,

TX

78641




United States
Austin Camp Fee
| | |
| --- | --- |
| Choose Registration Option | |
| Pay in Full | $850.00 |
| Pay in Full ( Alumni w/ $50 Uniform Credit ) | $800.00 |
| Deposit for Pay in Full | $200.00 |
| Deposit for Pay in Full ( Alumni w/ $50 Uniform Credit ) | $200.00 |