Milwaukee, WI - July 18-21, 2024
Full Camp Fee: $850
Early Bird Discount: $55 off (camp fee $795) for a limited time only! A $200 deposit locks in your registration.
Deposit Amount: $200 (Balance due 45 days before camp)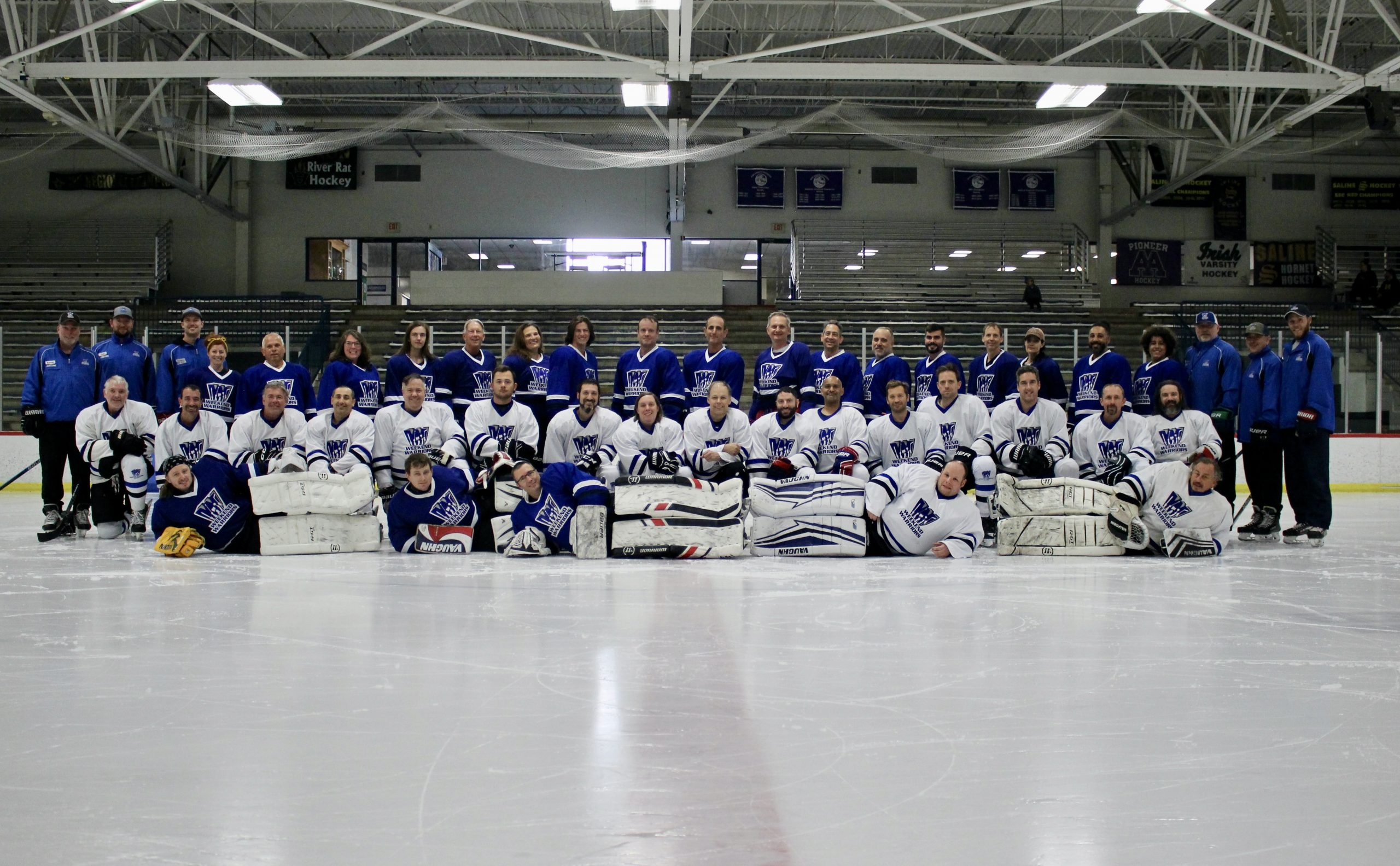 Team photo from our Ann Arbor 2022 camp.
Camp Description: Located just north of Milwaukee - a city known for it's cheese curds, custard and beer - the Uihlein Ice Arena at the University School of Milwaukee was happy to help bring Weekend Warriors to Wisconsin! Come join us on the shore of Lake Michigan for some hockey fun!
At Weekend Warriors we have something for every player. Whether you're a new player who needs proper guidance through the crucial early development phases, or an experienced player who has been playing for 30 years, our coaches will ensure that you get the training you need!
Goalies get special treatment, with our goalie specific curriculum led by one of our dedicated goalie coaches. 
Women don't be intimidated. We have women players at all of our camps, and also have a number of female coaches on our talented staff.
"Weekend Warriors is a positive and happy compact 3-4 days filled with skills and technique training that will restore your confidence and put you back in your game." – Richard M.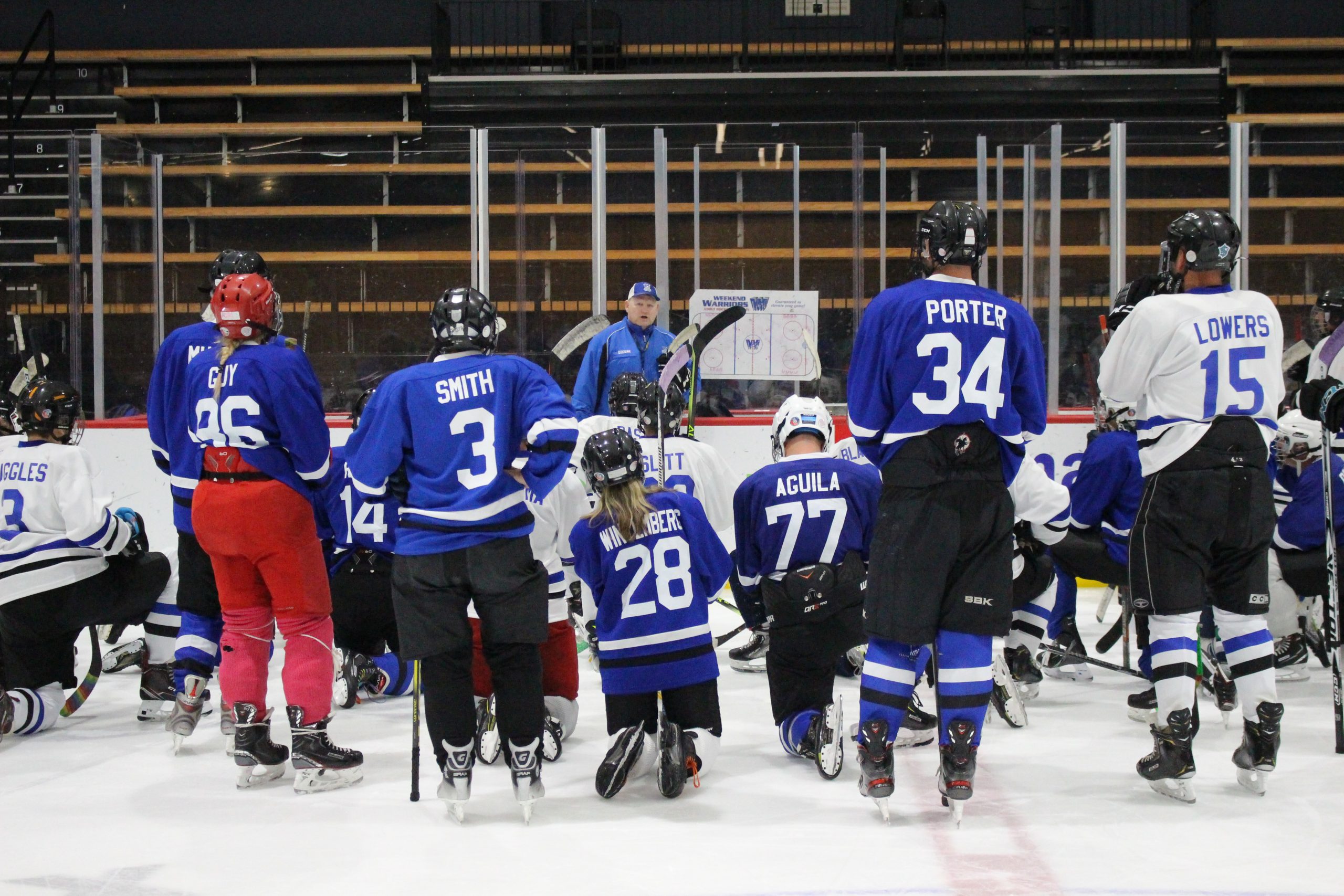 Coach Rob addressing Seattle Weekend Warriors
"Regular clinics almost never go into the detail like you guys did. For example, breaking down the precise edgework for heel toe hockey stops and the incremental drills to progress. Excellent." – Patrick C.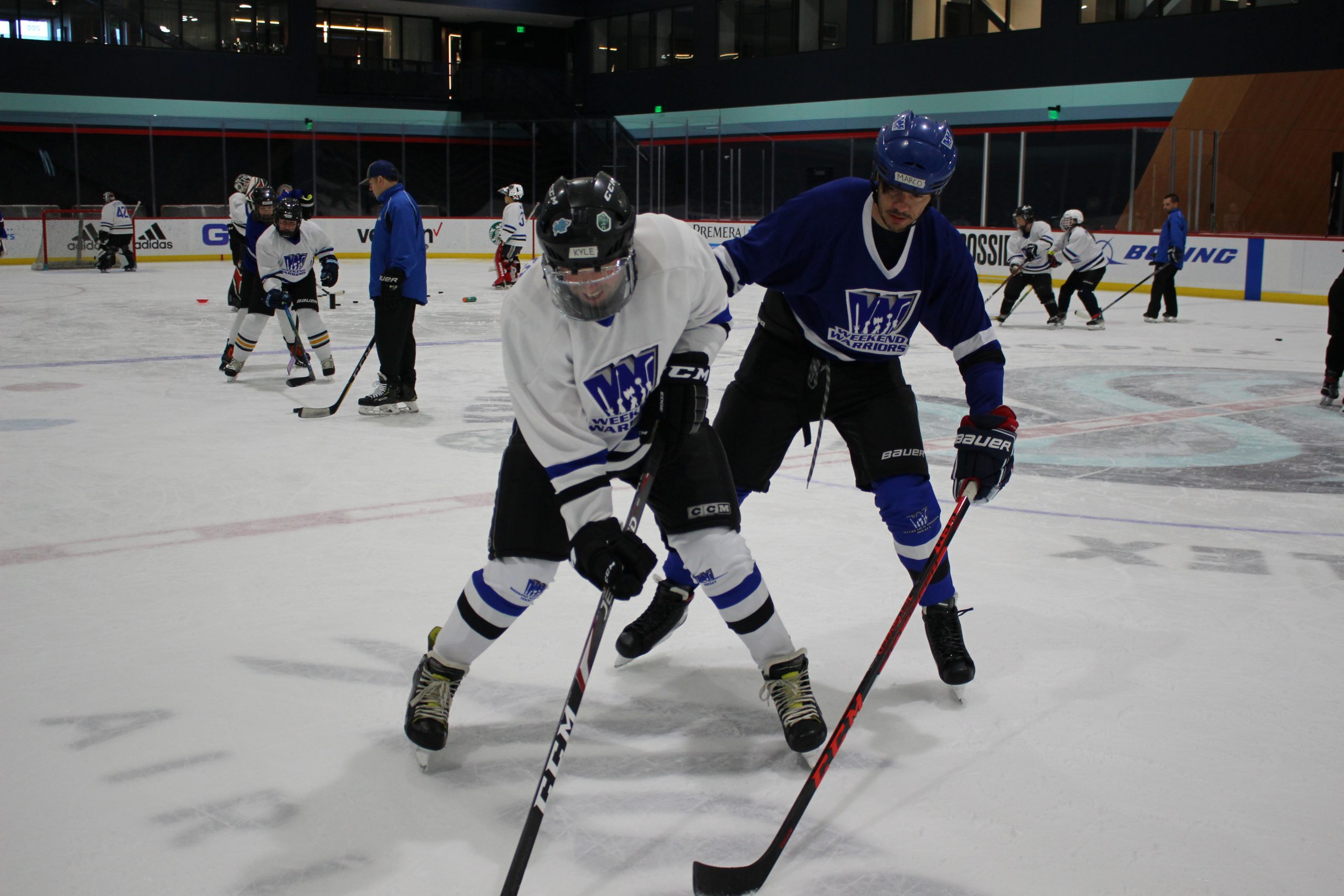 Two campers working on puck protection
"I didn't know what to expect going in. Quite honestly, I figured it was just a way to play a lot of hockey in a few days. I always thought I was a decent skater and player going in. I found out I have a ton to learn and there are always things that we can do to improve and get better. Camp really super charged my passion for a sport that I spend thousands of dollars every year and made me want to get in better shape and play this game at a better level. Coaches Lee, Joe and Murph were fantastic! This was truly what I've been missing from hockey my whole life! I can't wait until the next camp to hopefully show some of my progress and learn even more!!!!" – Matt W.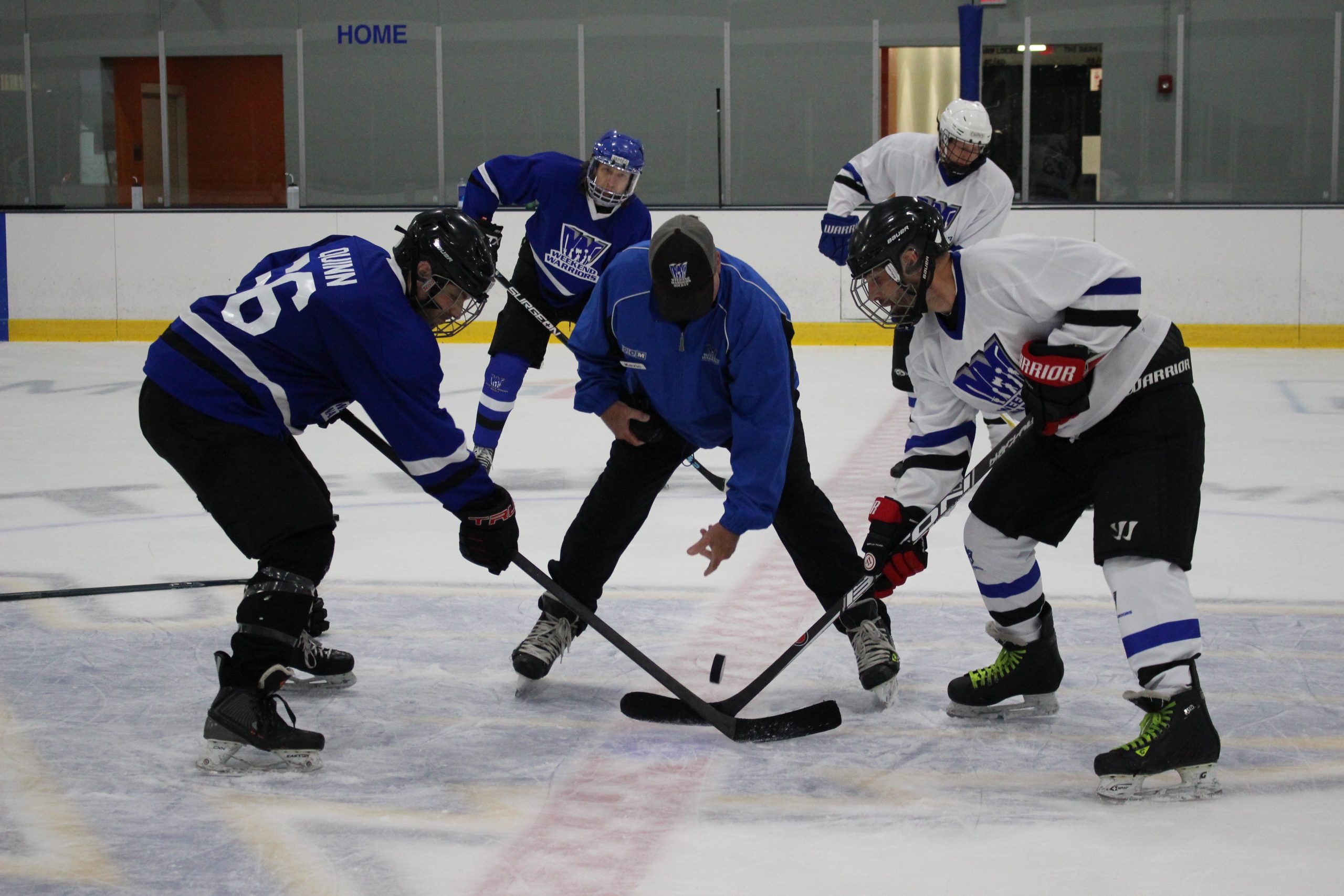 Coach Kevin practicing faceoffs with campers
"Best hockey experience EVER - I had soooo much fun, I'm still aglow from the experience." – Franz F.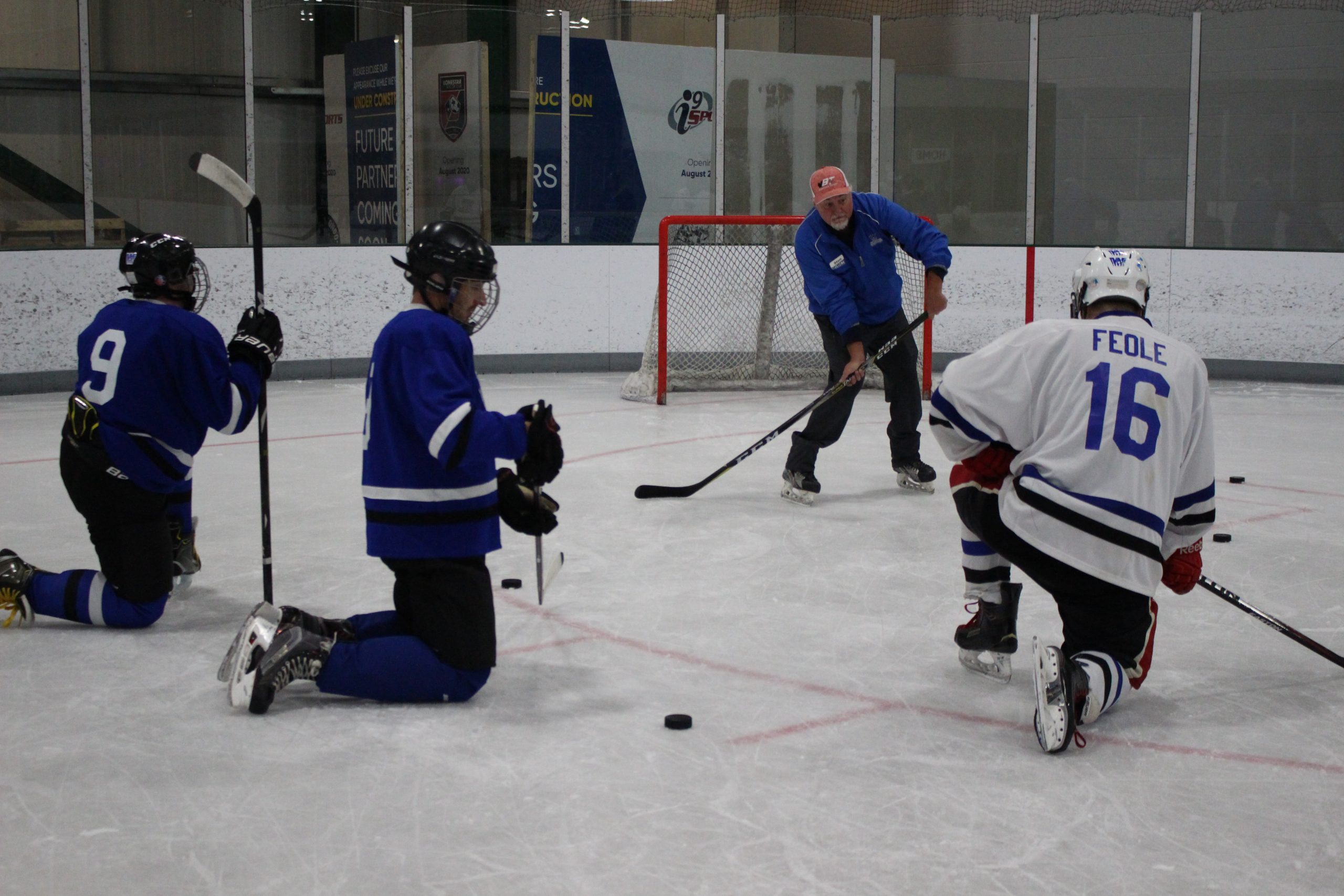 Coach Sten demonstrating proper positioning and stance for taking a shot
"Outstanding, exceeded my expectations primarily due to the expertise of our coaches/instructors. Despite their long history of excellence in playing and coaching the game, they were able to relate to our level and coach us with enthusiasm and professionalism." – Mike G. 
Camp Schedule:
Note: An updated schedule will be sent by e-mail to all registered players before camp.  The e-mailed schedule always supersedes the online version.
Thursday
4:00: Orientation (at Rink).  Meet the coaches, other players and receive an orientation of the weekend's events; Get Dressed.
6:00 – 8:00 PM: Ice Session #1
After Ice Session: "Break the Ice Party" – meet and greet the coaches, staff and your fellow players.  Appetizers provided.  Cash bar.
Friday
9:00 – 11:00 AM: Ice Session #2
11:00 AM – 12:30 PM: Lunch on your own. (11:20A – 12:20P – Goalie Video Review)
12:30 – 1:15 PM: Video Review Session – Forward Skating – White Team
1:15 – 2:00 PM: Video Review Session – Forward Skating – Blue Team
2:00 – 3:00 PM: Chalk Talk1
3:30 – 5:30 PM: Ice Session #3
Evening: On your own. 
Saturday
9:00 – 11:00 AM: Ice Session #4
11:30 AM – 1:00 PM: Lunch on your own 
1:00 – 2:00 PM: Skaters: Chalk Talk 2; Goalies: Review Skills Video
2:00 – 3:00 PM: Video Review of Scrimmage (Goalies review scrimmage video from goalie's perspective with Coach Jim) 
3:30 - 5:30 PM: Ice Session #5
7:30 PM - Camp Banquet - The cost of the meal is included in your camp fee.  We hope you will all join us for some fun and camaraderie.  Cash Bar. 
Note: To players attending with spouse, friend or family, they are welcome to attend for a nominal additional charge.  Please let us know in advance if you plan to bring a guest.
 -
Sunday
9:00 - 11:00 AM: Ice Session #6
Note: Schedule is subject to modification.
Rink:
University School of Milwuakee's Uihlein Ice Arena
Camp Includes:
12 hours of on ice instruction from our high level staff
Off ice coaching in the form of chalk talks and video review sessions
Camp Banquet on Saturday Evening
"Break the Ice" Social on Thursday Evening
A custom jersey; socks and other swag
Lodging and transportation are NOT included
When
July 18th, 2024 4:00 PM through July 21st, 2024 12:00 PM
Location
2100 W Fairy Chasm Rd.




River Hills

,

WI

53217




United States
Milwaukee Camp Fee
| | |
| --- | --- |
| Choose Registration Option | |
| Pay in Full | $795.00 |
| Pay in Full ( Alumni w/ $50 Uniform Credit ) | $745.00 |
| Deposit for Pay in Full | $200.00 |
| Deposit for Pay in Full ( Alumni w/ $50 Uniform Credit ) | $200.00 |