Vail, CO - June 20-23, 2024
Deposit Amount: $200 (Balance due 45 days before camp)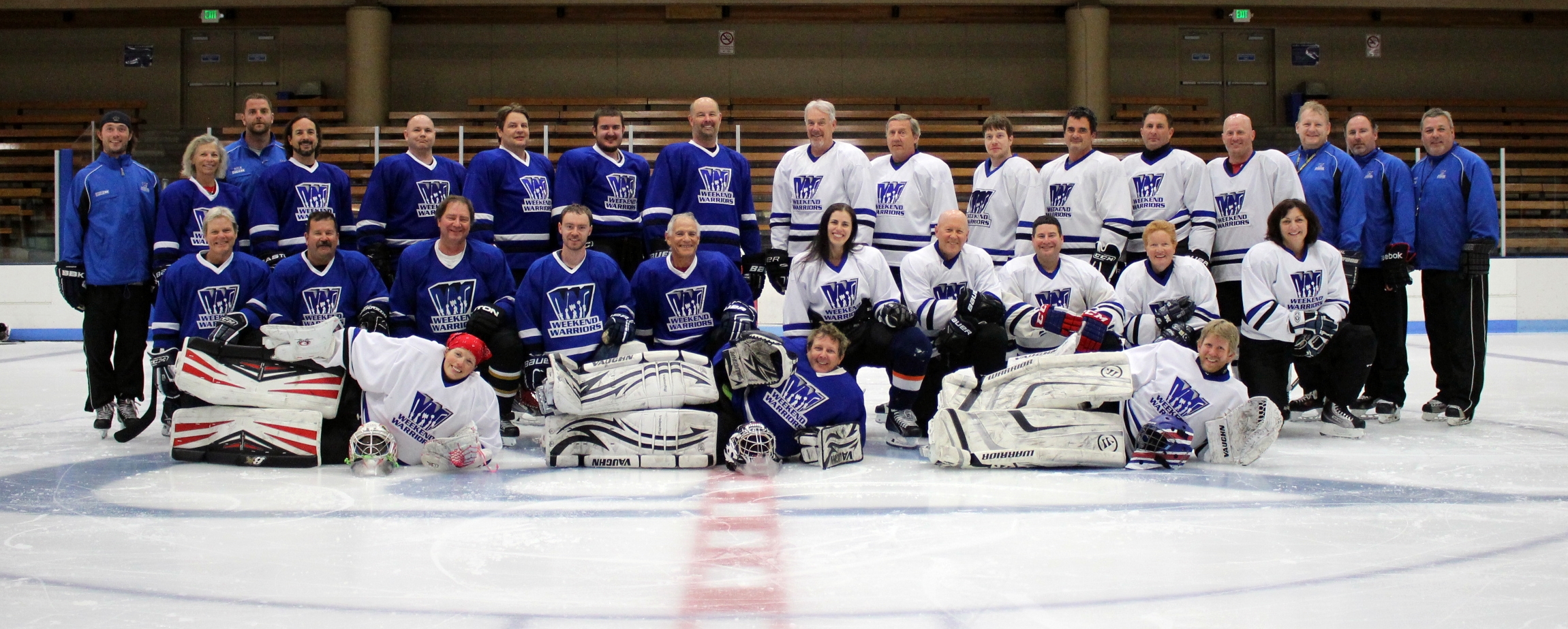 Photo:  Vail 2015 Team Photo
Camp Description: Vail.  The name says it all.  It is truly one of the most beautiful places on earth.  This is one of our favorite locations.  Park your car (or take a shuttle from Denver Airport), and forget about driving for the entire weekend.  Our hotel, The Vail International is literally right next door to the rink.  So roll out of bed and into your skates.  It is so convenient. And all of our social events are held within the Vail Village, so there is no need to drive.  Take a leisurely walk, or hop aboard the free village shuttle.
This camp features some great social events.  After Thursday night's skate, we will have our Break the Ice party.  After Friday afternoon's session, we will gather poolside at Vail International for a BBQ.  There is a big old hot tub there that tends to be the epicenter of fun.  Have a beer or cocktail while soaking your sore muscles and waiting for the food to come off the grill.  Then on Saturday night we have our camp banquet.  The food and drink are great, but the company is even better.
Have a spouse or family?  Good luck trying to make this trip on your own.  They won't want to be left at home, and with all that Vail has to offer, why not bring them along.  While you are elevating your game on the ice, they can relax by the outdoor pool or hot tub, go for a hike, a mountain bike ride, ride the gondola to the top of Vail peak to enjoy breathtaking views, or just hang out at the restaurants and shops in the villages of Vail.  And of course they are welcome to join us each evening for the social events.
At Weekend Warriors we have something for every player. Whether you're a new player who needs proper guidance through the crucial early development phases, or an experienced player who has been playing for 30 years, our coaches will ensure that you get the training you need!
Goalies get special treatment, with our goalie specific curriculum led by one of our dedicated goalie coaches. 
Women don't be intimidated. We have women players at all of our camps, and also have a number of female coaches on our talented staff.
"I had an amazing time and felt I learned a lot of great tips and tricks of the trade. I enjoyed every moment on the ice with a great group of people."
–
Cinnamon B.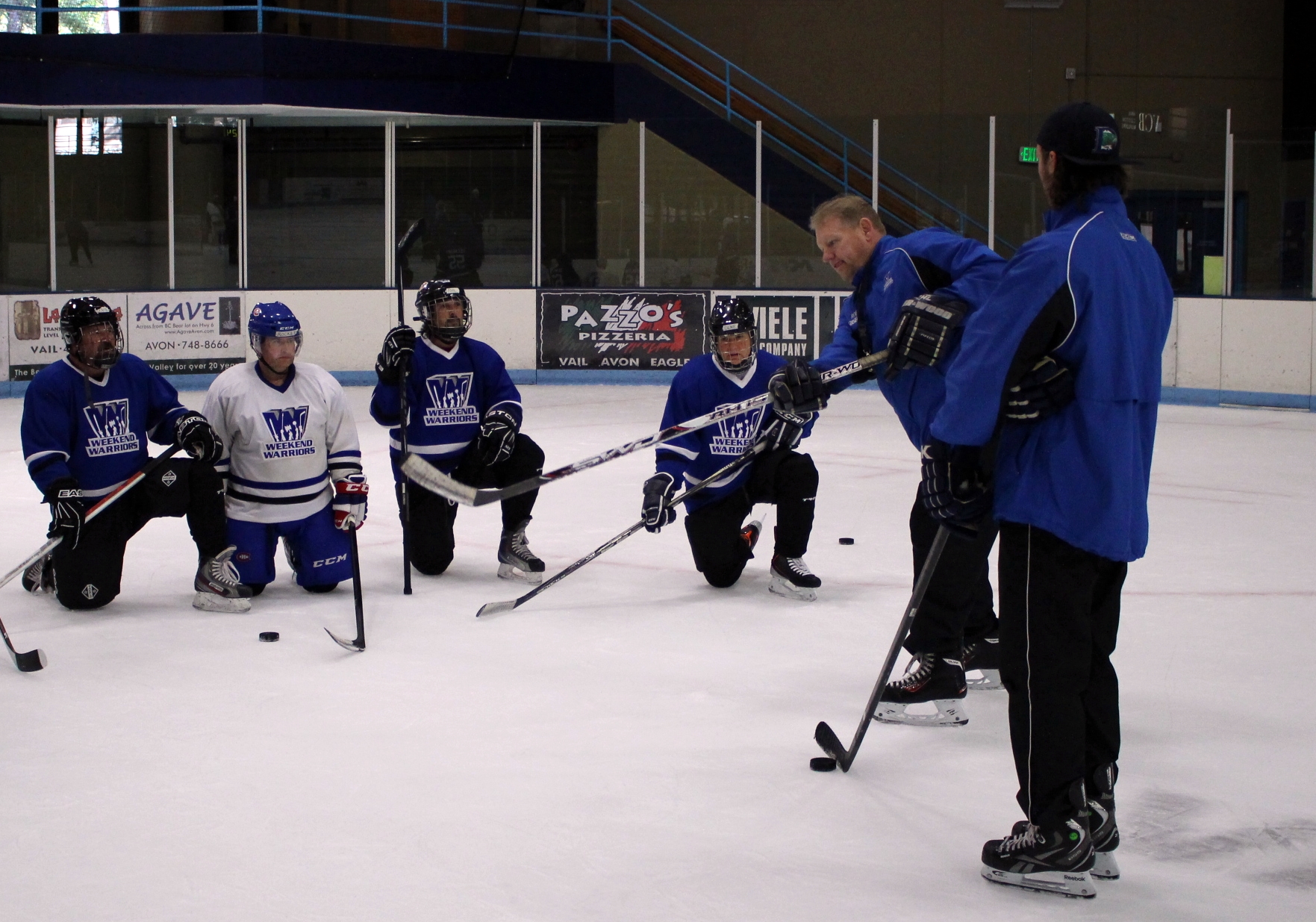 Photo: Coach Rob demonstrates proper wrist shot technique
"Overall, camp was a life-changing experience. The amount of knowledge I absorbed in three days was second to none. I walked away feeling like I have so much to work on and that I will only get better and better if I work to execute everything that I learned at camp. The coaching was extremely detailed and really drilled the importance of getting the fundamentals right." – Kerry M. (Goalie)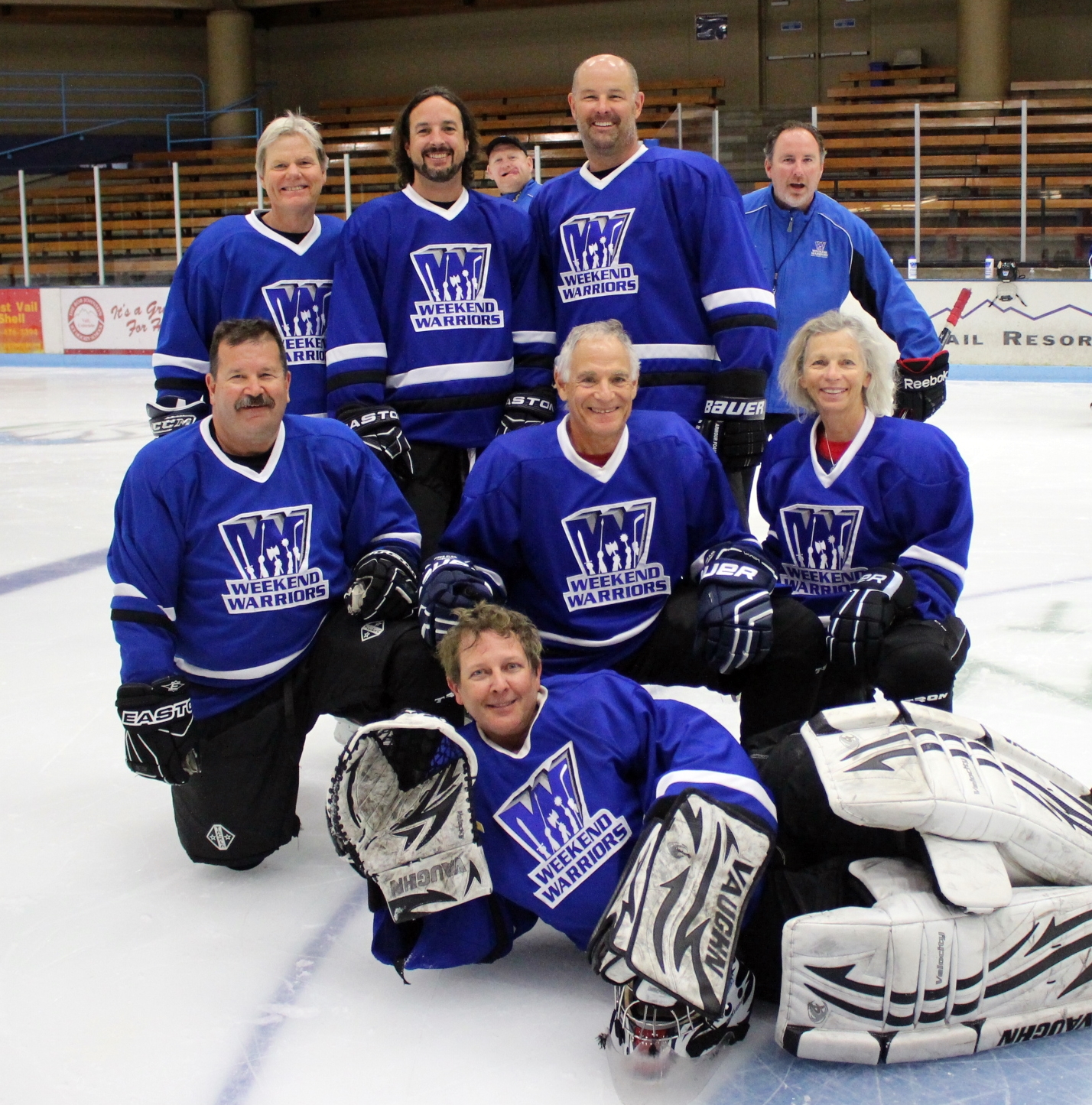 Photo: Coaches photobomb the Telluride Crew
"The camp experience was awesome! One of the best things about camp was simply the escape from work, stress, and other day to day worries. The entire weekend was devoted to hockey, prepping for the next session on the ice, and social gatherings. It was an incredible (and much needed) escape. When I got home, although I was physically tired, I felt that I was mentally and emotionally recharged."
– Scott F.
Camp Schedule
Note:
An updated schedule will be sent by e-mail to all registered players before camp.  The e-mailed schedule always supersedes the online version.
Thursday
4:00: Orientation (at Rink).  Meet the coaches, other players and receive an orientation of the weekend's events; Get Dressed.
6:00 – 8:00 PM: Ice Session #1
After Ice Session: "Break the Ice Party" – meet and greet the coaches, staff and your fellow players.  Appetizers provided.  Cash bar.
Friday
9:00 – 11:00 AM: Ice Session #2
11:20 – 12:00 PM: Video Review Session – Forward Skating – White Team
12:00 PM – 1:00 PM: Lunch on your own
1:00 – 1:45 PM: Video Review Session – Forward Skating – Blue Team (and Goalie Video Review)
2:00 – 3:00 PM: Chalk Talk1 (and Goalie Video Review)
3:30 – 5:30 PM: Ice Session #3
6:30 - ??: Poolside BBQ at Vail International
Saturday
9:00 – 11:00 AM: Ice Session #4
11:00 AM – 12:30 PM: Lunch on your own 
12:30 – 1:45 PM: Skaters: Chalk Talk 2; Goalies: Review Skills Video
2:00 – 3:00 PM: Video Review of Scrimmage (Goalies review scrimmage video from goalie's perspective with Coach Jim) 
3:30 - 5:30 PM: Ice Session #5
7:30 PM - Camp Banquet - The cost of the meal is included in your camp fee.  We hope you will all join us for some fun and camaraderie.  Cash Bar. 
Note: To players attending with spouse, friend or family, they are welcome to attend for a nominal additional charge.  Please let us know in advance if you plan to bring a guest.
Sunday
9:00 - 11:00 AM: Ice Session #6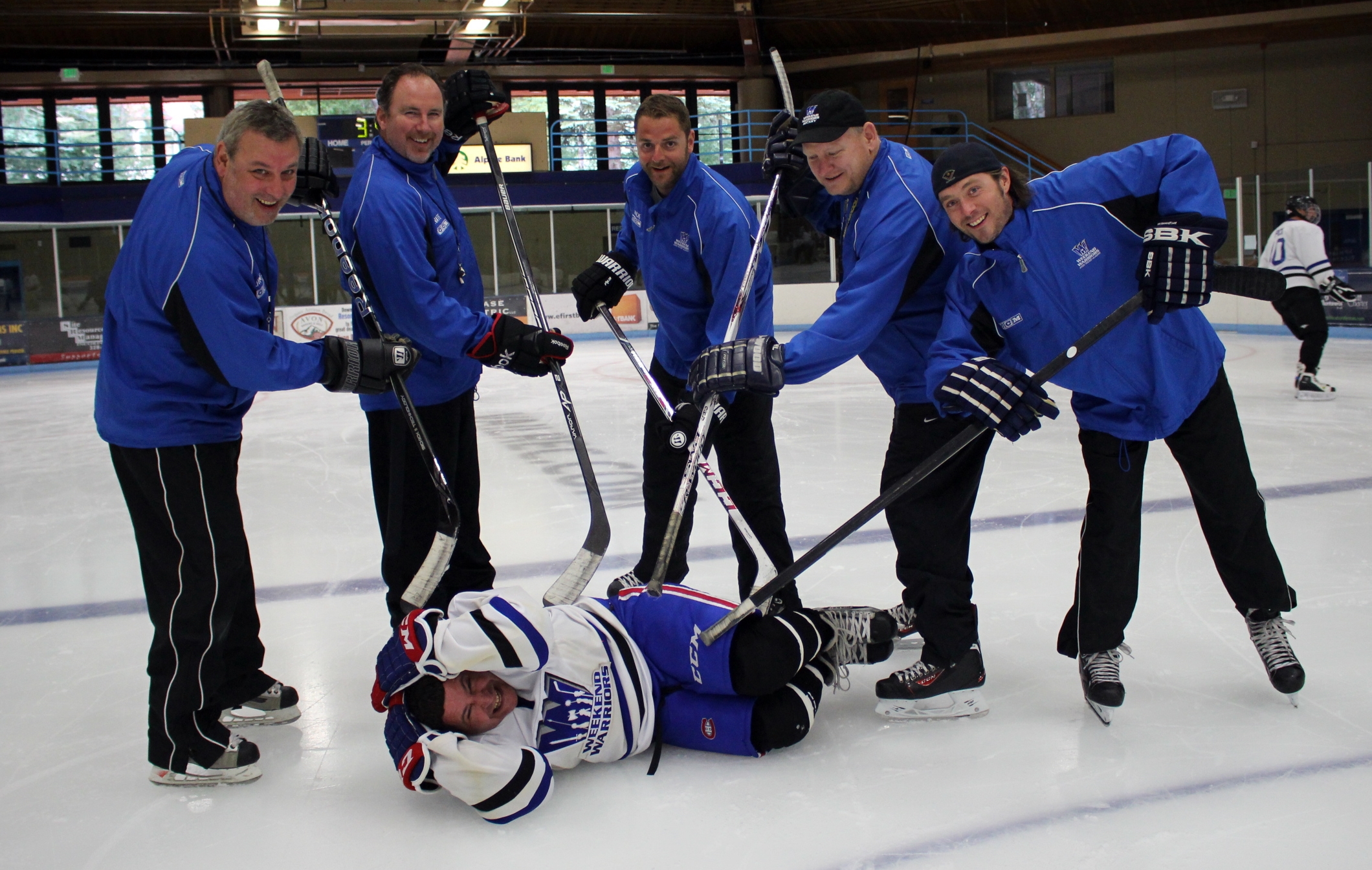 Photo: Coaches give "Rocket" some "special attention"
"I have never received such an extensive amount of feedback and instruction from coaches as I did in this hockey camp. The coaches truly wanted me to learn and get better. I really appreciated their level of patience and commitment. Truly the best hockey camp I ever attended." - Shaun "Rocket" L. (Yes, the guy in the photo above)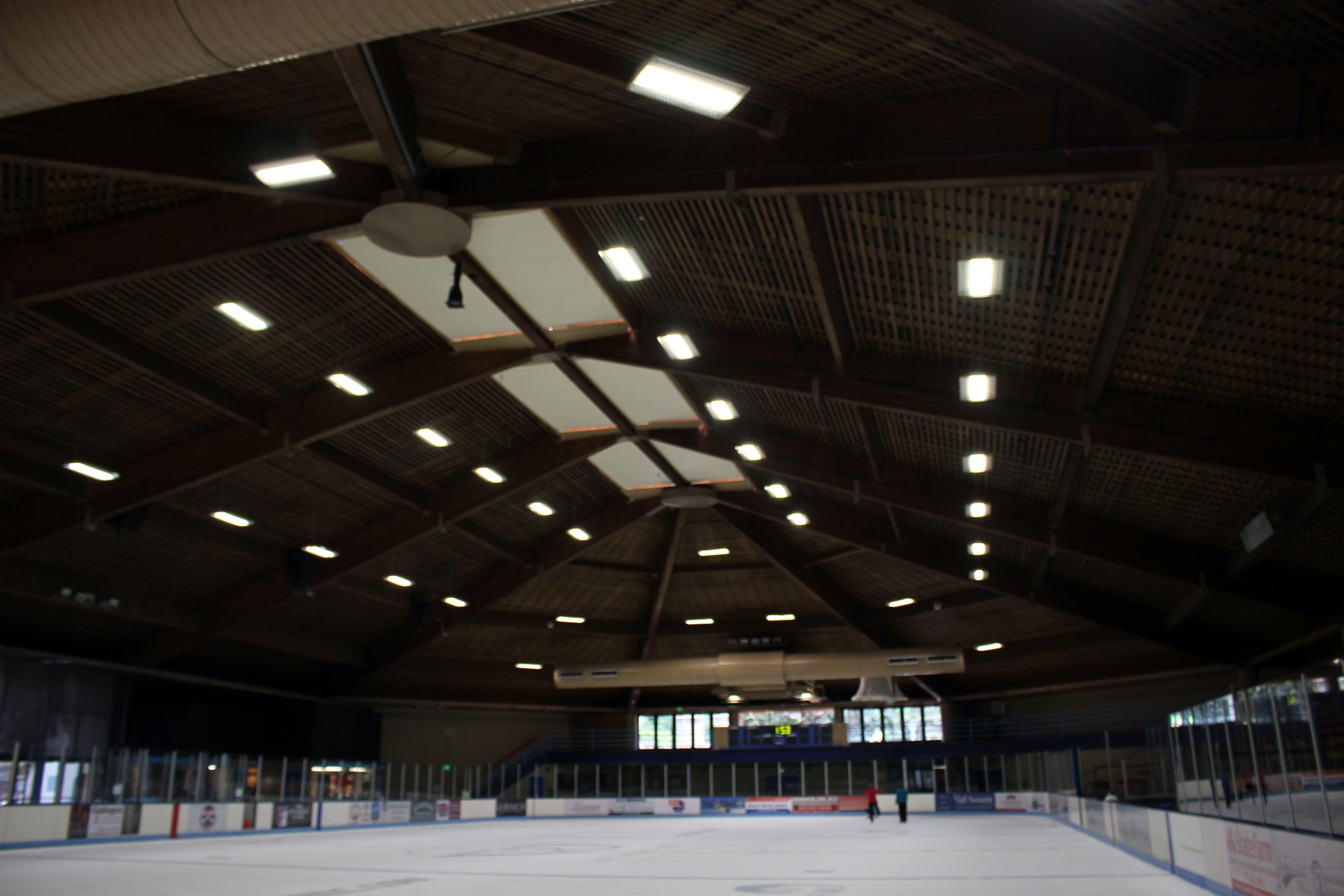 12 hours of on ice instruction from our high level staff

Off ice coaching in the form of chalk talks and video review sessions

Camp Banquet on Saturday Evening

"Break the Ice" Social on Thursday Evening

A custom jersey; socks and other swag

Lodging and transportation are NOT included
When
June 20th, 2024 4:00 PM through June 23rd, 2024 11:00 AM
Location
250 S. Frontage Road




Vail

,

CO

81657




United States
Vail Camp Fee
| | |
| --- | --- |
| Choose Registration Option | |
| Pay in Full | $975.00 |
| Pay in Full ( Alumni w/ $50 Uniform Credit ) | $925.00 |
| Deposit for Pay in Full | $200.00 |
| Deposit for Pay in Full ( Alumni w/ $50 Uniform Credit ) | $200.00 |