Pittsburgh - April 11-14, 2024
Camp Fee: $875
Early Bird Discount: $50 off (camp fee $825) for a limited time only! A $200 deposit locks in your registration.
Deposit Amount: $200 (Balance due 45 days before camp)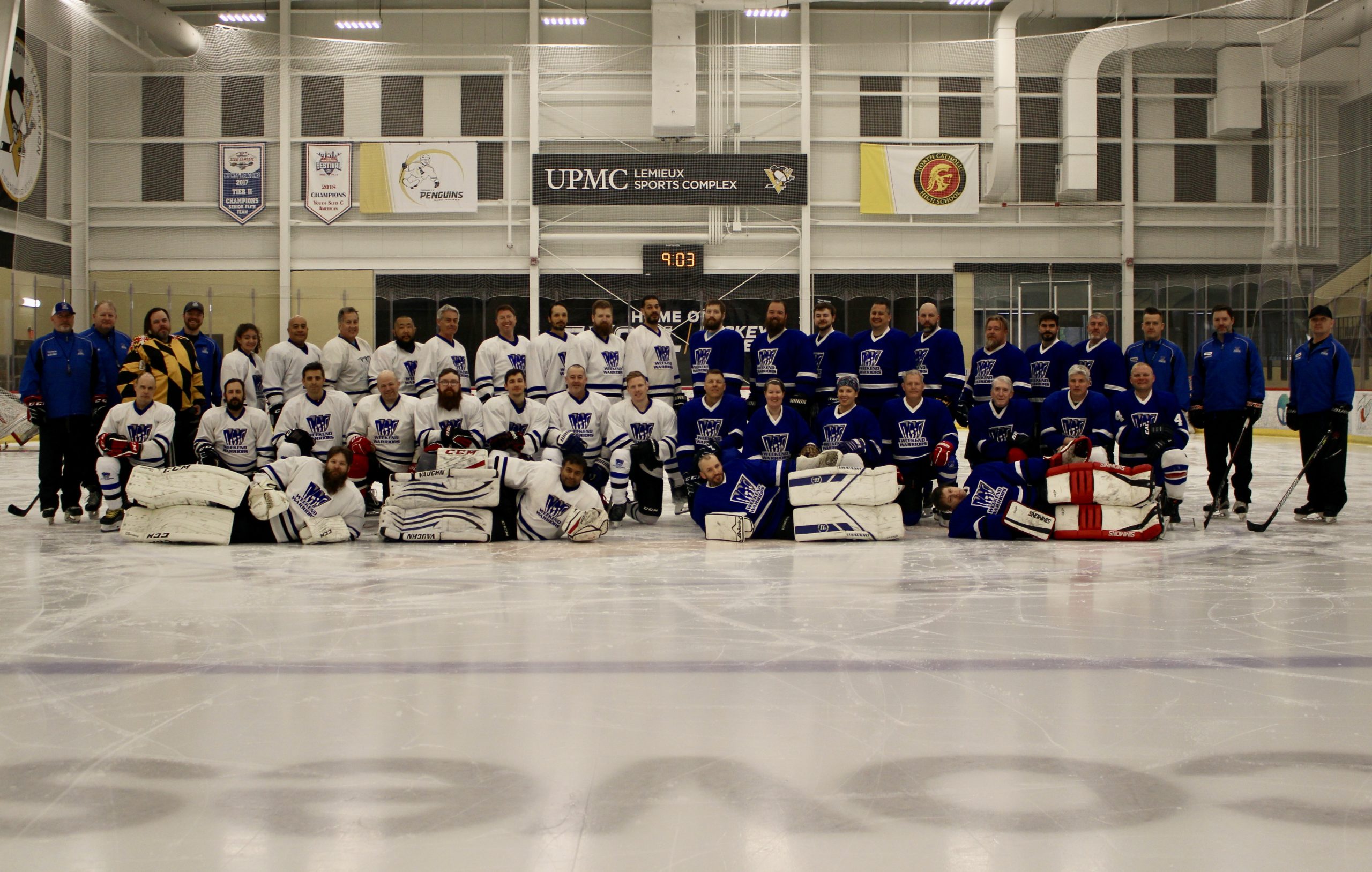 Camp Description: This camp is at the brand new, state of the art, UPMC Lemieux Sports Complex!  This is the practice facility of the Pittsburgh Penguins.  It is truly an amazing facility.  Don't miss it.
At Weekend Warriors we have something for every player. Whether you're a new player who needs proper guidance through the crucial early development phases, or an experienced player who has been playing for 30 years, our coaches will ensure that you get the training you need!
Goalies get special treatment, with our goalie specific curriculum led by one of our dedicated goalie coaches. 
Women don't be intimidated. We have women players at all of our camps, and also have a number of female coaches on our talented staff.
"It was intense, but flowed such that everything built upon the last thing and I never felt overwhelmed. I learned more in 4 days than in a year of taking classes. Every single coach gave me actionable feedback that I could directly apply to improve my skating/skills immediately as well as advice on things to work on for longer term goals."
  – Mary Jo S.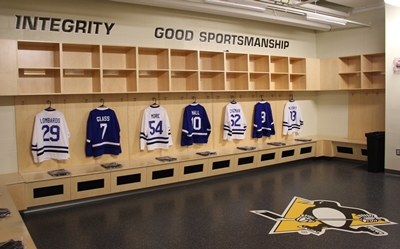 "I can honestly say I learned more in one weekend than in 10 months of weekly group classes. Skating and passing are definitely improved.  I felt like coaches made a real effort to get to know all the players, and work with them individually in each and every drill.  It was fantastic - great coaches, great fellow players, fantastic drills. It's cliche, but I seriously can't think of a single thing that could have been done better!" - Jason M.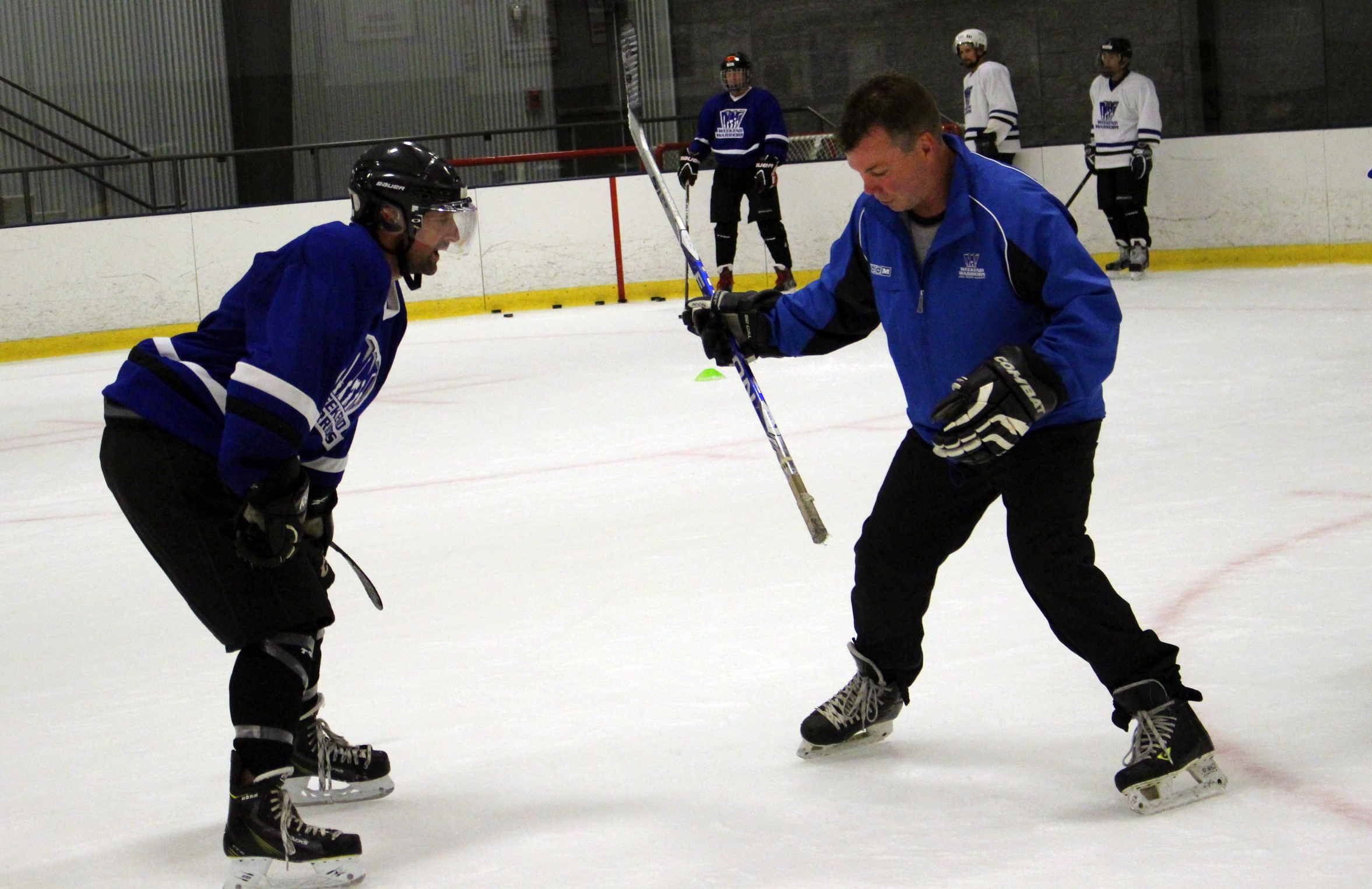 Photo: Coach Kevin helps player with wrist shot
"This camp was amazing. It really has elevated my game as promised! " – Zoe U.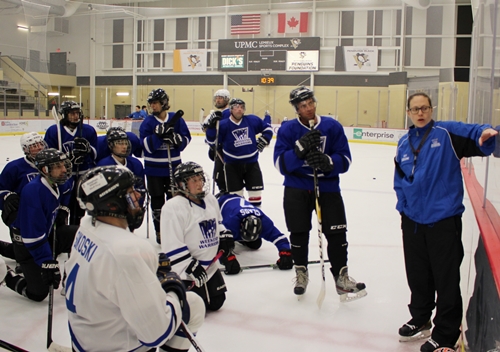 Coach Mox explains a drill
"Considering my age (50) and my experience (Limited), I'll admit I was really hesitant to do this. I figured I'd be in way over my head. I'm so glad I didn't let my fear keep me from coming because this camp was great. I felt welcomed by everyone (coaches and fellow players), there was no judgment at all, and I learned and improved a lot. I've taken classes before but never have I had so much feedback and individual help and I feel like it really helped me in so many areas. I still have a long way to go, but for once I feel like I'm headed in the right direction and the coaches gave me enough that I can now practice on my own and actually improve. I"d recommend this camp to anyone who is looking to improve their skills."
– Lisa R.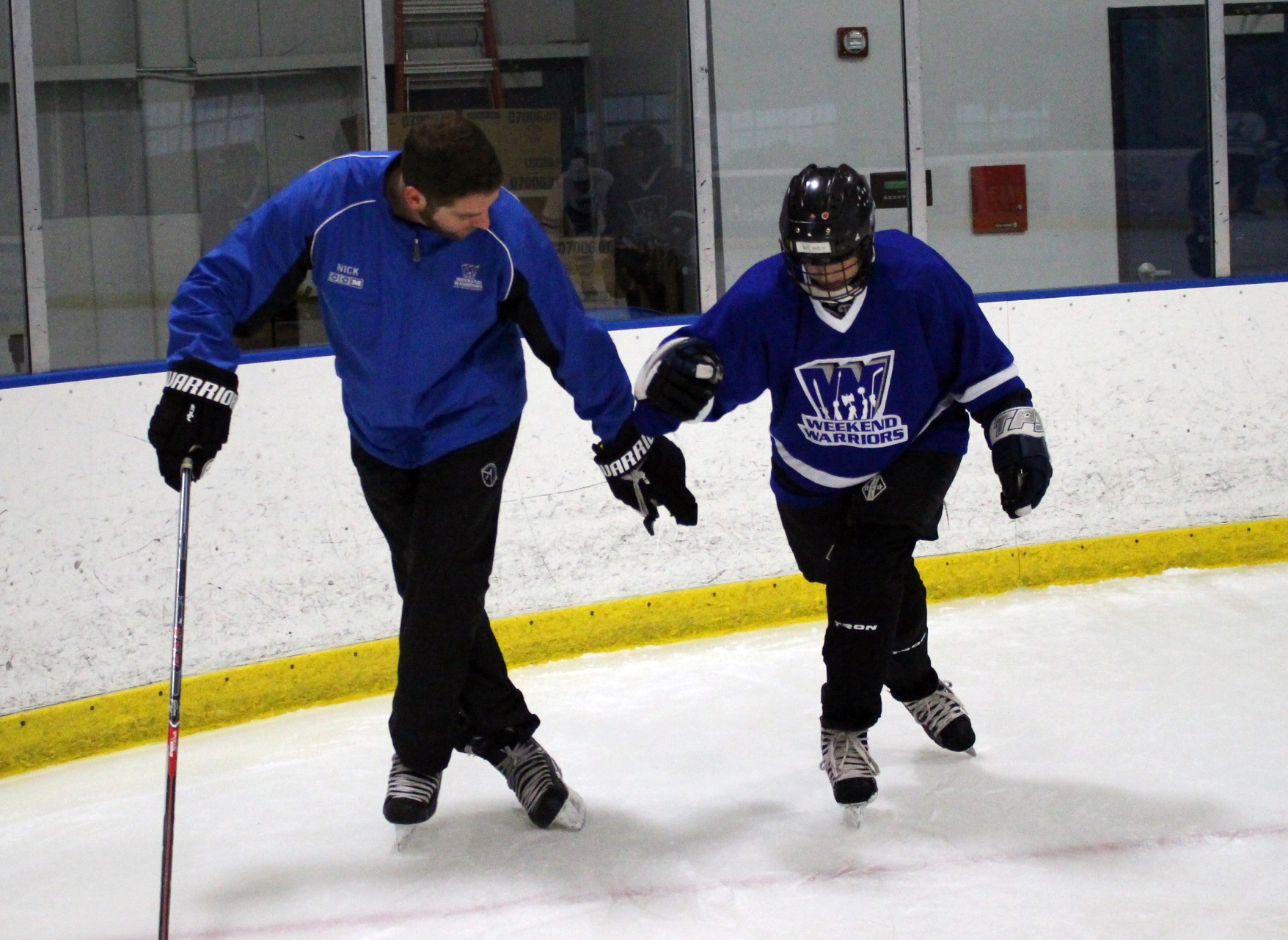 Photo: Coach Nick helps a player with her crossover
"I'm so appreciative of the coaches. Sure, they show up to the camp, but no one is making them care about me and my game. They bring that themselves, and it really shows in their interactions with attendees." 
– Steven "Cap" P.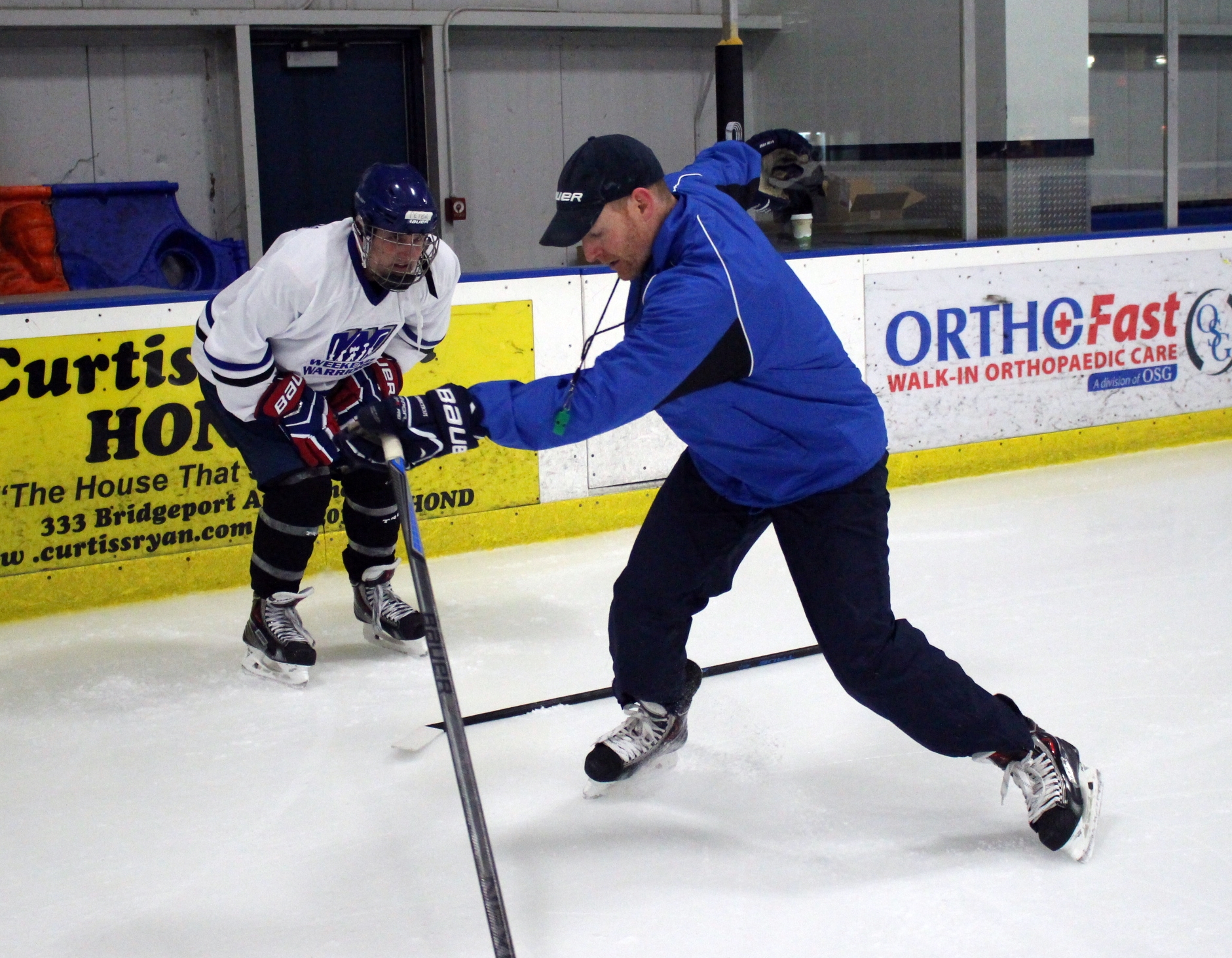 Photo: Coach Casey helps a player with his skating stride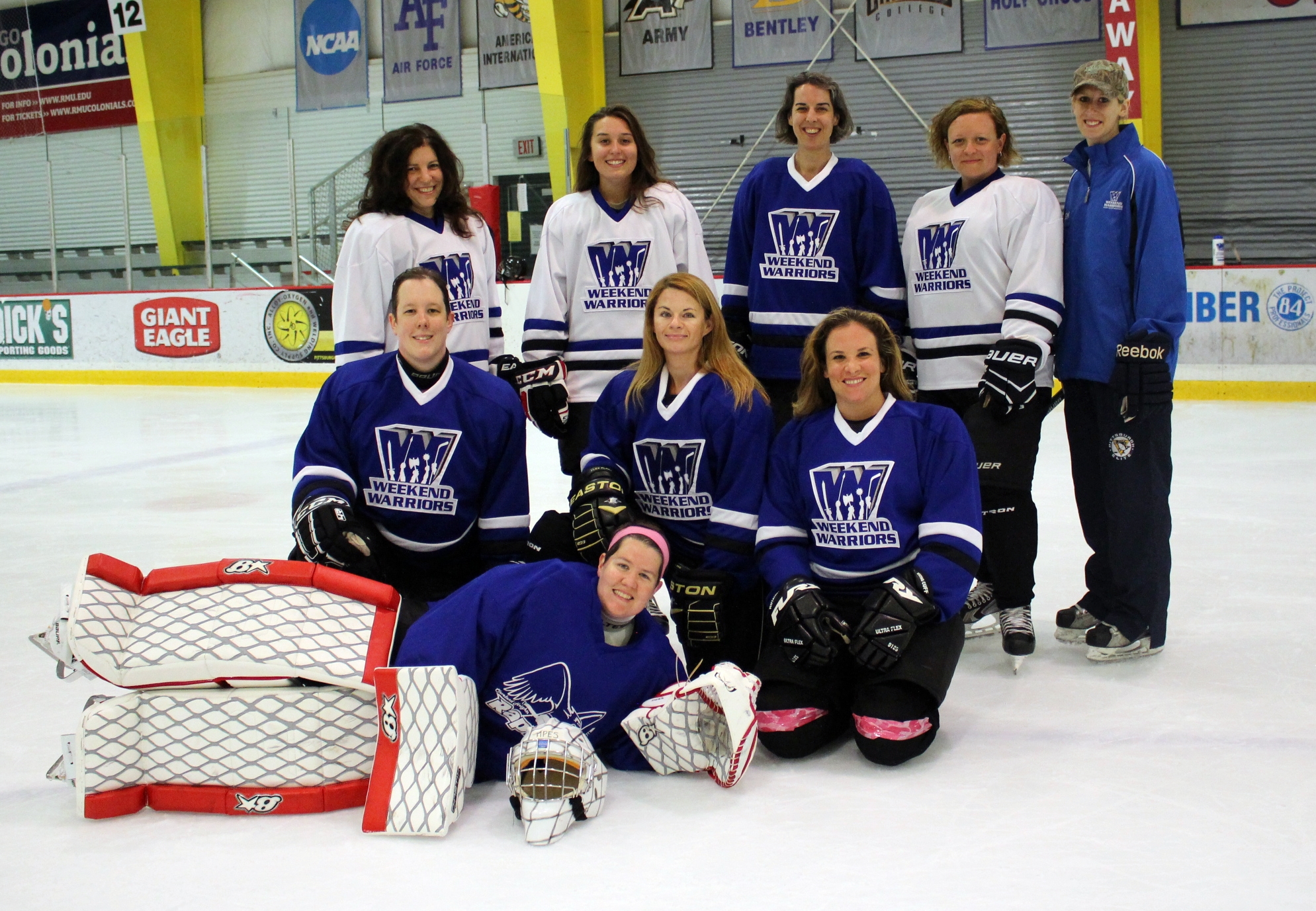 Photo: Pittsburgh Girls Just Gotta Have Fun.
Camp Schedule
Note:
An updated schedule will be sent by e-mail to all registered players before camp.  The e-mailed schedule always supersedes the online version.
Thursday
4:00: Orientation (at Rink).  Meet the coaches, other players and receive an orientation of the weekend's events; Get Dressed.
6:00 – 8:00 PM: Ice Session #1
After Ice Session: "Break the Ice Party" – meet and greet the coaches, staff and your fellow players.  Appetizers provided.  Cash bar.
Friday
9:00 – 11:00 AM: Ice Session #2
11:00 AM – 12:30 PM: Lunch on your own.
12:30 – 1:15 PM: Video Review Session – Forward Skating – White Team
1:15 – 2:00 PM: Video Review Session – Forward Skating – Blue Team
2:00 – 3:00 PM: Chalk Talk1
3:30 – 5:30 PM: Ice Session #3
Evening: On your own. 
Saturday
9:30 – 11:30 AM: Ice Session #4
11:30 AM – 1:00 PM: Lunch on your own 
1:00 – 2:00 PM: Skaters: Chalk Talk 2; Goalies: Review Skills Video
2:00 – 3:00 PM: Video Review of Scrimmage (Goalies review scrimmage video from goalie's perspective with Coach Jim) 
3:30 - 5:30 PM: Ice Session #5
7:30 PM - Camp Banquet - The cost of the meal is included in your camp fee.  We hope you will all join us for some fun and camaraderie.  Cash Bar. 
Note: To players attending with spouse, friend or family, they are welcome to attend for a nominal additional charge.  Please let us know in advance if you plan to bring a guest.
Sunday
9:30 - 11:30 AM: Ice Session #6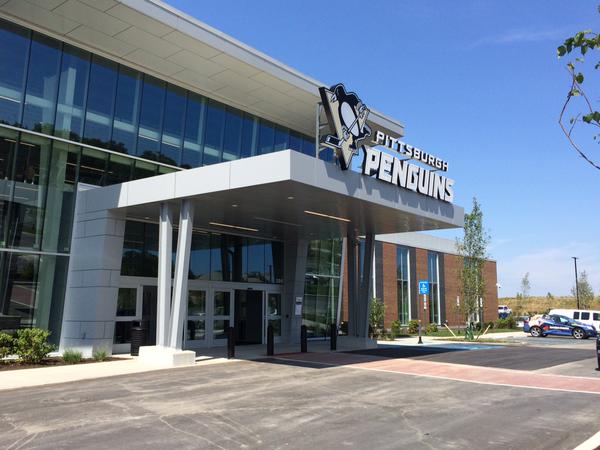 12 hours of on ice instruction from our high level staff

Off ice coaching in the form of chalk talks and video review sessions

Camp Banquet on Saturday Evening

"Break the Ice" Social on Thursday Evening

A custom jersey; socks and other swag

Lodging and transportation are NOT included
When
April 11th, 2024 4:00 PM through April 14th, 2024 12:00 PM
Location
8000 Cranberry Springs Dr.




Cranberry Twp.

,

PA

16066




United States
Pittsburgh Camp Fee
| | |
| --- | --- |
| Choose Registration Option | |
| Pay in Full | $825.00 |
| Pay in Full ( Alumni w/ $50 Uniform Credit ) | $775.00 |
| Deposit for Pay in Full | $200.00 |
| Deposit for Pay in Full ( Alumni w/ $50 Uniform Credit ) | $200.00 |